Hubbell Power Systems Inc. Civil and Utility Helical Products Engineering Manager Gary L. Seider and Central Asia Territory Manager Thimothy See Thoe during the presentation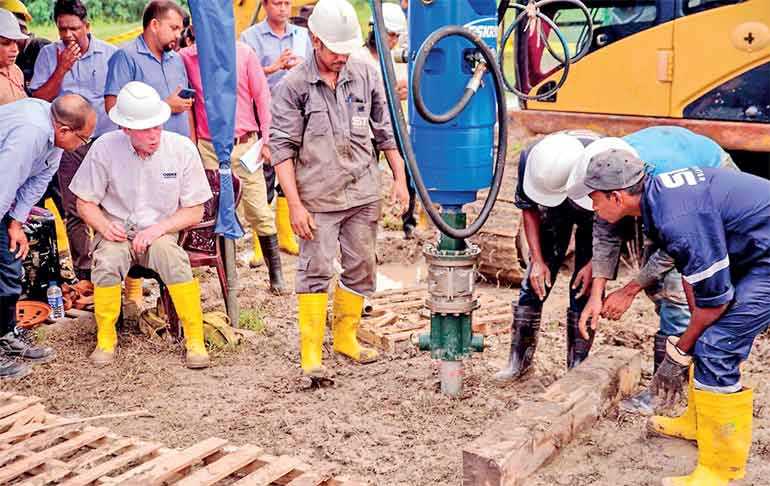 Helical pile and load testing demonstration at the Ceylon Electricity Board training centre in Piliyandala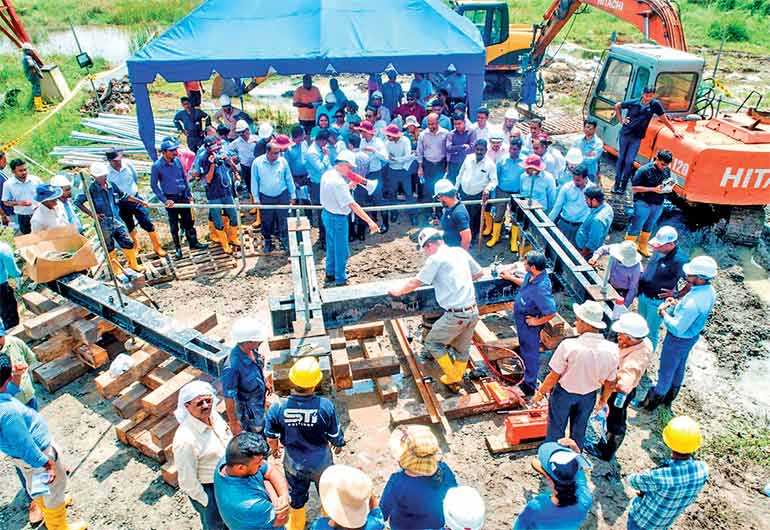 Hubbell Power Inc. Senior Design Engineer Shawn Downey overlooking the demonstration
---


St. Theresa Industries (STI) Holdings, a leading Sri Lankan steel fabricator and manufacturer of multiple accessories used for power generation, transmission and distribution, recently teamed up with international experts Hubbell Power Systems Inc. to conduct a helical pile and load testing demonstration at the Ceylon Electricity Board training centre in Piliyandala.

The program consisted of an introduction to helical piles, an explanation of the design methodology utilised, an analysis of previous case studies as well as the engineers' personal past experiences along with a demonstration of helical pile installation and load testing.
The detailed briefing was conducted by a group of highly proficient engineers from Hubbell Power Systems who provided all participants with a comprehensive understanding of helical pile design and application while clearing any of their lingering doubts.
"We are delighted to partner a global leader such as Hubbell Power Systems. By delving into their wealth of expertise and experience, the engineers who lead his briefing and demonstration have contributed to an in-depth understanding of helical piles and their proper use and implementation.
"This will go a long way in furthering our overarching goal of bolstering the Sri Lankan economy through efficient and cost-effective projects that utilise innovative products and technology," said STI Holdings Founder and Managing Director Colin Fernando. Helical piles have been used across the world for a century in residential, light commercial and heavy commercial construction, machinery and equipment foundation, telecommunication and transmission towers as well as any application where site access is limited or remote.
The technology has grown to become the preferred foundation for walkways and boardwalks in sensitive ecosystems such as wetlands and protected forestland. In expansive soil areas, helical piles are cost-effective when compared to other expensive over-excavation and fill options.

"The technology we have demonstrated is not novel across the globe. However, they have been and proven to have excellent performance in most parts of the world and the users of it tend to be immensely happy about the performance of these systems as well.

"These helical anchoring systems have been used not just to construct simple structures but also for building mega projects like 10,000 km tower lines running through the Amazon forest to giant network cables deep under the seabed," said STI Holdings Director – Technical Management Madusanka Fernando.

STI Holdings deals with the transmission and distribution of electrical power, solar power, hybrid solar, construction, electrification, steel fabrication and telecommunication. Launching in 1973 from humble beginnings, STI Holdings embraced innovation to evolve into a true Sri Lankan powerhouse in the spheres of power generation and industrial steel product manufacture for power transmission with state-of-the-art facilities. As the only private transmission tower manufacturer in Sri Lanka, STI Holdings handles 98% of Sri Lanka's power distribution through its transmission towers.

STI Holdings consists of five subsidiary companies, namely St. Theresa Industries, St. Theresa Industries Kenya, Samudra Lanka, STI projects and the SINO-STI Corporation. Each company makes a significant contribution to the country's GDP through various social and economic avenues.