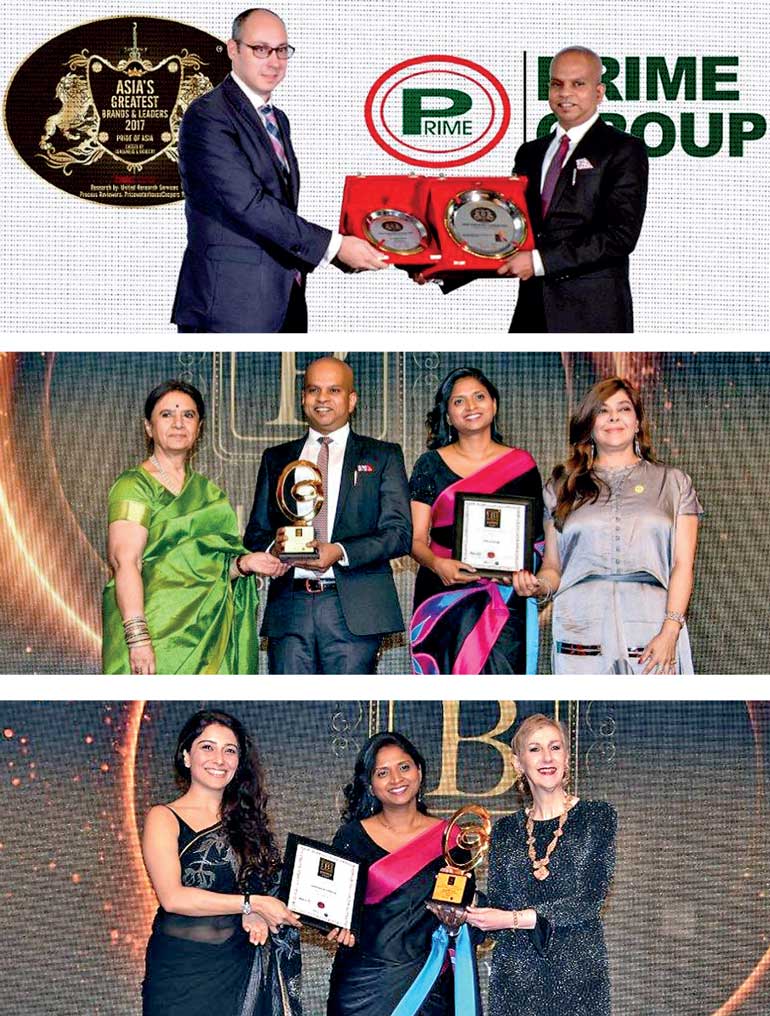 Prime Group, Sri Lanka's real estate giant, started its humble journey in 1995 as a small land sale company in Colombo with three employees and two energetically talented dynamic personalities, Premalal Brahmanage, the Group Chairman and Founder, who joined hands with Co-Founder and Deputy Chairperson Sandamini Perera with a vision to create a better place on earth for everyone.

With dynamic leadership coupled with entrepreneurship and degrees of excellence they created this proud empire from scratch by building trust among people's hearts and achieved the near impossible dream of becoming the largest real estate company in Sri Lanka within a span of two decades.

Purely pioneered on lands as the primary business till about 10 years ago after which they introduced a novel concept that redefined the local real estate industry, Prime is the first developer to step into the suburban market outside Colombo under the theme 'Prime Group Always Selects Prime Locations'.

This allowed the development of apartments and housing projects that were affordable to the majority of Sri Lankans. Given its reliability, along with a good name, Prime Group was quickly recognised in the local real estate industry as a brand that consistently delivered on its promises.

In 2016 Prime Group embarked on an exciting chapter, demonstrating solid financial results and effective execution of both land and residential projects to position Prime Group for the future. Customers, both nationally and internationally, are looking to embrace its projects to drive valuable home investments, transform the home buying experience, improved living standards, and so much more.

In 2016, Prime Group also ventured into the ultra-luxury segment by commencing ground work on a 36-storey residential development in the most desired neighborhood in Colombo, Ward Place, Colombo 7. Prime Grand heralds the arrival of a revolutionary new residential landmark in Ward Place – a visionary union of 36 floors of modern design, ideal location and carefully selected European finishes. Built on over one acre of land, Prime Grand features stunning panoramic vistas of the ever-evolving Colombo skyline with Sri Lanka's largest infinity pool.

After outstanding successes in Colombo and suburbs, Prime expanded its wings towards the hill capital of Kandy with yet another development in Pallekelle in 2014, comprising 40 residential apartment units which sold out within a short period of time. In 2017 Prime Group launched its first residential development in Southern Sri Lanka, Galle by adding the remarkable tally of residential projects to 40, after handing over 15 projects to its proud customers around the island.

This 12-storey high-rise is designed to match the pure Sri Lankan taste of vertical living, located in Lower Dickson Road, with ground and first floor to be car parks and the residencies starting from second floor upwards to afford the benefit to the owners of the apartments of a breathtaking view of the Indian ocean, green Rumassalahills, its very own cricket stadium and the bastioned walls of the historical Dutch fort and Galle city.

Apart from trust, reliability and quality, Prime Group is known for the astonishing number of awards and achievements over the past 20 years at local and international levels. Prime Group has been among the 'Best 25 Companies to Work For' in Sri Lanka by Great Place to Work Institution for the past three consecutive years. By adding more colour to the proud legacy of Prime's reputed recognitions, the two latest achievements proved that the company is steering to become a world class brand representing Sri Lanka in the international stage.

Prime Group was crowned as one of Asia's top 100 brands and the only Sri Lankan company to be categorised under the iconic brand status along with TATA, Airtel and many leading giants of world business, while the genial group Chairman Premalal Brahmanage was recognised as one of the 100 Best Business Leaders of Asia at the recently-concluded Asia's Greatest Brands and Leaders Awards in Singapore on 29 January.

At the same time the Group reached yet another remarkable milestone when Sandamini Perera, Co-Founder and Deputy Chairperson of Prime Group, was recognised as 'Woman Super Achiever of the Year' under the 'Real Estate Sector' along with Prime Group being crowned as the 'Best Real Estate Brand of the Year' at Business Leader of the Year Awards 2017 held at Taj Lands' End Mumbai, India on 16 February.

Asia's Greatest Brands and Leaders is an annual event organised by the AsiaOne magazine and United Research Services (URS) to select from Asia's 100 greatest brands and their leaders. The selection was made through an intensive research done among 16 industries, 52 sub industries in seven Asian countries.

The program is reputed for its credibility and transparency as the entire process was executed under the review of renowned auditors Price Waterhouse Coopers (PWC), while Business Leader of the Year is a singular platform to collectively bring together Leaders across the Globe Endorsed by World Federation of Marketing Professionals and World Federation of Human Resources Professionals.

These esteemed awards are indeed an immense pride not only to the company but a recognition to its valuable customers who believed in the company and to the nation to receive the most iconic real estate brand representing the country in the global business arena. Prime is proud and thankful for this prominent recognition.