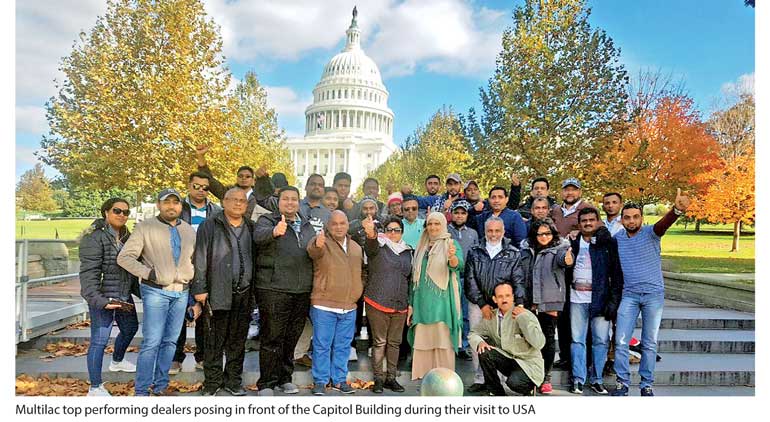 Dealers who achieved beyond their targets in 2017 were rewarded by Multilac, Sri Lanka's popular household paint, by taking the top performers on a dream excursion to see the exciting landmarks of New York and Washington.

It was a memorable experience for the 38 Multilac dealers who were treated to six days of sight-seeing in the dazzling cities. What made the holiday even more exciting was that the group was accompanied by Mizver Makeen, the Managing Director of Macksons Holdings and several senior managers to ensure that the dealers enjoyed a perfect tour.

The visit included a guided city tour of New York, visiting important and well-known landmarks including Wall Street, Rocker Feller Centre, World Trade Centre, Ground Zero, Broadway and Times Square with a brief stop at the Trump Tower.

The group visited Madame Tussauds Wax Museum as well as the Empire State Building and were able to enjoy a panoramic view of the city from the observation deck on the 86th floor. They even had time to shop at the exclusive malls at the Times Square and ferry across to the Statue of Liberty. The group's excursion included a visit to the famous Six Flags Amusement Park and an amazing illumination tour of Niagara Falls plus a helicopter ride over the picturesque water fall.

Their guided tour in Washington took the group to the US Capitol Building, World War II Memorial and Lincoln Memorial, and of course the White House was also in their itinerary. They had opportunity to see the Thomas Jefferson Memorial and the Martin Luther King Memorial too. The group of top performers were able to enjoy a truly unforgettable visit to USA.

Nilrukshi De Silva, Vice President Corporate Affairs and Business Development of Macksons Holdings, said: "We sincerely appreciate the hard work of our dedicated and committed dealers and that has resulted in Multilac enjoying recognition and success as a global brand. Multilac's ability to seek export markets, is by proving that the company's product range adheres to international standard for lead safety. Multilac is the first and only paint brand in South Asia to be certified Lead Safe by IPEN America."

Multilac exports paint and surface coating solutions to 15 markets across the world and the extensive export range includes decorative and weather resistant paints, water proofing, wood care products and auto paints. Multilac Colourbank, Multilac Platinum, Ital wood, Multilac Auto, Micron and Mitsuko are some of the popular brands marketed by the company.

Multilac has a dealer network of over 4,000 in Sri Lanka and has been at the helm in the paint and surface coatings industry for over 35 years and is the only 100% Sri Lankan owned and operated paint company. It is the first paint brand in Sri Lanka to obtain the Green Label, CIOB Green Mark Certifications and Lead Safe Certification from IPEN America.

Multilac has received the Quality Management System (QMS), Sri Lanka Standards (SLS) and the ISO 14001:2015 certifications. It has international know-how and global technology partners such as BASF, BAYER, DOW, Samsung, Huntsman and Croda. Consumers are able to take pride in associating with a heritage brand such as Multilac which has lived up to Sri Lanka's dream of uncompromised quality, accepted globally.