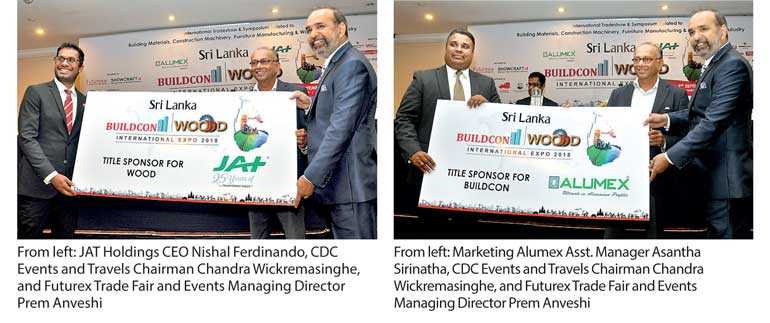 The twin international trade shows, 'Sri Lanka Buildcon Expo 2018' presented by Alumex PLC and 'Sri Lanka Wood 2018' presented by JAT Paints, the two main sponsors, has been put together by Futurex Trade Fair and Events Ltd., a leading SAARC countries organiser in collaboration with Sri Lankan marketing partner CDC Events. It brings together construction industry-related merchants and their clients, who will benefit from a powerful opportunity to boost their knowledge and network with their industry colleagues. It is the most important event on the Sri Lankan construction calendar, dedicated exclusively to developing Sri Lanka's fast-growing construction industry.
These popular twin trade shows with more than 100 international companies representing 10 countries, along with the international conference 'Future Build', is to be held from 7-9 September at the BMICH, Colombo.
It is supported by the Ministry of Industry and Commerce, Lanka Ready Mix Concrete Association, Association of Colombo District Timber Businessmen, Sri Lanka Plywood Manufacturers, State Timber Corporation, and Confederation of Indian Industry.
Sri Lanka Wood 2018 is the only exclusive international trade show organised by the woodworking and furniture sector in the country. The Buildcon Expo will bring together construction machinery and building material products, which will form Sri Lanka Buildcon International Expo 2018, Sri Lanka's leading trade show for the construction industry.
The twin trade shows consist of three days brimming with the latest products, innovations and developments across the building sector, both within the country and regionally. The show covers a wide range of products from concrete block making machines, architectural hardware, aluminium windows and fabricating machinery, laminates, wood coating, wood working machinery to structural uses of concrete and metal frames, electrical engineering, pre-fabricated materials, mechanical and electrical engineering for builders, architects, designers and investors.
The Future Build conference will take place at the Buildcon Expo theatre at various times throughout the event with speakers from the SAARC nations. It will also include provocative discussions on how best to prepare for futuristic developments within the construction industry.
It is an excellent opportunity for exhibitors and visitors at the event to source new products and suppliers, network with suppliers and other visitors, and to talk to product experts and exhibitors' technical staff.
Marketing Alumex PLC is the Title Sponsor for Sri Lanka Buildcon International Expo 2018, and JAT Holdings Ltd. is the Title Sponsor for Sri Lanka Wood International Expo 2018.