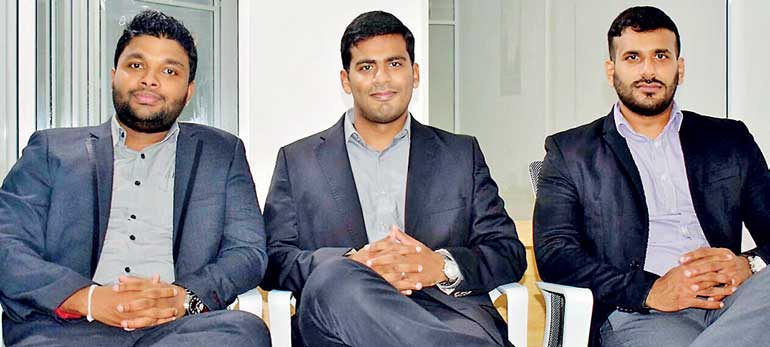 Sri Lanka and the world at large is seeing a massive increase in the demand for co-working spaces, with a fast growing start-up culture in the country.

Keeping in mind the expansion and increasing demand, and with a motive to cater to the rising demand and adapt to evolving work culture, Hubpoint was founded by Thusith Muthumala, Talal Rafi and Thasim Rafi. The three young entrepreneurs, who are the Co-founders and Directors of the company, want to change the work culture in Sri Lanka with their experience from the UK.

Hubpoint is a company that provides co-working spaces in the heart of Colombo, and has launched Grade A office spaces. The Hubpoint workplaces, situated in Colombo 01, offer a dynamic corporate environment with state-of-the-art-modern amenities, located in close proximity to the World Trade Centre and the upcoming Port City in Colombo. Hubpoint caters to businesses looking to set up in the heart of Colombo, with tailor-made contracts and hassle-free office working. Companies will enjoy flexible office spaces to suit their work schedule and requirements.

Hubpoint members can enjoy features such as free high-speed internet services, 24/7 air conditioning, 24/7 security and coffee machines. Sleek and modern conference rooms will help you make the most out of your meetings and a 1,100 sq ft balcony can be used for corporate events.

Co-Founders and Directors of the company Thusith Muthumala, Talal Rafi and Thasim Rafi told Daily FT that their target audience is mostly entrepreneurs, freelancers, start-ups and small scale expanding businesses. "Earlier co-working spaces were cantered on freelancers, but according to recent research, around 47 percent of people who are using co working spaces are small businesses. The demand towards co-working spaces are fuelled by the mindset of the millennial. They are looking for low cost office spaces that also provides them with networking opportunities. We find that urban centric locations is key for start-ups."

"This is a company that offers innovative office space solutions. We currently provide flexible-co working facilities for start-ups, small scale businesses and freelancers, and plan to expand to other emerging commercial hotspots like Kandy and Galle," they added.

With an innovative concept, modern interior design and furniture create aesthetic and functional spaces that give one a comfortable and satisfactory working atmosphere to work in, with air-conditioned glass cubicles adding privacy from the rest of the office. Hubpoint's growth coincides with the rising demand for co-working spaces and grade A office spaces in Colombo.

The three young directors have an aggressive strategy to expand Hubpoint in future: Hubpoint looks to add 4 new locations in Colombo by the end of 2018.