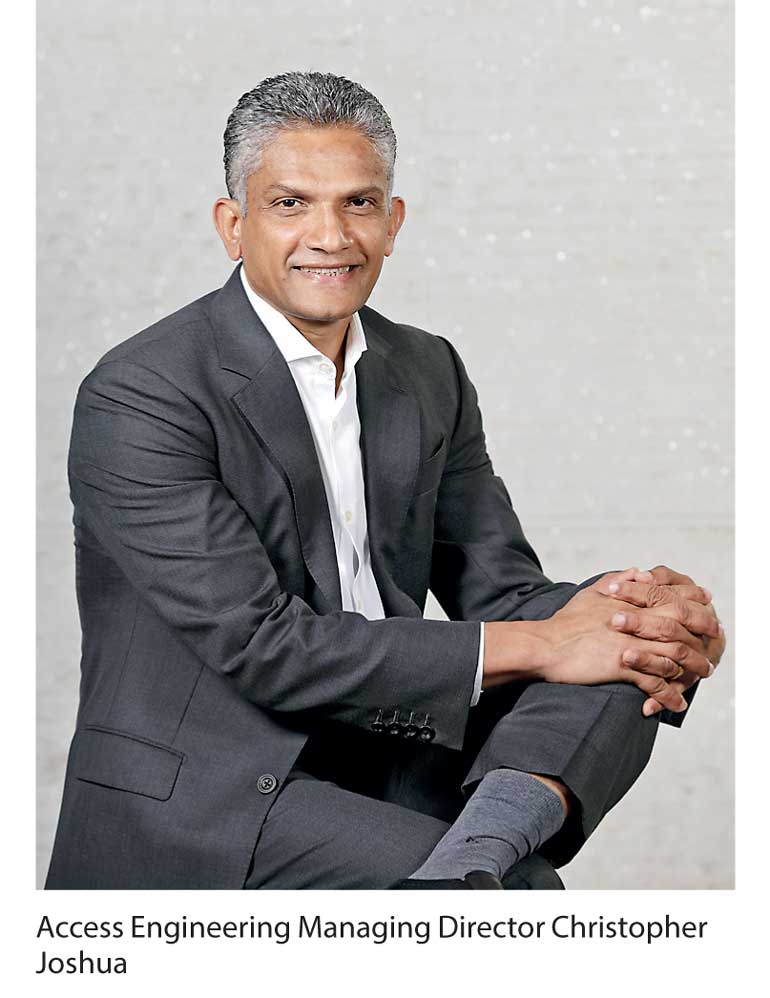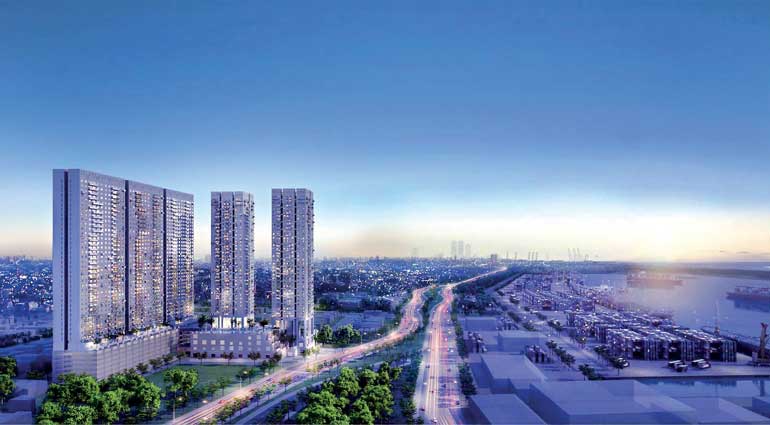 Sri Lanka's real estate landscape has been undergoing rapid changes since the country reaped the peace dividend few years ago. However uplifting the residential space to another level are a number of mega projects that redefines luxury living.

One such is the much awaited Marina

Square, Uptown Colombo project. The project bringing onto a single platform top entities such as Access Engineering, China Harbour Engineering Company Ltd. (CHEC) and Musthafa Singapore Ltd. for development, assures nothing but prime real estate

investment options, be it for residential

or commercial purposes.

With Access Engineering being a key player in Sri Lanka's construction space for decades, the Daily FT recently sat down with the construction giant's Managing Director Christopher Joshua to gain fine insights on its future plans and activities.

Highlighting what Access Engineering has brought to Sri Lanka in the past, Joshua shared in depth what the entity will add to the local context in the years to come.

Following are the excerpts of the interview:
Q: How has Access Engineering fared in Sri Lanka's construction industry since its establishment?
A: As a construction unit we have been in operation since 1993 with the parent company, but as a separate entity we kicked off in 2001. When the business became substantial, it could no longer be a unit of the parent company and had to have its own identity, which is the birth of Access Engineering.

Having gone public in 2011, since then we have made exceptional progress, and significant major achievements have come in the post peace period. During the conflict there was little spending on infrastructure and limited scope for real development activities. Nevertheless, despite the challenges in that period we were doing well as Access Engineering was managing a few niche markets.

Then of course when the war ended we certainly did reap and capitalise on the peace dividend. We were well positioned to take advantage of that. We took the leap to build on our capacities and looked at avenues to raise our capital. In 2011 we had raised a successful Private Placement followed by an IPO that got new equity into the company. That gave us a tremendous boost to increase our scope and capacity, and we made good use of the input. We were pleasantly surprised to see our turnover double almost immediately after the equity inject.

Since then, Access Engineering has experienced year on year (YoY) growth. On the top line almost 25% and similarly achieved double digit growth on the bottom line as well. So consistent growth is what we have been experiencing. Fortunately the industry also has grown and we believe the sector is still at a growth phase.
Q: What is the contribution made by Access Engineering to the nation's continuously changing landscape?
A: What we brought in is essentially the technology aspects. This has contributed towards realising the full potential of our very knowledgeable and passionate human resource base. The local construction industry was not directly involved in the foreign mega projects due to the lack of that aspect. The local entities fulfilled the role of subcontractors and we didn't have much opportunity.

That scenario was not working since, while it was less risk, it meant less margins and revenue. To make our way around that setup we started forming joint ventures. At one point Access Engineering had the most number of joint ventures, especially in the water sector. We were doing a good number of projects in this area with the Asian Development Bank (ADB). That helped us get subsequent prequalification.

Then we went on to other sectors such as flyovers. It must be mentioned that at that time Sri Lanka was quite bankrupt with the relevant technology that when the flyover reached completion, it was considered peerless.

What Access Engineering did was invest in new technology to make things move faster and manage our projects in a more efficient manner. We certainly had the human resources, but lacked the opportunity to be creative and realise their fullest potential. We have contributed to make this business a fully integrated knowledge based enterprise. That is the contribution we brought in, and got the accreditation as direct contractors.Wehave made good progress to move from subcontractors to prime contractors.
Q: In Sri Lanka's development agenda, how has Access Engineering capitalised on the prospects?
A: Basically we look at the medium term forecast, which is a five year horizon, reasonably long enough in this part of the world. Every year we add a year and we look at what might happen in that period. As I mentioned, we see that the industry is still at a growth phase, both in the private and public sector. That opportunity is there and we strive to cater to it and we are doing so by advancing in our knowledge and human capital and also investing in technology. Of course we have stiff competition with other contractors coming in so if we don't have a competitive advantage our services would not be sought after. We will lose in the long term.

To take piling and diaphragm walls as an example, we have brought in a lot of new technology from Germany where even bigger multinational companies such as ITC are using our services because we have that technology and could provide the value addition. .

Then in the supply of resources and materials, that again we ace. We do realise that we need to keep on innovating to have that advantage. We are determined to add value. This is the only way we could sustain ourselves in the industry as a major construction company.
Q: Could you highlight the challenges faced in staying ahead of the game?
A: The biggest hurdle faced is in the areas of men and material. Men I would place first since that is the real concern. Not the while collar workers since there are plenty of good graduates coming out from our local universities. We have collaborated with a number of state universities for our mentoring program where we offer internships. We are also recognised as a preferred employer in the industry. So we have in place an exceptional mentoring program.I must stress that the construction curriculum in the universities is now the second most sought after in the engineering faculty. It was not the case before and this means the potential is realised.

However, from the vocational perspective it is very limited and it is frustrating. This issue has been there for some time as that level of workers are not attracted to the industry. The three wheel culture is making it a challenge to deal with.Nevertheless, interesting to note is that those who come in have realised the benefit of being in this industry as it is about drawing a minimum salary of about Rs. 50,000 a month, this increases along with the skill upgrade.

We have tried our hand on getting the vocational trained people in. We at Access Engineering have developed our own curriculum for a specific training program. It's a six-week in classroom, and six weeks on the job, program. Within three months they are employed, whereas at a technical college it takes about one year to pass out. This was worked well and the response has been good.What we realise is that once they are into the workforce they are well in.

With regard to materials, the challenges are logistical restriction in sand mining and moving earth from province to province, gaining permits and others. These are beyond our control and these challenges have been there, but we have to go on. The going ahead is challenging but we are working around that.
Q: Coming to the more new projects, could you shed some light on that?
A: Our natural forward integration is into the real estate industry. Once we gained the experience of being a construction company where we know we can add value to the construction aspect, we were of the view that we can offer a better value proposition to the customer in the real estate field.

The first good project in that sense was Access Tower II where we have brought in some construction technology to it, that although not so modern to the world, it is modern to Sri Lanka. Since we brought in the technology, we have been able to offer better office spaces, span and utilities. So much so that the building was leased out even before we reached completion because the efficiency of the utilisation of space was more than 90%.

In our newer projects, which can be called a turnaround for us, we will be bringing in such technologies and more.
Q: Tell us about the much awaited Marina Square, Uptown Colombo.
A:It is a project we are much excited about because of the scale and the uniqueness it offers. The development will take place on a five acre land at No.250, Srimath Ramanathan Mawatha, Colombo 15.

Marina Square is a fully integrated mix-development project that will be carried out by the Harbour Village Ltd. It will feature 997 condominium apartment units and around 150,000 sq. ft. of commercial space. We call it a 'perfectly pitched luxury' development that will hold high standards of services very much within the reach of our target clientele. Our aim is to introduce a new caliber of residential living in the City of Colombo.

With the finest finishes and modern amenities, Marina Square will grace the Colombo landscape with its spectacular views of the Indian Ocean and the Colombo Port.
Q: What are the specific features of the project, what makes it stand out?
A: There are a number of new elements the project will be offering. Marina Square will feature five towers. In those towers will be; one bedroom units (549-732 Sq.ft.), two bedroom units (732-1065 Sq.ft.), three bedroom units (1055 -1431 sq.ft.), four bedroom units (1872-2012 sq.ft.), duplex units with private garden area (1065-1173 sq.ft.) and penthouses (2916 sq.ft.).

Touching on the amenities that would be featured, made available will be an infinity pool with kids pool, fully equipped gymnasium, BBQ pits, two acres of landscaped garden area, a club house, indoor games room and a jogging track and kids play area.

Adding to the convenience factor will also be a covered parking for each apartment with the option to purchase additional if required (based on availability) and visitor parks. There will be separate entrance lobbies for each tower, a shopping area at the ground level that would include a supermarket along with a food court.

To uplift the maintenance standard, there will be garbage storage in each floor with a separate garbage lift, whereas measures included a fully-fledged Access Control System and CCTV Surveillance.

What the project offers is intelligent planning that covers all aspects of living space keeping in mind the country's living expectations while bringing in world class standards.
Q: What is significant about the location chosen to establish this one of a kind project?
A: Marina Squareis located facing Srimath Ramanadan Mawatha where it lies between Ceylon TobaccoCompany and the Setmil Tower.The land is in close proximity to Colombo's commercial hub, which is Colombo 1, 2 and 3 (2 to 3 km distance), and the Port City. The proposed Elevated Port Access Highway also runs in close proximity to the development so it cannot get any more convenient than this. Although this area has been a preferred residential place many years ago, that has gradually deteriorated over time, where living in the South and East of Colombo City such as Colombo 3 and 7 has been considered more prestigious.However, with the 'Port City development' this myth is certain to change.

Colombo Financial City (Port city) will be the biggest real estate development in Sri Lanka and this project being close to port city has the advantage of being only a few steps away of enjoying all the benefits the Port City Development would offer. From a public use perspective, the Port City would offer 65 hectares, parks and recreational areas, compared to Galle Face which is around 5 Hectares.There is also a 3 km public beach along with international schools, state of the art hospitals, recreational, food and shopping areas.This would also be very attractive to those working at the Port City, which is estimated to have around 100,000 employment opportunities which would offer an excellent living option very close to their work place.This is also an ideal opportunity for potential investors to gain faster Return on Investment (ROI).

Also, we must note that Colombo's skyline is rapidly changing with several upcoming premium residential projects. There is a property boom which has resulted in a sudden but drastic increase in prices of properties in Colombo. With that changes having taken place, purchasing an apartment has become unaffordable for the middle and upper middle class Sri Lankan's who prefer to live close to the city. Marina Square caters to this very need.
Q: When isMarina Squarescheduled to reach completion?
A: The project will be executed in two stages, the first stage we will aim to finish 30 months from January 2018 and the second stage we hope to complete within 48 months from January 2018.

The first stage would consist of about 600 apartments, and the second would be the remaining apartments and the commercial facility.
Q: There are some big names partaking in this development. What about the stakeholders involved in bringing this project to reality?
A: Marina Square is being developed by a newly formed entity Harbour Village Ltd. It consists of three specialised companies coming together, that is Access Engineering, China Harbour Engineering Company Ltd (CHEC) and Musthafa Singapore (Private) Limited.

Access Engineering, as it is well known, holds a prominent position in the construction industry landscape in Sri Lanka being the premier civil engineering firm listed in the Colombo Stock Exchange (CSE). We are the main developer holding 60%.

CHEC is a subsidiary of China Communications Construction Company Ltd. (CCCC), one of the Global Fortune 500 companies. It was founded in 1980 and has been involved in developing and operating the oversea business on behalf of CCCC.To highlight its scale, it has more than 60 overseas branch offices or subsidiaries serving clients in over 80 countries around the world.

In this project they are a 30% shareholder and come in as a joint venture partner and contractor.

CHEC boasts of having 10,000 plus employees who are undertaking $ 10 billion worth of projects globally. It has the reputation of being a leading provider of full services in Engineering-Procurement-Construction (EPC), Build-Operate-Transfer (BOT), and Public-Private-Partnership (PPP) for both public and private sectors. Its diverse infrastructure portfolio includes marine engineering, dredging and reclamation, high rise developments, road and bridge, railway, airport, equipment assembly.

The fact that the CHEC is also handling the Colombo Port adds value to the Marina Square as it will be more of a shared development where the project will be reaping a number of benefits from that growth.

Meanwhile, Musthafa Singapore Ltd. comes in as a shareholder of10%. They are the sole proprietor of Singapore's local retail giant Mustafa Shopping Center. The popular spot is a 24-hour shopping mall that houses the Mustafa department store which comprises two large scale two shopping centers and restaurants.

The architectural consultant is the Design Group 5 (DG5) whereas our Marketing Consultant is R B Realtors & Consultants.

It can be said that it is the best of the best coming together to offer prime real estate in Colombo.
Q: How much of an investment is being pumped in?
A: Equity investment of all our shareholders has been Rs. 5 billion and the total investment would be approximately Rs. 15 billion.
Q: Would you say that Marina Square is one of the finest developments from Access Engineering?
A: As you very well know, real estate is all about location and we are very fortunate to have acquired this prime real estate which is located within walking distance to the biggest development foot print in the country for the forthcoming decades.The experience and value we bring into the development together with our partners China Harbour and Mustafa's Singapore Ltd. would no doubt provide a great value proposition to our customers.
Project at a glance: Marina Square
Address: No.250, Srimath Ramanathan Mawatha, Colombo 15
Developing partners: Access Engineering, China Harbour Engineering Company Ltd. (CHEC) and Musthafa Singapore Ltd.
Investment: Rs. 15 billion
Construction period: 36 to 48 months
​
Project features:
Number of apartments: 997 units consisting of 5 towers
Residence type: 1BR, 1.5BR, 2 BR, 3 BR, 4 BR apartments and penthouse
Land Size:5 Acres
Unique feature: Unobstructed Sea & Harbour View
Key amenities: Large infinity swimming pool, kids play area, club house, outdoor garden, jogging tracks, central gas, multitude level parking, and other common facilities.
Retail Area: 40,000 sq.ft ( consisting of – department store, supermarket, food court and restaurants)
Office space/other commercial space: 115,000 sq.ft (3 levels )
For further information contact RB Realtors & Consultants Ltd.
Address: 105, 5th Lane, Colombo 03.
Tel: +94 11 2372524/23
Mob: +94 71 844 0308
Hotline: +94 71 912 0000
Email: richard@rbrealtors.net, info@rbrealtors.net
Web: www.rbrealtors.net