Night view Altair
---
"Cities must have iconic buildings and structures; this is key to a city's uniqueness and character," says Mohandas Saini, Managing Director and CEO of Shapoorji Pallonji International. Akin to how Manhattan is defined by the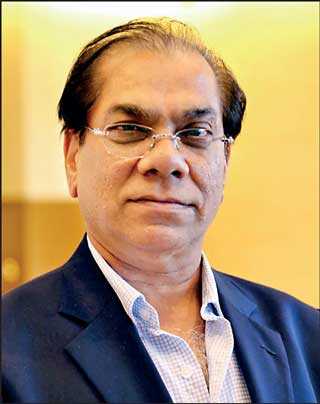 S & P CEO Mohandas Saini
Empire State Building, Kuala Lumpur by the Petronas Towers and Dubai by the Burj Khalifa. Saini made these remarks on one of his periodic visits to Colombo to review Altair's progress, scheduled to complete in end-2019.

Shapoorji Pallonji & Co. Ltd., regarded as one of India's most valuable private companies with a legacy spanning over 150 years, is no stranger to such iconic construction projects. The company was the main contractor of the tallest residential development in India, the 60-story 'Imperial Towers' in Toledo Mumbai, completed in 2010. Other iconic projects by global construction giant include the palace of Sultan Qaboos Bin Said Al Said of Oman, Park Towers Dubai, Taj International Hotel Mumbai and the Hilton Riyadh.

Altair, adjudged the best condo in Asia for architectural design at the 2018 Asia Property Awards, was designed by Moshe Safdie, a pre-eminent architect of our time. Safdie's works can be found across the globe and have become revered regional and national landmarks, including Yad Vashem Holocaust Museum, Jerusalem; Kauffman Center for the Performing Arts, Kansas City; United States Institute of Peace Headquarters, Washington DC; and Marina Bay Sands Integrated Resort, Singapore.

The unique design of Altair incorporates a 63-story inclined tower connected to the 69-story vertical tower via a strong outrigger at the 39th level. At the height of 240m, the vertical tower is now the tallest residential building in Sri Lanka

The inclined tower utilises structural steel diagonal grids on the exterior of the building giving a permeable surface for expansive floor to ceiling windows as well as acting as a load bearing membrane, minimising the use of interior columns. According to Mohandas Saini, these unique design features led to a particularly complex project from a construction standpoint due to the high degree of precision work required to maintain uniformity that cannot be achieved through traditional fast-tracked methodologies that are commonplace now in high-rise construction in Sri Lanka. Despite the challenges, the superstructure construction work was carried out at a commendable speed with 'one floor added almost every week', notes the CEO.

Commenting on the outcome of the superstructure works Saini remarks, "The entire weight distribution was so well engineered, and the workmanship is of such good quality that the level of deviation from original specifications were substantially lower than allowable structural engineering tolerances."

Structural engineers to this project have been Dubai based Predag Eror of Derby Design, and well known Sri Lankan structural engineer, Deepal Wickremesinghe. Structural elements of the building were independently verified by the University of Moratuwa.

The CEO also says that Shapoorji Pallonji has earned their global reputation not only for their expertise in construction, but for their enduring commitment for the projects they undertake. "We believe in long-term value-added relationships with all stakeholders, often investing our own money in projects we undertake, as we have done so in Altair." The main shareholder of this $ 250 million project is Kolkata based South City Group, a consortium of firms which has collectively delivered over 150 real estate projects consisting of more than 15 million square feet.

Along with Altair, Shapoorji Pallonji is involved in four other projects in Sri Lanka, including an office building and a water supply project. The CEO remarked that his company is considering engaging in a public-private partnership with the Government with regards to another key project and are open for further investment opportunities in the country.

Speaking of his experience of working in Sri Lanka, Saini says that local engineers have excellent skills and expertise. However, the company had to resort to employing a large foreign workforce due to the shortage of skilled labourers and specialised technicians in the domestic market.