Trash to treasure is a concept we have heard before. Waste to energy though not relatively new, is certainly a first for a country like Sri Lanka. Powering a 5kw generator through its 100m3 biogas unit, the Kaduwela Municipal Council made history recently at the handing over ceremony organised at the waste collection centre in Kaduwela. The ceremony was attended by former Kaduwela Mayor GH Buddhadasa, who was also the key individual in initiating this concept in the mid 2000s.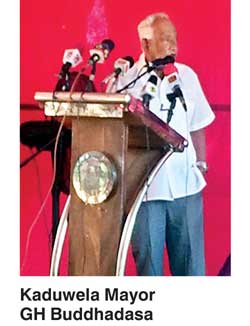 "The waste we collect at households is no longer market garbage. Not only is the Kaduwela Municipality's biogas unit a step towards greener and more sustainable solution towards managing waste. The Municipality's success first began when they began converting waste to compost then to biogas and now to electricity and will also be an exemplary story for other municipalities to follow over time," said Western Province Central Environment Authority Director.

Co-funded by the United Nations Development Programme and the Municipal Council with technical advice from the joint partnership initiative by People in Need, Cz and Janathakshan (Gte) Ltd. on 'Up-scaling Biogas Technology for Sustainable Development and Mitigating Climate Change in Sri Lanka', the Sri Lak Umaga model unit at the Kaduwela Municipal Council is the largest units owned by a government entity so far.

"The initial design that was put together by GK Upawansahas comes a long way since and the initiative by the Municipality would be the first step in creating a more disciplined outlook on how we consider waste as a resource," said Project Manager Damitha Samarakoon.

The Municipality receives approximately 90 tonnes of garbage a day. Of this, 40% is non-degradable and are sent to recycling and up-cycling initiatives. Of the remaining 60%, nearly 35 million was spent for composting 20-25% of waste while the remaining was sent to landfills that are now gradually being brought down by the biogas unit. A unit expansion plan is in the pipeline to add an additional 400m3 to the unit. This would enable the Municipal Council to process 10 tonnes of waste a day and that can run a 30kw generator.

The EU SWITCH-Asia initiative is a joint partnership between People in Need, Czand local partner Janathakshan. The project is focused on up-scaling biogas technologies for sustainable development, responsible tourism, economic growth contributing to poverty reduction and climate change mitigation in Sri Lanka. The project targets tourism Small and Medium Enterprises (SMEs), households and public authorities in the country while building the technical capacity of manufacture and construction SMEs in biogas technologies. The project also supports micro-finance institutions to develop financial schemes providing loans for biogas installations to SMEs and households.

Furthermore, the training and capacity building component of the initiative assists local construction sector to enhance its technical and entrepreneurial competences regarding manufacturing and installation of biogas systems.