From left: PDEXCIL Past Chairman M. Duraisamy, High Commission of India Second Secretary (Economic & Commercial) Rajeev Arora, High Commission of India First Secretary (Economic & Commercial) Suja K. Menon, Ministry of Development Strategies & International Trade Secretary Chandani Bandara, PDEXCIL Vice Chairman Sunil S. Patil and Apparel Exporters Association of Sri Lanka Chairman Felix A. Fernando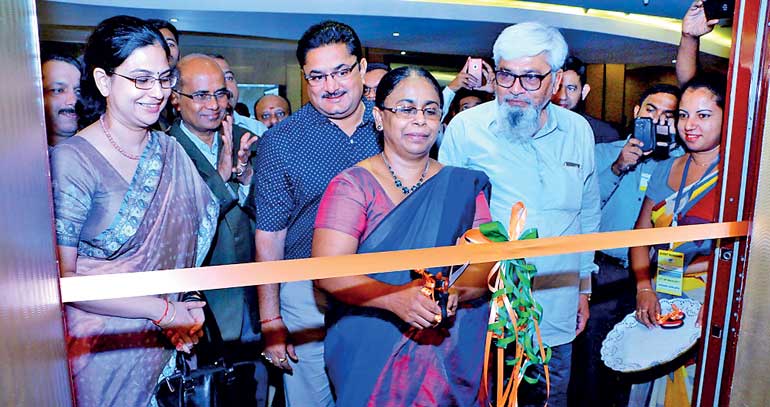 India International Textiles Expo-Colombo 2017 has been organised by PDEXCIL with the active support and guidance of Ministry of Textiles and under the MDA Scheme of Ministry of Commerce, Govt. of India.

The Inaugural function was held at the venue, Galadari Hotel Colombo. The event was inaugurated by Chandani Wijewardana, Secretary, Ministry of Development Strategies and International Trade. Also present during the occasion was Suja Menon, First Secretary, Commerce High Commission of India, Felix Fernando, Chairman, Apparel Exporters Association, Sunil S. Patil, Vice Chairman, PDEXCIL, and M. Duraisamy, Past Chairman, PDEXCIL and various other dignitaries from Sri Lanka and India.

Powerloom Development & Export Promotion Council (PDEXCIL) is set up by the Ministry of Textile, Government of India with the objective of overall development of powerloom industry in the country and promotion of export of powerloom products. To achieve these objectives PDEXCIL organises various market promotional activities such as organising seminar, workshop, buyer-seller meet, etc. participating in international exhibition in India and abroad.

As a part of export promotion activities, PDEXCIL has organised this Buyer Seller Meet (BSM) at Colombo, which is held from 27-28 March. This will be an opportunity to interact the stakeholders of textiles in both country and develop business opportunities on mutual benefit.

Sixteen Indian exhibitors are displaying their products during this two-day event. It is a unique opportunity for our manufacturers/exporters to show case their products before the buyers of Sri Lanka to interact with them and explore business relations and export opportunities. This is in line with the Government policy of boosting exports from small and medium manufacturers of India. Exhibitors from various state/clusters of India with their speciality products are participating in the event.

PDEXCIL has well experience in organising such events, as could be judged from its past similar events in Colombo, Vietnam, Dubai, etc. The earlier event held in Colombo by PDEXCIL was in September 2013 which was great success in terms of the buyers who visited and business relations developed. This present event is also a preparation for a larger scale buyer-seller meet being organised in November 2017 with more than 50 textile manufacturers from India.