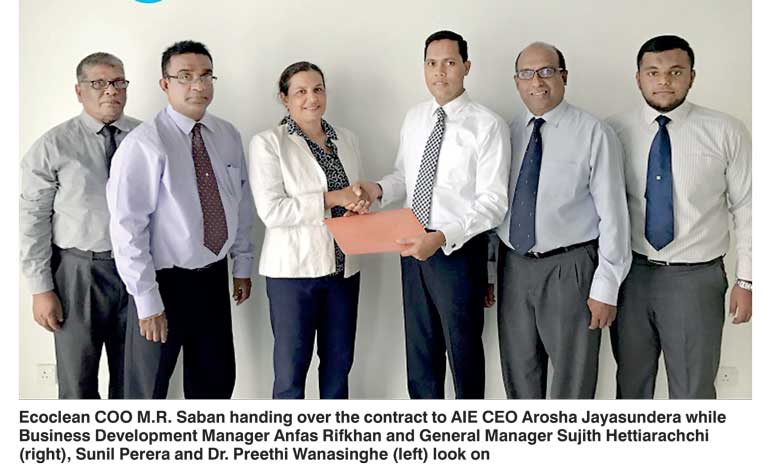 'Sustainability' is fast becoming a globally recognised phrase. Sustainable consumer goods are becoming increasingly critical both in the industrial and domestic sectors which means that large scale industries and hotels today, are being pressurised to embrace sustainable cleaning methods which are safer for the environment, their consumers and staff. Sri Lanka's retail industry is fast catching up on these global trends.

Brands such as Ecoclean who recently entered the local market, today have become leaders in their field, with their excellent range of retail products which adhere to the highest environmental standards and are safe for use by anyone. Their products are purchased by many top companies in Sri Lanka, and adorn the shelves of most of the leading supermarket chains.

In order to achieve ISO 14000 standards, they recently engaged the services of the Quality Consultants – Asian Institute of Excellence (AIE) – to analyse and improve quality standards within their factory and warehouse.

AIE undertook a full review of all their processes and monitoring mechanisms and introduced 'Good Manufacturing Practices' guidelines across the board. The improvements included optimal factory and warehouse layouts to minimise wastes and costs. The benefits of these changes will be felt both immediately and in the medium term, through sustainable business practices, reduced waste, fewer breakdowns, significantly less down time, recyclable materials and improved use of the 3 R concept ( Reduce, Re-Use, Re-cycle). The increased efficiency and minimising of costs are benefits of this exercise, which will be passed on to the consumer in terms of price and quality.

According to COO R. Saban, "The concept of eco and safer hygiene products are very popular in the Western world and these products follow stringent standard procedures from inbound logistics to the consumer. Our products are made from raw materials supplied by world-renowned companies. In Sri Lanka, Ecoclean is in the forefront of developing this 'green' category and is investing and catering for the niche market, to communicate the benefit and awareness of these products. This will also enable other companies to reap the benefits, thus broadening the consumer segment. Today, Ecoclean is partnering with AIE as part of their corporate strategy to tap their expert knowledge in Quality Assurance, Good Manufacturing Practices and ISO procedures, so as to achieve these standards in our full product range."

The Asian Institute of Excellence (AIE) is also proud to be partnered with futuristic company such as Ecoclean. The 'Green' concept is important in the detergent industry, as it symbolises products free from harmful ingredients. Today, ingredients such as surfactant, coconut oil, baking powder, enzymes, etc, can be obtained from plant sources. Eco- friendly detergents can be produced which also consist of a reduced inclusion of petroleum components. Some chemicals pollute the environment, but with components of biological decomposition, they can be made eco- friendly. According to Arosha Jayasundera, CEO, Ecoclean has adopted the Green ethos and by working with them on this project, AIE has adopted the same values. AIE's senior management team included Dr. Preethi Wanasinghe and Lalin Perera.

With these improvements in place, Ecoclean is now ready to exploit the international markets. Their product range is not only Green but are also produced at consistent high standards in terms of packing, volumes, and quality which is essential to attract and capture international clients.