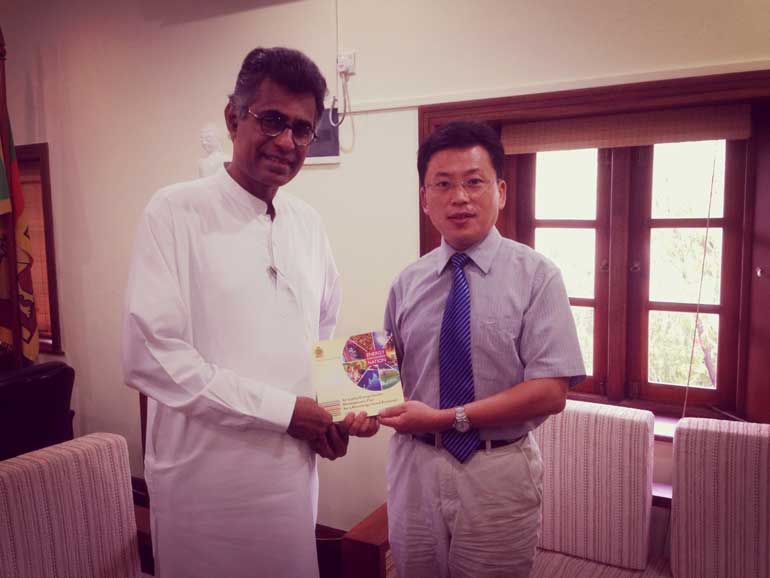 Half electricity for Lanka guaranteed, electricity cost reduced


China and Sri Lanka expressed full satisfaction with their cooperation on the Noriochichli Coal Power Plant. In a meeting at the Ministry of Power and Energy recently on 8 May, both Minister Champika Ranawaka and Chinese Embassy Deputy Head of Mission Ren Faqiang, spoke highly of the smooth operation of the country's first coal power plant over the past eight months and its key role in ensuring the steady electricity supply to this island.


The Minister and the Chinese envoy took note that this coal power plant generates about 40%-60% electricity used by the whole country, and in the past eight months since the full operation of Phase I and Phase II, it is operating safe and sound; not a single power off has ever occurred. This has greatly relieved the pressure of the energy demand in Sri Lanka and reduced the price of electricity, therefore benefiting every Sri Lankan family, government agencies and private business sectors.


Minister Ranawaka appreciates the hard work and professionalism of Chinese experts and engineers helping to operate the plant. He said China is a major development partner of Sri Lanka. The Sri Lankan Government and people are grateful of China for its long lasting support to Sri Lanka's reconstruction and development efforts.


Faqiang said China is a true friend of Sri Lanka, and CEB and China Machinery Engineering Corporation (CMEC) are good partners. In the past eight years, they cooperated very well and worked together, with the same goal of providing stable and low price electricity for Sri Lankan people. The coal power plant is under full management of CEB; CMEC only provides technical assistance for operating and maintenance.


Faqiang said that one KW generated by this coal power is only Rs. 8 while diesel power plant costs are Rs. 30-50/KW, which saves money for every Sri Lankan.


The Norochichli Coal Power plant is the country's first coal power plant in history. The employer of the project is Ceylon Electricity Board (CEB), the Contractor and technology provider is China Machinery Engineering Corporation (CMEC). The Project is funded by China EXIM bank of preferential loan.


The accumulated electricity generation of the project is already around 8000 GW (Gigawatts, 1 GW = 1,000,000 kWh). CEB has saved more than Rs. 100 billion ($ 700 million) of the power generation cost thanks to this plant. The investment of Phase I by CEB has already fully recovered right now, remarking this great plant as the largest profitable entity in Sri Lanka. Every day, the net profit of Norochichli Coal Power earns for CEB is around $ 1.5 million if the three unities are in full operation.