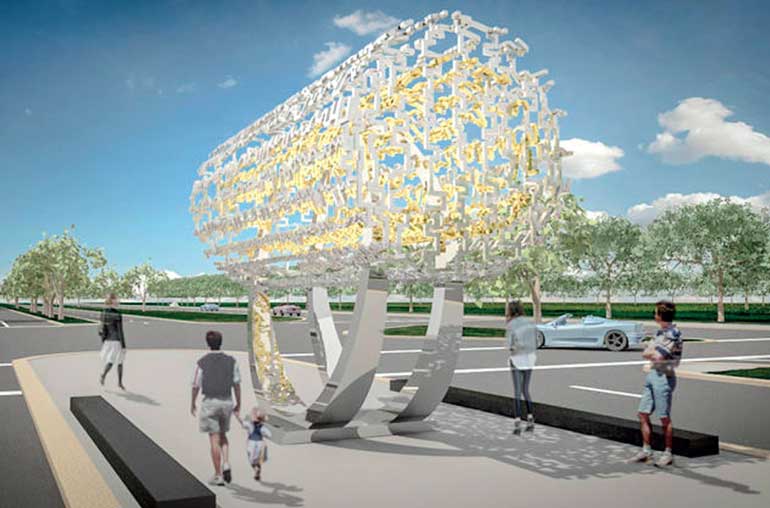 The University of Virginia has awarded the 2016 Thomas Jefferson Foundation Medal in Architecture to Cecil Balmond OBE.

The award is the highest accolade bestowed by the University, which does not grant honorary degrees. It recognises the exemplary contributions of recipients in endeavours which Thomas Jefferson, author of the Declaration of Independence and third US President, excelled and held in high regard. Awards are given in Architecture, Law, Citizen Leadership and Global Innovation.

Balmond joins the list of distinguished architecture medal laureates including Ludwig Mies van der Rohe, Philip Johnson and Frank Gehry. The award has been given annually since 1966 and is now in its 50th year.

"By any measure and in any age, Jefferson was a brilliant mind, and the founding father who best embodied the American spirit of ingenuity in multiple fields," said Leslie Greene Bowman, President and CEO of the Thomas Jefferson Foundation at Monticello. "His vast contributions to science, architecture, academia, diplomacy, and culture reflect an insatiable appetite for useful knowledge and dedication to improving life in a new nation. We are honoured to welcome the 2016 Thomas Jefferson Foundation Medal recipients, each of whom has had, and will continue to have, a profound impact on our world."

"For a long time I have seen the name of Mr Jefferson as a talisman, defining bold horizons and being an ardent brand for discovery and refined design. To be part of this heritage, in receiving the Thomas Jefferson Foundation Medal for Architecture this year is indeed a very great honour and one that truly delights me," says Cecil Balmond.

The awards are presented annually on 13 April, Jefferson's birthday, by the President of the University of Virginia, and by the President of the Thomas Jefferson Foundation – the independent, non-profit organisation that owns and operates his home, Monticello. 13 April is known locally as Founders Day, celebrating Jefferson's founding of University of Virginia in Charlottesville in 1819.

During his visit Cecil will be presented with the medal and give a free public lecture at the University.The program also includes Informal, an exhibition of Balmond work, showcasing key projects, as well as his unique design philosophy and methodology. Informal will be displayed at the University from 28 March until 15 April.

Cecil Balmond OBE is widely considered to be one of the most significant creators of his generation. An internationally renowned artist, architect and engineer, Balmond transcends the conventional boundaries of discipline. Before setting up Balmond Studio in 2011, Cecil was Deputy Chairman of Arup. He was also Chairman of Arup's European Building Division and ran the critically acclaimed design group, AGU (Advanced Geometry Unit). Balmond's pioneering work with the AGU, and collaborations with internationally-renowned architects, brought his unique design philosophy to the world.

Balmond has spent over 40 years investigating the relationship between form and the very roots of order at the core of life. This groundbreaking approach has won Balmond numerous awards including: Officer of the Order of the British Empire for Services to Architecture (2015) ; the IED Gerald Frewer Memorial Trophy (2011); the Sir Banister Fletcher Prize for his book Informal (2005); the Riba Charles Jencks award for Theory in Practice (2003); and the Gengo Matsui prize for the Serpentine pavilion designed with Toyo Ito (2002). Snow Words, a light sculpture created for Anchorage, Alaska was heralded one of the best public artworks in 2013 by the American for the Arts, Public Art Network Year in Review.

Balmond is a Professor of Architecture at Penn Design (Paul Philippe Cret Chair 2005 to 2015, Associated Faculty 2015 - present) where he founded the Non-Linear Systems Organization (NSO), a material and structural research unit at University of Pennsylvania. Balmond has also been Visiting Saarinen Professor at Yale University School of Architecture, 1997-2002; Professor at LSE Urban Cities Programme, 2002-2004; and Visiting Kenzo Tange critic, Harvard Graduate School of Architecture, 2000.www.balmondstudio.com.