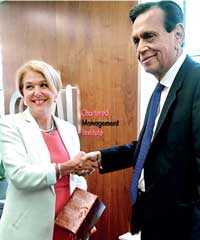 Sega Nagendra Companion of the Chartered Management Institute UK and Past President of the Chartered Management Institute, UK Sri Lanka Branch and Senior Member of the Management Club during his recent visit to the United Kingdom called on Ann Franke, CEO of the Chartered Management Institute at their new Head Office in Kingsway, London.

He was warmly welcomed by the CEO, Ann Franke, Miranda Deards, Companions Manager, and Onna Igglesdan. Franke congratulated Nagendra on been awarded the Chartered Management Lifetime Achievement Award for 2017 which is a most prestigious award at the recently held Management Excellence Award Ceremony at the Shangri-La Hotel on 29 March.

Nagendra conveyed to Franke the best wishes of the new President, Murali Prakash and the Past President Malraj Kiriella. Franke also mentioned to Nagendra that she would like to visit Sri Lanka and she would be contacting Murali Prakash in this connection.