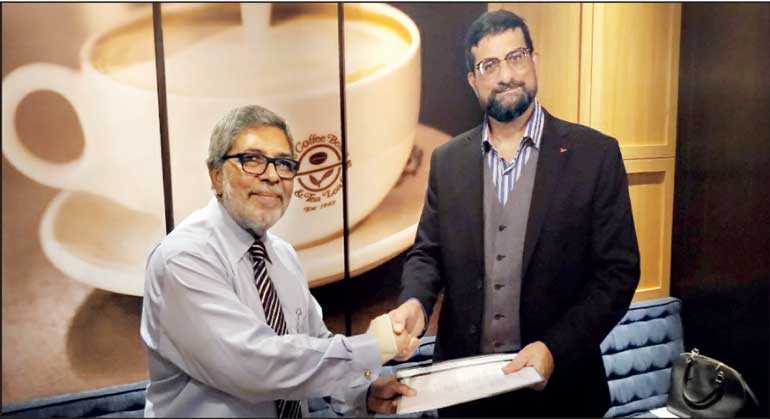 Roman Scott the Chairman and MD of the Calamander group, owners of the Brand Coffee Bean seen here with TMC President Emeritus Fayaz Saleem, exchanging MOUs
The world renowned Coffee Bean brand having a network of five outlets in and around Colombo has plans to expand further in the country. The Calamander F&B group that owns the brand in three countries has recently opened two outlets in Bangladesh as well.

TMC is indeed proud to have Coffee Bean as its newest partner where both would have reciprocal benefits soon to be announced.

Gourmet Lanka is the trade name for the food manufacturing arm of the Calamander Group's F&B division. Calamander F&B also manages restaurants and specialty coffee brands in three countries and is part of The Calamander Group Inc.

Sri Lanka is famed for its top chefs who can be found in major commercial kitchens around the world, and Gourmet Lanka's mission is to bring together the best of them in Sri Lanka itself, in a world-class facility, to produce gourmet level for the HORECA trade and for export. The European standard purpose-built factory is located in the export processing zone of Horana, Sri Lanka and is certified FSSC 22000, ISO 22000:2005, Malaysian Halal Certificate, GMP Certificate by SLSI and Animal Products Exports Registration.

They manufacture and process a wide range of premium food products for the HORECA trade, end consumers and retailers. They are specialists in 'nothing artificial' products, exotic and unique Asian recipes, Indian, Italian, a full range of premium bakery products including French patisserie and American bakery (cheesecakes, muffins, etc.), German sausages, processed meats and smoked products, and yellow fin tuna. The brand prides itself on authentic versions of the world's top 50 recipes as frozen readymade meals at an affordable price point. Recipe development and costing and chef training are provided as services.

The company is also an import agent for Sri Lanka for a variety of readymade drinks, waters, coffee, and Scottish deli items including smoked salmon.