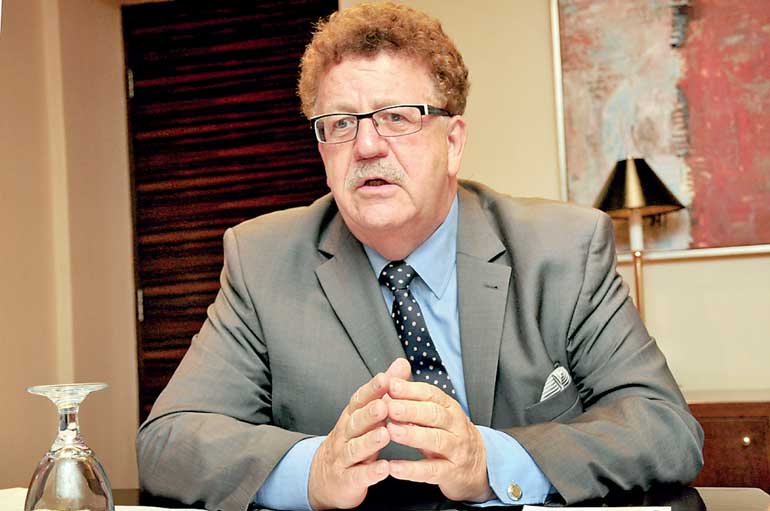 By Charumini de Silva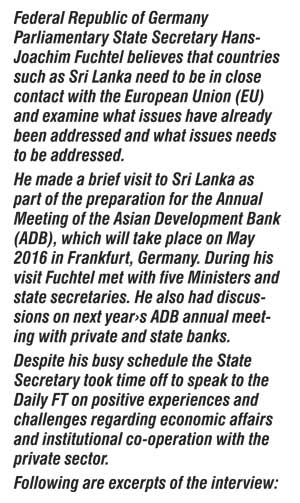 : How does Germany see its relationship with Sri Lanka growing in the coming years?

: Since January 2015 many new opportunities for co-operation have been emerging because everybody in Europe can see that there are many positive developments in Sri Lanka regarding freedom of the press, fundamental freedom and signs that show that there is growing interest in investment. Germany is involved in a lot of activities with many countries which have not been all that active in Sri Lanka in recent times. Thus, one aspect of my visit to Sri Lanka in the capacity of advocating for political foundations in Germany is to remember that there is a new situation here that they could talk about their contributions that they could make here.

: Are German investors bullish on emerging markets like Sri Lanka? What are the challenges?

: Emerging economies of course have already made more headway on development than other courtiers, which is good and they need to build on that and also start to assume more responsibility. This also includes collecting more taxes, fees and charges. The population of such a country also tends to develop growing expectations regarding better prosperity and this can only be achieved through hard work, infrastructure development, the consolidation of economic and business relations and taking new trade dimensions. And the countries in this region of course are also facing major changes regarding climate policy.

: In which areas are you looking at funding opportunities and expanding DEGs operations in Sri Lanka?

: In my capacity as the chair of the Supervisory Board of DEG, I would also like to point out that this bank is certainly interested in designing more projects that have a special focus on the grounds of energy efficiency plus the renewable energy. The DEG is engaged in Sri Lanka at this point to the volume of €120 million in a variety of sectors. Just in September we agreed upon another project that is focused on supporting SMEs – another focus area for Sri Lanka.

On this visit to Sri Lanka I brought an expert from the DEG Bank who has been very busy the past one and a half days talking about opening co-operations with the private sector here. We had a discussion with the Hatton National Bank and DFCC Bank. DEG is also working with other banks. This morning we had a round table discussion representing all major banks. At this meeting we particularly discussed next year's annual meeting of the ADB and the question of how Sri Lanka can best present itself there including its private sector and co-operation with the banks.

I also had a meeting with the Foreign Minister and we talked about positive experiences regarding institutional co-operation with the private sector through one-stop-shops (OSS). Because we found that wherever this kind of central contact point for the private sector is setup in a single place it creates opportunities for investment and business co-operation in the country.

The Ambassador for Sri Lanka in Berlin came to see me three times during the past few months and he would like to increase his visits to various regions of Germany to have contacts with companies that might possibly be interested in investing here in Sri Lanka. And at the Federal Ministry of Economic Co-Operations we will of course be happy to support these kinds of efforts and I'm expecting that he will visit as many as four different regions in Germany within this year. This way we will be enhancing knowledge about new developments in Sri Lanka in various regions of Germany thus enhancing opportunities for good development on the economic front.

We know from the banks that in this country there are good opportunities for financing on a very small scale and a good environment for large-scale projects but there are is a gap regarding the traditional financing on medium scale from €8 to €10 million. This is an area where more could be done.



Another important issue is high quality vocational training. It is possible through high potential of young people who can enter business lines by setting up a startup company and if that happens you have a this kind of small startup companies which can be turned into growing businesses which will actually be based on resources from within the country and will not need investments from foreign countries. Today we were able to visit one such company called Mega Heaters which started a few years ago on a very small scale and now they have a workforce of 150 people. This kind of development is good for the country. Now that the political environment is improving, this will improve opportunities for these kinds of businesses.

: How can the ADB assist Sri Lanka in achieving its development goals?

: ADB is engaged in very practical co-operation with Sri Lanka which is evident through the major projects at the port and in 2014 new loans to the tune of $536 m were committed by the ADB. The focal areas namely are — agriculture, rural development but also energy, transport and water and other infrastructure measures. This is where the bulk of the money was spent on.

: Sri Lanka is applying for GSP+; what is its challenge in getting the trade concessions?

: Countries such as Sri Lanka needs to be in close contact with the EU and examine what issues have already been addressed and what issues needs to be addressed. It is also important to build a mutual understanding in order to make progress and to the extent that we are able to, we will of course be happy to assist Sri Lanka's efforts. We will support Sri Lanka within the system of the EU.

: How does Germany view the Trans Pacific Partnership (TPP)? How can Sri Lanka gain from the TPP and what are the challenges?

: We are working on a solution and we desire such an agreement. We want to design it in such a way that it will be as constructive as possible for all sides. This will remain to be seen in the further process of negotiating the agreement.

: Could you tell us what Germany is doing around sustainability and green energy?

: Regarding the issue of climate and energy this has been a very important topic in the G7 negotiations where the G7 emphasised that we need more progress on this front. This will be taken to the next level of negotiations at Paris regarding the Green Climate Fund. We all know that we have a great responsibility here. European countries and those countries that are feeling the impact of it the most must arrive at a solution, so co-operation is needed. Germany will design its contributions to the Green Climate Fund as promised by our Chancellor and we are preparing for this in terms of putting together our budget now. Another important focus will have to be getting the development banks to design their contributions accordingly so that there will be reduction of carbon emissions in order to limit global warming.

: The EU is going through a tough time, any light at the end of the tunnel?

: Of course there are major challenges facing the EU at present, which includes Greece as well as the current refugee issue, and the EU as a whole will need to stand the test of this.

: How can Sri Lanka as a middle-income country overcome the question of debt?

: This is a difficult question for all countries including Germany and it is a very political issue. We know that the better a country is able to reduce its debt and that is also its interest payment the more breathing space it will have for new things.

Countries such as Sri Lanka have a great opportunity to not have to repeat the same mistakes other countries have done, but to learn from their experiences and thus make quicker progress especially in the area of infrastructure.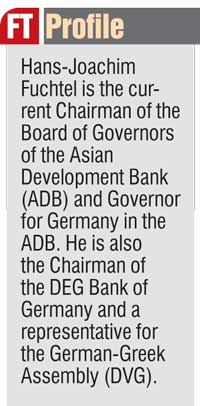 One example where we learnt was waste. Germany had to learn quite a few things the hard way because we first tried many different ways and now have found a way of dealing with it in an efficient manner, but it took us 40 years. Thereby, this is an area where there can be partnerships of experience and knowhow so that this long process can be taken on to other countries and share with them and also taken to a level where infrastructure decisions are taken and this of course shows that it is a good idea to enhance mutual contact at the municipal level. In the area of energy, Germany has already established 50 partnerships to have this kind of mechanism between 50 cities in Germany and cities in other countries. Of course it would be interesting to both sides to examine whether this is an option that we would like to explore with Sri Lanka.

: From your capacity representing organisations, what would you say about Sri Lanka's economic growth in the next five years?



: Our GIZ has many as 108 staff working here who are doing their share; 11 German national and 97 Sri Lankans to address many institutional developments. This is a great combination to maintain a healthy relationship. As I already mentioned our DEG stands ready to increase its activities on specific points and we feel that there is also potential for ADB to further increase its activities here. So there are many measures that can accompany Sri Lanka along its road, which can be seized and should be seized for development here.

You also have one focused area, which is tourism. However, there are experts who feel that even here there is great potential to be tapped, and tourism is of course a very interesting factor for economic development. It even has a very quick impact and it is not only a matter of selling a hotel room but it also involves other infrastructure. So there are secondary jobs connected with that sector which is always a good thing. And then tourists also obviously want to eat and drink so, you have a tertiary impact all the way to the production of things that they will consume. So, it is right for Sri Lanka to be giving thought to further development in this field.

In that context, it is important to always pursue a sustainable strategy that will use landscape and resources bearing strong efforts for green tourism in order to make sure that this will not be conflicting with other goals.

The fact that two German Government officials have visited Sri Lanka within such a short period and had many meetings shows that we are appreciating the change that is taking place in Sri Lanka. We will do our share to make sure that the positive developments can continue and this is also the purpose of my work here and continue for benefit of the people as well as he work here.

In this short time I have seen five ministers and state secretaries, which includes Foreign Minister Mangala Samaraweera, Deputy Foreign Minister Dr. Harsha de Silva, State Minister of International Trade Sujeewa Senasinghe, Minister of Primary Industries Daya Gamage, Deputy Minister of Petroleum and Petroleum Gas Affairs Dr. Anoma Gamage, Ministry of National Policies and Economic Affairs Secretary M.I.M. Rafeek and Ministry of Skills Development and Vocational Training Additional Secretary R.M. Abeyratne.