Prime Minister pays glowing tribute to the Mahatma and Nelson Mandela
PTI: Reliving Mahatma Gandhi's historic train journey, Prime Minister Narendra Modi recently travelled to a railway station, where the Father of the Nation was thrown out of a train compartment, an incident that proved to be a turning point in his fight against racial discrimination in South Africa.

On the second day of his South Africa visit, Modi boarded a wood-panelled carriage at Pentrich and travelled to Pietermaritzburg railway station where a young Gandhi was ejected from a train in 1893 for refusing to obey an order to move from a first-class compartment to a third-class one because of his race.

"This is the place where the seed was laid for Mohandas [Karamchand Gandhi] to start the journey of the Mahatma," Modi told reporters at the Pietermaritzburg railway station.

The incident on 7 June 1893 had strongly influenced Gandhiji's decision to fight racial discrimination in South Africa and later the freedom struggle in India.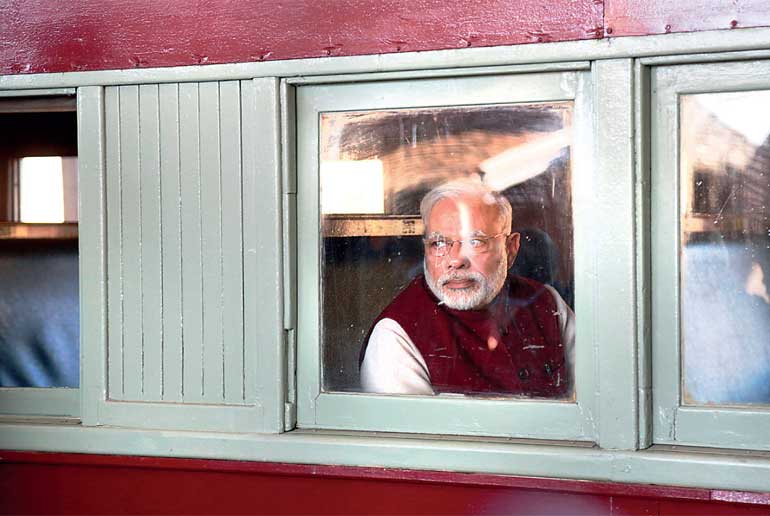 Indian Prime Minister Narendra Modi arrives by train at the railway station in Pietermaritzburg, South Africa, – REUTERS


Paying glowing tribute to Gandhiji, the Prime Minister said the visit to South Africa was like a pilgrimage as he was visiting places which were linked to India's history and life of the Father of the Nation.

"My visit to South Africa has become like a pilgrimage to me as I have got the opportunity to visit all the three places that are significant to Indian history and Mahatma Gandhi's life." Modi also visited the spot where Gandhi was offloaded at Pietermaritzburg. Writing in the visitors' book at the station, Modi said the incident at Pietermaritzburg had altered the course of India's history.

The Prime Minister also inaugurated an exhibition at the waiting hall of the railway station where Gandhiji had spent the night after being thrown out of the train. On the fateful winter night, while Gandhiji was on his way to Pretoria from Durban, a white man objected to his presence in a first-class carriage, and he was ordered to move to the third-class compartment. Gandhiji had a valid first-class ticket and refused to obey the orders following which he was thrown out of the train at Pietermaritzburg station in a winter night. He had stayed at the station that night in shivering cold.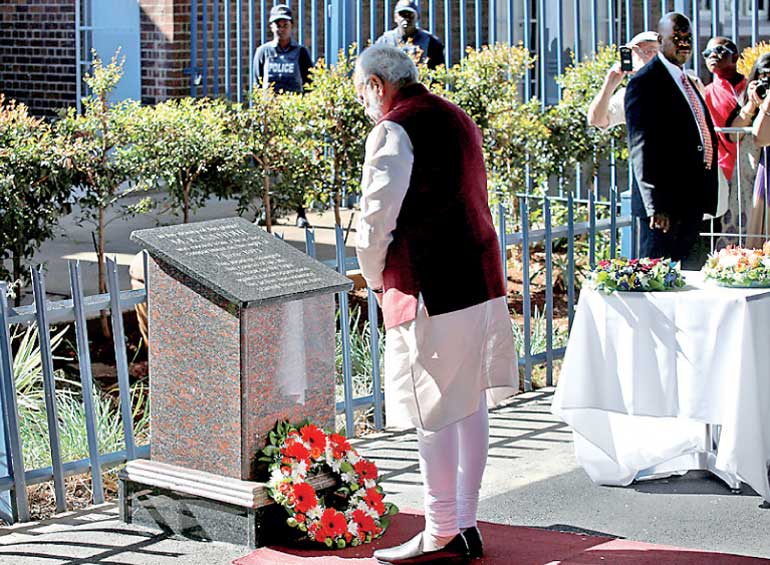 Indian Prime Minister Narendra Modi lays a wreath on the plinth celebrating Mahatma Ghandi on the platform at the train station in Pietermaritzburg, South Africa,– REUTERS


Modi also talked about Gandhiji's fight against racial discrimination and how he tolerated pain in fighting against injustices. "PM travels from Pentrich Railway Station to Pietermaritzburg. Train resembles the one on which Gandhi ji travelled," the PMO tweeted.

The Prime Minister arrived in South Africa from Mozambique on Thursday night on the second leg of his four-nation trip to Africa. Modi visited the Phoenix Settlement in Durban, which is very closely associated with Gandhiji. He also planted a sapling there. Modi had held extensive talks South African President Jacob Zuma on Friday during which both sides agreed to deepen engagement in key areas of defence production, manufacturing, mining and minerals. The two countries vowed to cooperate "actively" in combating terrorism and dealing with issues at multilateral fora.

After the talks, he paid glowing tribute to Gandhiji as well as to Nelson Mandela.

"For me personally, this visit is an opportunity to pay homage to two of the greatest human souls to have ever walked this Earth — Mahatma Gandhi and Nelson Mandela," Modi said. "We stood together in our common fight against racial subjugation and colonialism. It was in South Africa that Gandhiji found his true calling. He belongs as much to India as to South Africa," he added.