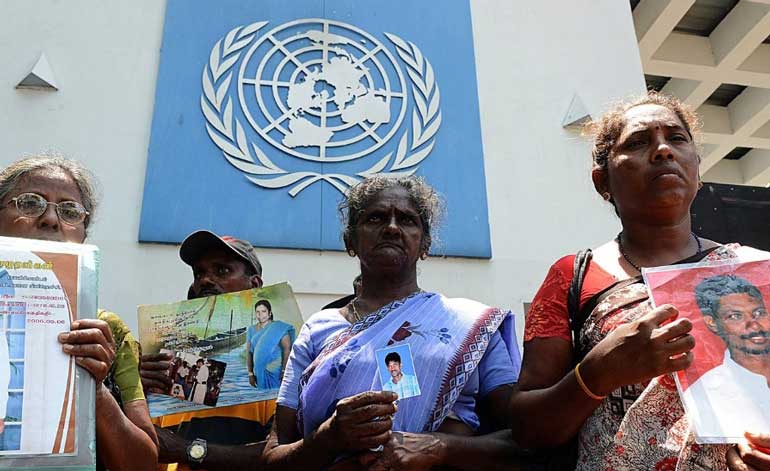 During a protest outside U.N. offices in Colombo on 13 March 2013, Tamil minority demonstrators hold portraits of relatives who disappeared during the civil war – Photo: Agence France-Presse/Getty Images
By Taylor Dibbert

Wall Street Journal: The United Nations Human Rights Council begins its 32nd session on Monday, and Sri Lanka is on its agenda. It's another chance to shine a spotlight on this war-torn island nation as it struggles to recover from a brutal civil war.

Sri Lanka has experienced big political changes since January 2015. Presidential and parliamentary elections signaled the peoples' desire for improved governance and democratic reform. Two-term strongman Mahinda Rajapaksa was voted out of office, and Maithripala Sirisena was tapped to turn things around.

But a closer look reveals an expansive reform agenda in serious trouble, particularly on the most difficult reforms. Government forces defeated the separatist Tamil Tigers in 2009. Seven years later, difficult war-related issues—including the devolution of power and accountability for alleged wartime abuses—have persisted.

Last year's HRC resolution called for a bold transitional-justice plan. This included a truth commission and an accountability mechanism. Ascertaining the truth about the trauma endured by victims and punishing the perpetrators are key to this process. But most of the prescriptions in this plan have yet to be implemented. Colombo doesn't seem serious about pursuing truth or justice and, thus far, isn't even properly consulting the victims of war, a major part of a credible transitional-justice process.

Sri Lanka's continued rejection of international participation in this process is also problematic. Given the country's past experiences with ineffective accountability mechanisms to deal with human-rights violations, significant international participation would be helpful. A purely Sri Lankan process under a government dominated by the Sinhala ethnic majority would be neither credible nor impartial.

If Sri Lanka continues to waver on the HRC resolution, the international community isn't guaranteed to act. But as I argued in these pages in October, the international community, and the U.S. in particular, should keep pressuring Colombo. It should be more cautious about embracing the new government, including when it comes to strengthening ties with a military that is in dire need of reform.

Unfortunately, the Obama administration remains too enthusiastic about resetting the U.S.-Sri Lanka relationship. In April, the U.S. Ambassador to the U.N., Samantha Power, even referred to Sri Lanka as "a global champion of human rights and democratic accountability."

Admittedly, the new government is less authoritarian than its predecessor. A constitutional amendment last year trimmed presidential powers and strengthened the prime minister's powers. The government seems keen on economic reform, too. And Colombo's approach to foreign policy has been more balanced and less confrontational than when Rajapaksa was in power.

But the benchmarks for progress were meant to be far more ambitious. Corruption and nepotism, key reasons why Rajapaksa was thrown out of office, are still big problems in Sri Lanka. Just over 17 months since Sirisena came to power, no one has been convicted of high-level corruption.

The Government also plans to draft a new constitution. That's a difficult task under the best of circumstances. Even if a new constitution does come together, the Tamil community is unlikely to be satisfied with the power-sharing arrangement that comes out of that process.

Meanwhile, the future for the people of the Tamil-majority north and east remains bleak. Extensive militarisation, sexual violence, systematic surveillance of civilians and the military's continued occupation of civilian land suggest that the country's wounds of war will continue to fester long after Sirisena has left office.

The international community has already squandered much of the leverage it had to pressure Sri Lanka. In the months ahead, a more consistent message should be sent to Colombo about the importance of implementing the HRC resolution in its entirety and the concerns about the lack of progress so far.

Even though the U.S. is not a member of the council this year, Washington and its allies could try to initiate a process to ensure that Sri Lanka stays on the HRC's formal agenda beyond March 2017. The Obama administration in particular should hold off on strengthening military and strategic ties until Colombo proves itself sincere about meaningful reform.

With Obama entering his final months in office, opportunities to reconsider the bilateral relationship seem increasingly unpromising. But forward-looking, morally clear thinking from Washington is urgently needed. Ultimately that is what legacies are built upon.


(Dibbert is a New Leader at the Carnegie Council for Ethics in International Affairs. The views expressed here are his own.)

(Source: http://www.wsj.com/articles/keeping-the-pressure-on-sri-lanka-1465494464)