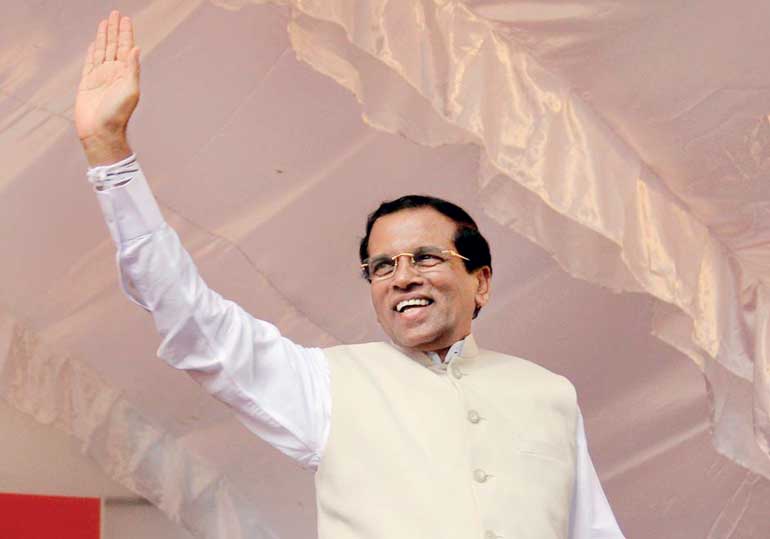 By Charnika Imbulana

Pallewatte Gamaralalage Maithripala Yapa Sirisena, who is known as Maithripala Sirisena, a Sri Lankan politician with 25 years in mainstream politics and one who does not belong to the Sri Lankan political elite, shot to fame to hold the highest mantle in the country on that famous date, 8 January 2015.

Referred to up unto the date by those only the closest to him as "Maithri," it became a household name and the name even spread worldwide when he emerged as the Common Candidate of a coalition of Opposition parties and the eventual winner in the intensely-fought presidential race against the sitting President Mahinda Rajapaksa. From the name 'Maithri' emerged the 'Maithri Palanaya' slogan to that of 'Yahapalanaya,' 'Good Governance' that swept the tide into ushering in a new era.

Maithripala Sirisena was sworn in as the sixth Executive President before Supreme Court Judge K. Sripavan at the Independence Square, Colombo at 6:20 p.m. on 9 January 2015. After being sworn in he stated that he would only serve one term. On 28 April 2015, he voluntarily transferred significant presidential powers to Parliament.

Maithripala Sirisena did not become president by design, rather it was by circumstances and the surprise turn of political events took place so fast that he himself, a relatively quiet politician, known to be a man of a few words than most politicians, was suddenly thrown into the limelight.

Today President Maithripala Sirisena celebrates his 65th birthday, with his wife Jayanthi Pushpa Kumari, their two daughters, Chathurika, Dharani, and son, Daham. Sirisena is a teetotaller and vegetarian is a practising Buddhist. He has indeed walked a long political journey spanning a decade and a half and marking 40 years this year as a member of the Sri Lanka Freedom party. On reflection it has been a long journey, but more to accomplish, yet.

Maithripala Sirisena was born on 3 September 1951, in Yagoda, a village in present day Gampaha District, the Sirisena family however hails from the North Central Province of the country.

He is the son of World War II veteran Albert Sirisena, who was awarded five acres of paddy land in Polonnaruwa near Parakrama Samudra by D.S. Senanayake. His mother was a school teacher.

He was educated at Thopawewa Maha Vidyalaya and Royal College Polonnaruwa where he first developed an interest in politics. While still in school, as a teenager, Sirisena's interest in Communism had led him to join the Communist Party under the leadership of Party Leader N. Shanmugathasan who he closely associates with party activities and was among those in a communist party anti-government rally in 1968, at which baton-charging police had to intervene to break it up.

Under the guidance of SLFP Member of Parliament for Polonnaruwa, Leelaratna Wijesingha, Sirisena at age 17 was chosen as the Secretary of the SLFP Youth Organisation in Polonnaruwa. However in 1971, aged 19, he was jailed for 15 months for alleged involvement in the Janatha Vimukthi Peramuna insurrection. Following his release from prison, Sirisena joined politics at the national level by joining the All Ceylon SLFP Youth Organisation led by Anura Bandaranaike.

Young Sirisena studied for three years at the Sri Lanka School of Agriculture, Kundesale from where he earned a diploma in agriculture in 1973. In 1980 he earned a Diploma in Political Science at the Maxim Gorky Literature Institute in Russia.

In 1974 Sirisena started working at the Palugasdamana Multi-Purpose Cooperative Society as a purchasing officer and in 1976 he became a Grama Niladari (village officer) but resigned in 1978.

After serving at a number of State institutions, Sirisena obtained SLFP membership in 1978. He had a steady rise in the SLFP ranks. He joined its Politburo in 1981, where he was chosen as the President of the All Island SLFP Youth Organisation, and also later served as Treasurer. He became President of the All Island SLFP Youth Organisation in 1983.

During the 1981 presidential poll, when Basil Rajapaksa joined the United National Party, he took over the responsibility of the Secretary of the organisation. Subsequently, he was appointed the Polonnaruwa SLFP Chief Organiser by the SLFP hierarchy.

Maithripala Sirisena contested and won the 1989 Parliamentary election as one of the SLFP's candidates in Polonnaruwa District and was thus elected to Parliament. He was re-elected at the 1994 Parliamentary election, with the SLFP having formed a People's Alliance (PA) with other smaller political parties.

In 1997 he was appointed as the General Secretary of the SLFP for the first time, from which he later resigned. In August 2000 however he attempted to become General-Secretary of the SLFP but was beaten by S.B. Dissanayake and he had to contend with instead as one of the Deputy Presidents of SLFP. It was due the defection of S.B. Dissanayake to the UNP in 2001 that he became General-Secretary of the SLFP in October 2001.

The Chandrika Kumaratunga-led PA Govt. in 1994 saw Sirisena appointed as Deputy Minister of Irrigation and in 1997 he was promoted to Cabinet rank, appointed as Minister of Mahaweli Development.

While in this office he initiated many concessionary grants to improve the standards of the farming community. He also saved the Paddy Marketing Board from privatisation, converting it into a Government institution when he became the Agriculture Minister in 2005. He also began important irrigation projects such as Moragahakanda Kalu and Walawe.

He was re-elected to Parliament at the 2000 Parliamentary election after which he retained his ministerial portfolio.

In the 2001 Parliamentary election although the PA lost the election Sirisena was re-elected to Parliament and sat in Opposition till 2004.

Sirisena was re-elected at the 2004 Parliamentary election as a UPFA candidate and was appointed Minister of River Basin Development and Rajarata Development in the new UPFA Government in April 2004. He was also appointed Leader of the House and Sirisena›s ministerial portfolio was renamed as Minister of Irrigation, Mahaweli and Rajarata Development in July 2005.

He resigned as Leader of the House in August 2005.


Minister of Agriculture

After the 2005 presidential election newly-elected President Mahinda Rajapakshe appointed Sirisena Minister of Agriculture, Environment, Irrigation and Mahaweli Development in November 2005.

Following a Cabinet reshuffle there was a slight change to the portfolio in January 2007 he was appointed Minister of Agricultural Development and Agrarian Services Development by President Rajapaksa.

While serving as the Minister of Agriculture, Sirisena also served as the acting Defence Minister for several occasions during the Sri Lanka civil war. He was acting Defence Minister during the last two weeks of the civil war when some of the worst war crimes were alleged to have been committed.


Assassination attempts

Sirisena has also faced death threats. He narrowly escaped death on 9 October 2008 when a convoy he was part of was attacked by an LTTE suicide bomber at Piriwena Junction in Boralesgamuwa, Colombo. One person was killed and seven injured. On 27 March 2006 Sirisena›s Personal Secretary M. L. Dharmasiri was shot dead by unknown gunmen in Aranangawila.


Minister of Health

Sirisena was re-elected at the 2010 Parliamentary election and was appointed Minister of Health in April 2010. During his time Sirisena sought to combat cigarette and alcohol consumption within the country. He introduced a National Medicinal Drug Policy based on that of the Sri Lanka National Pharmaceuticals Policy of Senaka Bibile and brought the Cigarette and Alcohol Act to Parliament to push for cigarette packaging with pictorial warnings.

The act recommended 80% of packaging include the pictorial warnings, however this was reduced to 60% due to pressure from many multinational companies and from some areas of the Government itself. In May 2014 Sirisena was elected as one of the Vice Presidents of the World Health Assembly.

He was the General-Secretary of the Sri Lanka Freedom Party and was Minister of Health until November 2014 when he announced his candidacy for the 2015 presidential election as the Opposition coalition›s 'Common Candidate'.

Sirisena was declared the winner after receiving 51.28% of all votes cast compared to Rajapaksa›s 47.58%. Sirisena was the winner in 12 electoral districts whilst Rajapaksa was victorious in the remaining 10. Sirisena invited all political parties to join to form a National Unity Government. Shortly afterwards a group of 21 SLFP MPs pledged their support for Sirisena.

With electoral reforms stalled and the 100-day reform program falling behind schedule, the UNP started calling for Parliamentary elections. Sirisena dissolved Parliament on 26 June 2015.

The date of the election was set for 17 August 2015; after the UNP being declared a winner and with a National Govt. in place, the new Parliament convened on 1 September 2015.

The UNP Govt. now marks one year in office and is celebrating its 55th convention this year at which President Sirisena is the Chief Guest. The tenure of the National Govt. is now extended to five years.

President Sirisena marks his 65th birthday on the eve of the 65th convention of the SLFP on 4 September and prepares to address the convention facing the daunting challenge of reuniting or holding together the now highly-divided SLFP, of which he has been a member for 40 years.

We wish the President of the Democratic Socialist Republic of Sri Lanka the very best on his 65th birthday today!