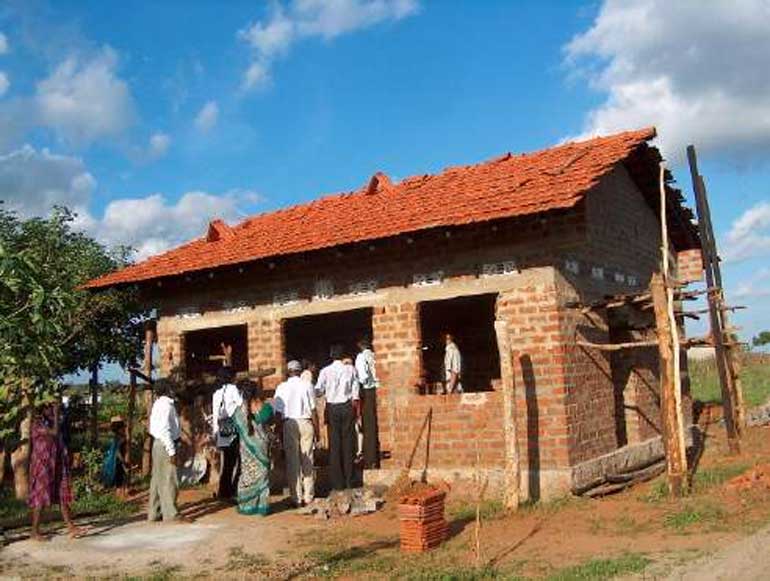 By Mansi Kumarasiri and Vijay Nagaraj, for the Centre for Poverty Analysis (CEPA)

Sri Lanka's urban social housing policy has a rich history but at present it is riddled with problems. The most serious of these is manifest in the post-war Urban Development Authority's (UDA) program of social housing for low-income communities in Colombo.

Their right to housing was seemingly traded for other rights—participation, consultation, compensation, due process, and freedom from forced evictions, along with indebtedness. Although the UDA has recently begun to take some small but important steps towards addressing these concerns, deeper issues that afflict policy and possible ways ahead, need to be highlighted.

The very first of these issues concerns conceptions of the 'poor' and the way this term is used. More often than not 'poor' is a blanket term that hides the true nature of vulnerabilities and the structural dimensions of poverty. This is a problem that can also afflict even so-called 'pro-poor approaches' because they often remain largely rhetorical without any substantive content.

If the working class poor are perceived not in terms of what they can do but in terms of what they are lacking, it can amount to pro-poor paternalism. Speaking of the 'poor' can also mean a political commitment to patronage and vote-banks rather than substantive terms.

Similarly, 'slum' is often used loosely and irresponsibly to paint a picture of ugliness, dirt, illegality and danger while reality is more complex. There is a regrettable tendency amongst government agencies, policymakers, politicians, researchers, planners, architects, social activists, journalists, NGOs, and others to use categories such as 'poor' and 'slums' but this often reflects their own biases and interests.

For instance, it has become common to hear that more than 50% of Colombo's population lives in 'slums' and by extension in deplorable conditions. But studies conducted by agencies like Sevanatha, underline that it is "difficult to categorise all the identified low-income settlements as being slums" and many settlements have been significantly upgraded over time.

Even so-called 'under-served' communities are actually often very heterogeneous. CEPA's own research reveals that they are internally differentiated in terms of quality of housing, standards of living and levels of vulnerability.

Moreover, these labels and ways of speaking of urban poverty do not account for an analysis of the links between spatial and economic informalisation. Nor do they account for how cities themselves are increasingly disconnected from national economic processes, functioning instead as nodes for global capital that flows through real estate and the financialisation of land.

Homogenous constructions of the urban 'poor' often lead to one-size-fits-all solutions that are perceived as relatively easier to implement. Precisely because they lend themselves to top-down approaches they can be used to justify executive control and by-pass the apparent complications of a bottom-up democratic process. This privileges technocracy over democracy, much like in the case of post-war urban development in Colombo that overrode elected local government structures.

However, housing for the urban poor can also be reduced to furthering political patronage and dependencies. One way of guarding against this is to ensure a focus on rights. For instance, if the political commitment to housing under Premadasa was accompanied by the granting of full legal rights to its beneficiaries, it would have proved harder for subsequent governments to dispossess them.

A lack of meaningful focus on rights has meant that mobilising and organising communities has ceased to be a part of social housing programs. It is imperative that any meaningful future social housing strategy generates a level of critical community awareness that is capable of withstanding populist politics, manipulation or even coercion.

Apart from a lack of focus on rights, housing and urban development policy in Sri Lanka has been plagued by the dangers stemming from serious gaps in institutional memory and the absence of a meaningful culture of reflection and learning from experience. This is a particularly serious issue because of institutional multiplicity and overlapping missions.

This does not suggest that there have been no policy continuities. The idea of relocating thousands of 'low-income' households in Colombo into high-rises was first mooted in the late 1990s and not under the Rajapaksa administration. Similarly many of the specific and general approaches of the urban regeneration project mooted post-2009 can be found in older ideas and proposals. One such is the recently revived Western Region Megapolis Planning Project (WRMPP), first proposed in 2004.

The question is what drives continuity and change? Unfortunately, more often than not, the whims of the political dispensation bear upon continuity and change much more than lessons from sound reviews of effectiveness of programs. But this only erodes sustainability, undermines outcomes, and is fiscally burdensome. The lack of transmission of learning within and across various state institutions is worsened by a lack of transparency and public consultation, democratic functioning, and professional autonomy within institutions.

Sri Lanka has a wide spectrum of experience with human settlement activities to learn from—dry land colonisation to post-tsunami and post-war housing to housing internally displaced persons to rural and urban mass housing.

Colombo alone offers so many different approaches to urban environmental and habitat improvement measures and community-based participatory approaches, spanning 'aided self-help', 'self-help' 'sites and services' and 'in-situ upgradation' to relocation and real estate market-oriented densification strategies.

The latter also include a diversity of experiences pertaining to Badovita, Sahaspura, Lunawa, etc., while programs like the Million Housing Program have proved to be a rich learning ground for policymakers the world over.

Sri Lanka was one of the earliest champions of housing as a human right. Recovering that position calls for a strong focus on rights and inclusion, far-reaching institutional reforms, and democratisation of housing policy design and implementation.
(This article is based on a multi-disciplinary discussion forum on housing convened by CEPA.)