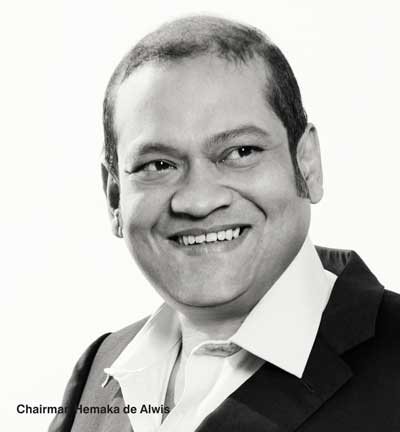 : What are the ongoing projects of Fairway Group?

: We just commenced building a 250 unit apartment complex in Koswatta, Battaramulla. These apartments are in a lower price range than what we normally sell. The lower price is achieved not by compromising on quality but by using smart building practices that we have mastered over the years. We expect to complete this project within two and a half years.

Because of its scale we are able to afford all the amenities and facilities that a high-end apartment could afford.

We also completed constructing 'SkyGardens' and progressing with 'Fairway Galle' and 'The Elements' in Rajagiriya. These projects are selling quite well and we hope to complete them in 2017 and 2018 respectively. We are very excited about Fairway Galle. It even has its private Club House in a secluded area of the beach in Unawatuna. It is one of the few places where it is possible to swim in that area. What really made us go to Galle were both the local and the foreign interest there.

Whilst Galle is now the most popular holiday destination for locals, it is also a popular location for tourists. Galle and the southern coastal belt have also a substantial number of foreigners who have made it their home.

: What are the upcoming investments of Fairway Group?

: We bought a piece of land in a very strategic location in Galle to set up our corporate offices there. This is the second property that we acquired in Galle. We see ourselves being in Galle for the long haul. That's one of the key reasons why we are setting up offices there. This development will also include a 50-bed hotel and restaurants. The estimated cost of the project is approximately Rs. 500 million and is expected to finish in the first quarter of 2017. We also acquired a very rare block of six-acres in Dewata, within the municipal limits of Galle. Although no plans are yet drawn for this project, we will consider developing this property in the future.

As I mentioned earlier, we just commenced building Fairway Koswatta under the brand of Fairway Urban Homes. This development will comprise of 250 semi-luxury condos and five penthouses coupled with all the creature comforts of modern apartment living. The project has a land area of about 250 perches and the total project cost will be in excess of Rs. 5 billion. With this particular project, we are targeting the emerging middle class, which is keen to buy apartments in urban areas.

We are looking at a price range of Rs. 15 million upwards for a two bed-roomed apartment and Rs. 17 million upwards for a three bed-roomed apartment. We expect that the project would be completed within two and a half years. Next year, we will commence a similar development in Kolonnawa to cater to this same market. We feel that due to the large demand that is there for apartments in this price range, we will be able to expand our activities in this segment faster.

We recently inked a project in the healthcare sector to set up Sri Lanka's first saline manufacturing facility with Japanese expertise. This project is still in the drawing board stage and production is expected to commence in 2017. Our actual interest in getting into pharmaceuticals is to manufacture drugs and devices. At the moment Pakistan and Bangladesh are doing it in a big way. I think with the right infrastructure and support, we should be able to do better.

We have also expanded into biotechnological research and currently carrying out a project to isolate volatile substances in tea and coconut such as valuable antioxidants, and so forth that is destroyed in the manufacturing process.

We have also ventured into introducing caravan tourism to Sri Lanka with Go Outdoors Lanka Ltd. We expect this to be a popular mode of touring Sri Lanka to both locals and tourists. Not only will this add to our touristic offerings but will also provide local holidaymakers an affordable alternative in the face of increasing costs of resorts and hotels. At the moment we are setting up caravan and camping parks in Kirinda, Yala, Udawalawe and Nuwara Eliya.



Plans are underway to setup more parks of this nature throughout the country and no less than 10 sites have been earmarked for completion by end of this year. The demand for this concept is expected to come from domestic enthusiasts, followed by foreign travellers. The tourism sector will benefit by this new concept of holidaying, which will bring in a new segment of travellers, 'caravanning tourists'.

: How would you justify that apartment living is one of the best solutions in town planning?

: Well... if you look at 60's and 70's, the US Government solution for rapid urbanisation was to create satellite towns along highways from which people travelled to the city to work. Those days people used public transport, but today people are coming to town in their private cars. Controlling this traffic and vehicles coming to the city has become a real problem today.

This is the problem in Colombo also. Hundreds of thousands of people commute to Colombo to work on a daily basis from all corners of the land. As we progress economically, people will buy more and more cars causing more traffic congestion and pollution.

But imagine if a lot of these people did live in the city, you are taking that many cars off the road. So, every 100 apartments in Colombo City will have the virtual effect of taking that many cars out of our roads network. It is not difficult to do 25,000 or more urban housing units in Colombo in the next five years if the proper planning and regulatory support is there. The City of Colombo has plenty of underutilised land that can be developed without us indebting ourselves invading the sea.

The Government and specially the Urban Development Authority (UDA) must see this in the correct perspective, rather than acting like a land sales agency. I think by creating smart cities and allowing people to live closer to the city, we will be able to contain pollution, reduce traffic congestion and the overall cost to the economy will be less. The new Ministry of Megapolis and Western Province Development is going to play an important role in how our cityscape is going to develop.

: Being a leading property developer, what is your advice to people that are looking at investing in an apartment?

: Other than for obvious economic reasons, the main reasons for people to want to live in apartments are the security and the convenience they offer. The advantage of living in a safe environment and closer to public utilities and the city — that's the whole point of people giving up their gardens, the countryside and coming to town. The modern apartment culture came to Sri Lanka in the 90's — and most importantly, we had the good fortune of good and reputed developers and industry professionals setting high standards at the time. We must continue that tradition with good building and management practices.

The typical Sri Lankan apartment buyer is still rather inexperienced. A majority of them are not aware of the pros and cons that need to be weighed when buying an apartment. One of the most basic things to consider would be the reputation and track record of the developer. It is always best for potential buyers to visit projects already completed by the developer to get a feel of what you are going to get. Buyers should also satisfy themselves as to the capacity of the developer to complete the project. The contractor's reputation and track record for quality and timely delivery is as important. Then only one should consider buying an apartment from such development.

The next most important aspect to consider when selecting an apartment is the sustainability of the building itself. I am not talking about your own apartment, but the building in its entirety. A modern apartment building will usually have sophisticated and valuable equipment that is essential for its operations. Then there are common area maintenance costs, utility bills, janitorial and security services, maintenance of elevators and generators, insurance, garbage and sewerage and so forth to deal with. All these need to be properly managed and supervised. Then only will your apartment and the entire building retain its value and continue to provide an atmosphere conducive for its residents to live in.

Poorly planned housing has become a problem and it is evident in places like in Wellawatte, Bambalapitiya, Slave Island and Mutwal where we see many poor quality apartment complexes developed in close proximity. They look very shabby, as the exteriors of those buildings have become nobody's business. The people living in them have lost their aspirations regarding their property.
Essentially, one must look at scale when investing in an apartment. If scale isn't there, it will be very difficult to manage your building. This is the simple truth. After the first year of operation, the homeowners have to find the money to manage and maintain their building. Complexes that do not have scale are unlikely to have sufficient funds for maintenance. In a few years these projects will start to deteriorate and will not give any return to the owners.

Apartments in the range of Rs. 13 to Rs. 18 million are a fairly affordable housing solution to a very large segment of dual income families. I fear for people who buy from badly conceptualised projects. These are mainly young couples setting off in life and a bad investment at the beginning of their life can ruin things.

When you see some of what's coming up, I fear at times that Colombo might lose its charm. We need to set criterion that suits our beautiful city. Without making costly mistakes and trying to reinvent the wheel, we can see how it has successfully been done in other countries and adopt it to suit us. Looking at it positively, one of the benefits of the foregone war is that we now have the luxury of picking and choosing between what has gone wrong and what is done right.

Another area that we need to look at from a legislative point of view is the apartment ownership law. Our apartment ownership law is what was originally transplanted from Singapore in the 80's. Singapore has developed a lot from the 80's, while we are still a start up. I hope that the Government will step in — the new Housing Minister is known to be a dynamic person, hence I hope he takes the necessary steps to review the relevant laws, primarily to safeguard the homeowners.

If the Housing Minister can do a forum like the Ease of Doing Business Forum convened by the Finance Ministry at least once a month, the public can raise their concerns in one place and something could be done about it. I think it's a very good idea. Otherwise, I really can't imagine how some issues that are there in condominium complexes, between the developer and homeowners, and homeowners themselves would be successfully resolved under the current system.

: What are the challenges you all face at present as property developers?

: There are always issues with the bureaucracy. When it comes to construction, obtaining planning approval is always a daunting task. In the last few years, the UDA was only carrying out fancy government contracts and low cost housing. It failed to serve the purposes of developers or the general public. Sometimes it takes up to a year to start a project because of the delays that are there in this process. In order for us to start the planning process for a project, we first need to invest a substantial amount of money on a land. Thereafter, we have to go through a lengthy approval process. Time is money. All this will add to the cost.

Another is that during the last few years the Board of Investment (BOI) became quite irrational in their thinking. The BOI has something called the 'Negative List', which lists out goods and material that cannot be imported to the country on a duty free basis. The purpose behind this was to protect local industry, but in some instances, there are only one or two manufacturers. One or two manufacturers are not an industry, is it? The Negative List has been meddled with, not really to protect local industry, but due to cronyism. The unfairness that's there in the list will need to be rationalised.

: Are there plans of diversifying into new sectors?

: We are always looking. We have realised that one of the ways our company can grow and achieve the stability and sustainability we want for the future is by way of acquisitions and we are looking into new sectors. We are also looking to grow in the sectors we are already in. Biotechnological research and product development is something we have gone into very recently. Not only has it great potential, it is also a very interesting field.

: Could you brief about the City Hotel investment?

: We entered the leisure sector by making a $ 20 million investment to build a 200 bed-roomed city hotel in Colombo Fort that will open in March 2016. This location is ground zero for business, entertainment, restaurants, hotels and the other touristic attractions of Colombo. Hoteliering is not one of our core businesses or not one that we hope to get involved in a big way. The main reason for us to get involved in this project was because of the location and the opportunities it offered.

There are many high-end luxury hotels being developed in the city. But the increasing demand and the expectations of the modern-day business traveller or the not-so-affluent tourist are not met by these developments. Therefore we decided to build a limited service hotel to cater to this segment. The operation of a 'rooms only' hotel is a simple one; it's a no frills business hotel where the modern traveller will enjoy star class accommodation and comforts at a reasonable price. We hope to attract good operators for our food court and the rooftop restaurant we have. We are trying to offer a room at $ 75 in the heart of the city, and that is how we are going to compete.

: It is evident that the businessmen need to please the Government officials in order to obtain approval for their projects. What are your comments about corruption?

: Corruption is everywhere in the world, not just in Sri Lanka. There are honest officials as much as corrupt ones but bribery is more often the catalyst of business in many parts of the world. This is not to say that I condone corruption, but if you want to face the truth, this is true not only of Sri Lanka, but also India, Malaysia, Thailand to name a few countries from our region. Some of these countries take it to another level. But it is also a fact that these economies, especially Malaysia, have economically developed under this culture.

I am not talking about the exception, but often, it is the corrupt official who ensures your smooth passage over the many stumbling blocks that are there. The ones who do not accept bribes are often the least efficient. I think bribery and corruption is really what has been driving our economy so far. I believe that it is bribery that is the catalyst that ignites business and makes things go around. I do not see this culture changing yet.

: What actions have you all taken from the Condominium Developers Association to resolve problems in your industry?

: We have made representation to the Treasury, the BOI and the Finance Ministry on various issues our members face. One issue that we are addressing is the rule against foreigners buying land. It is a big issue to many property developers as many of them are foreign owned. JKH, Overseas Realities and many others are predominantly foreign owned companies and according to this law are not permitted buy land. This is not fair as these are our top developers. This is a very sour point and we are saying that the law should be rationalised by making it more conducive for business.

In addition, I think the Government is going crazy over foreign investors and not giving any consideration to the local investors. There are no special concessions given to us and most of the time, the foreign investors get more incentives than local investors. There should be some distinction between local and foreign investment, where the local investors are given special consideration, like the Bhumiputhra Policy of Malaysia, which has been one of the mainstays of their development. We should have a preferential BOI scheme for local investors as well as limit investment in certain industries where the local investors are delivering the goods. It is quite acceptable to have such incentives for bhumiputhrayas, but at the moment there is no such support.