Following is the address delivered by Deputy Minister of Highways and Investment Promotions Eran Wickramaratne at the Sri Lanka Economic Association Annual Session (SLEAAS)

last Friday


I commend the SLEA for selecting this important topic of 'Policy Reforms for Sustained High Growth' for the Annual Sessions 2015.

State-owned enterprises must be reformed to add value to the economy, and to contribute to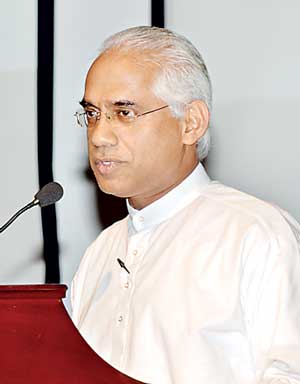 higher levels of socio-economic growth. To achieve this, the Government must create and sustain strong market structures. However, the socio-economic success of Sri Lanka depends greatly on the quality and independence of its institutional and governance structures. The domain of good governance is the responsibility of both the public and the private sector.

In reforming the public sector, there is no conclusive evidence that ownership change is a necessary or sufficient remedy for under-performing enterprises. Instead, as evidenced in examples from several other countries ranging from South Africa, Singapore, India, and across Latin America, it is management reform based on the structuring of incentives around the realities of principal-agent dynamics that can enhance public sector performance. In the case of SOEs, the principal is by definition the general public and the management of the entity the agent – so the real challenge lies in institutionalising incentives that firm up the line of accountability between the public and the management.


Spectrum of solutions

The spectrum of solutions for SOE reforms is not limited to ownership change. We need to look at the range of solutions available and see how these could be adapted on a case-by-case basis. The various modalities available for public sector reform range from performance contracts, management contracts, private competition (liberalisation), and public-private partnerships, to privatisation.

For example, the concept of performance contracts as a strategy for public enterprise reform in Sri Lanka is one that should be explored. The essence of performance contracts is to institutionalise effective incentive structures and processes that reward managers and employees for improvements in efficiency, productivity and consumer service. As such, performance contracts can be introduced at several levels of public sector management including for board members, directors, and senior executives as well as for rank and file employees. Another modality is to outsource specific management functions to the private sector, through management contracts.

Blanket recommendations for privatisation, without sufficiently unpacking the broader context, may well result in perverse distributional impacts, and resistance to any form of SOE reform. Recall the follies of privatisation in Russia and in Latin America following the 'Washington Consensus' prescriptions and ideology. Recall also the failed privatisation experiment of the British railways. Furthermore, in an economy where there is no effective competition law or policy, a public monopoly may well transmute into a private monopoly with undesirable societal and economic impacts.


Competition is key

Competition must be the principle and the driving force in this space: whether it be within public enterprises, across the public sector, or between the public and private sectors. The process of competition also has to be subject to effective regulation (sector-specific as well as competition law) so as to facilitate both producer and consumer welfare.

Our telecom sector success story is not one of privatisation. It is one where competition was introduced into the fixed line telephony segment before SLT was privatised – with the entry of Suntel and Lanka Bell. Furthermore, pro-competitive reforms in the mobile telephony market resulted in competition between public and private sector players. So in effect competition and contestability grew the sector. In contrast, the liberalisation of our bus services was a relative failure, as the quality of service is still inadequate – for example, coordinated bus timetables and commuter safety etc.

To unleash competition in terms of allocative, financial and operational efficiency, and in terms of public service performance, the crux is strong regulatory governance and institutions.


Effectiveness of regulatory institutions

The effectiveness of regulatory institutions – structures and processes – are paramount to the success of public enterprise reform. Currently, regulators' operational independence and accountability is sub-optimal, with most of these entities reporting to a Line Minister. In reality, regulators should come under Parliamentary oversight (i.e. they should be accountable to parliament).

For example, in the US, the appointment of the Heads of the competition agencies – the Federal Trade Commission (FTC) and the Department of Justice (DOJ) – have to be approved by Congress. Also, Congress approves all funding for these agencies. Moreover, in India, the EU and in the US, the decisions of the competition agencies are subject to judicial review. The Indian competition authority also has revolving door provision– members of the Competition Commission of India (CCI) cannot work for an entity on any issues relating to their official duties for two years.

Furthermore, there are a plethora of regulatory organisations: Public Utilities Commission, Telecommunications Regulatory Commission, National Transport Commission, Consumer Affairs Authority and the various financial bodies such as the Securities and Exchange Commission (regulates registered market intermediaries and licensed stock brokers, stock dealers, and management companies of unit trusts), the Central Bank (regulates and supervises banks/finance companies/leasing establishments/primary dealers).

Is there a need to rationalise some of these for reasons such as end-user efficiency, financial constraints, and regulatory skills constraints? We need to question the current structure: do we need separate sector-specific regulators or can they be slotted in under similar 'umbrella' bodies like the PUCSL as originally envisaged?


Lack of a comprehensive competition law

However, I return to my point on the absence of a comprehensive competition law. The current legal framework, embodied in the Consumer Affairs Authority Act (No. 9) of 2003, which provides for the institutionalisation of the Consumer Affairs Authority (CAA), primarily provides for consumer protection.

Sri Lanka had broader antitrust provisions until 2003, through the Fair Trading Commission Act (No.1) of 1987 and consumer protection provisions through the Consumer Protection Act (No. 1) of 1979. However, these pieces of legislation were repealed with the enactment of the 2003 law. What this means in practice is that policy makers do not have adequate tools in their arsenal to investigate, deter and potentially punish anti-competitive practices, both domestic and cross-border.

Compare the lack of a comprehensive competition law in Sri Lanka with the situation in our surrounding region. For example, Pakistan's Competition Authority, which was widely perceived as a laggard, is now demonstrating considerable effectiveness. In 2014, India's Competition Commission slapped a Rs. 6,300 crore fine on the top 10 cement companies for cartelisation.

Under the 2003 law, the Consumer Affairs Authority has the powers to regulate a wide range of practices pertaining to exploitative business practices, pricing above competitive levels, consumer health and safety, and quality of service. In practice however, the consumer protection agency has focused particularly on price controls of goods and services. In addition, a critical issue that gets inadequate emphasis in the current legislation is the area of consumer rights and the right to information.

A useful reference in this regard are India's and South Africa's consumer protection legislation, which provide for a broader array of fundamental consumer rights such as the right to information, the right to be heard, the right to be fully informed about the performance and quality of goods and services.

At a procedural level, the enforcement capacity of the CAA is compromised by weak regulatory governance and the subversion of principles of workable independence, transparency, accountability and predictability, a phenomenon which is fairly widespread in Sri Lanka's policy space.

As you know, we have been tasked with managing the reform of public enterprises in Sri Lanka. The institutionalisation of management accountability, competition policy, and regulatory quality will drive this process.

This would require both substantive and procedural policy interventions. I invite the economists here today to become a part of the solution, in order to enable sustainable levels of high socio-economic growth.

I wish SLEA Annual Sessions much success. Thank you.