The shocking dictate by the Elections Commissioner that President's Maithripala Sirisena's speeches have to be stopped being telecast has shocked and bewildered the law-abiding, balanced citizenry who yearn for a stable government, devoid of drug peddlers, rapists, murderers, 'One Family-Rule' bandits, Commission Agents, out-and-out crooks and of course those who blatantly incite religious and racial hatred and intolerance.

On the other hand Mahinda Rajapaksa in his inaugural speech at Anuradhapura yesterday brought back the LTTE/terrorism bogey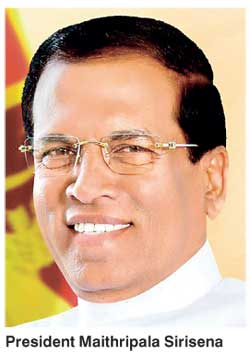 and blatantly "raised fears about a LTTE resurgence, saying people were afraid to travel from the south to the north of the island again by bus and train" (Daily FT Saturday 18 July). The article goes on to cite MR further: "Are people going the way they used to? They call the Nagavihara priest and ask him if it is safe to travel to the north. This is how it was in the 1980s, when the LTTE was on the rise," Rajapaksa thundered.

Mr. EC, if you wish to stop the balanced and gentle MS's speeches being telecast, why do you ignore the fanning of racial hatred by MR?

Come to think of it, thanks to MS, we do not have the terrible BBS burning, attacking mosques and churches and spewing out racial hatred against so-called 'minorities'; no white vans spiriting away journalists and others even suspected of voicing their concern at MR excesses; no container loads of heroin being unloaded at the port (and those political big wigs behind it getting away scot-free!); no dansalas at Temple Trees (using our money!) for trishaw drivers, school teachers, union leaders and all and sundry being feted by MR (just before any election) as glaring violation of election laws!

Mr. EC, we admired you for your courageous stand before and during the 8 January elections; please do not let that admiration be eroded by your myopic stance regarding the attempted return of MR even by his signature ploy of conveying 250 busloads of 'supporters' to his political venues to resume racial tensions! MR appears to love to fan unseen wars, terrorist acts; that is his 'bread and butter', thriving amidst uncertainty and chaos. What a fraud!



Enough is enough; this is the 21st century; people yearn for 'good governance' in all spheres throughout from north to south, west to east. Sri Lanka is too small and beautiful to let racial and religious hatred to be re-cranked once again by desperadoes – let them be consigned to the dustbin of history!

Passionate lover of beautiful Sri Lanka