By D. C. Ranatunga

The commemoration of Sir John Kotelawala's 120th birth anniversary last Tuesday, 4 April, at the Defence University brought back memories of a colourful personality in Sri Lanka's political scene covering a period of 25 years in the country's legislature.

He first got elected to the State Council in 1931 as 32-year-old Captain John Lionel Kotelawala from Kurunegala. He was returned uncontested to the second State Council in 1936 and continued until 1947 when at the first general election to the House of Representatives under the Soulbury Constitution, he contested the Dodangaslanda seat from the UNP and won. He served in the D.S. Senanayake Cabinet (1947-52) as Minister of Transport and Works and thereafter continued to be in the Dudley Senanayake Cabinet until he became Prime Minister in October 1953.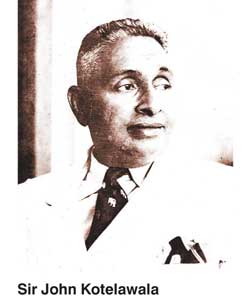 D.B. Dhanapala in 'Among Those Present' (1962) summed up Sir John thus: "He had courage. He had brawn. He was frank. He had money. He had friends. He had background. He had personality. He could cut a figure wherever he went. He was the well graced political actor who could play the hero strutting across the stage…

"His colossal vanity was matched only by his amazing self-confidence and supreme belief in himself. He was a man of action but every action of his had to be commemorated by the infliction of his name in big letters. He told a good story. But the central figure of the story was himself."

He was a doer. H.A.J. Hulugalle wrote in November 1949 that future generations will know Sir John Kotelawala as a great builder. "During the past 15 years in which he has been a Minister, he has disposed more steel, cement, bricks and mortar than any other man in the history of the island. Kotelawala Town, Kotelawala Bridge, Kotelawala Place – these are but a few more or less permanent projects associated with his name. Their sum total is indeed impressive. The list includes housing schemes, aerodromes, the best broadcasting station in the east, a hydro-electric scheme (Laxapana) and University (Peradeniya) in course of completion, and a harbour project and a sports stadium launched shortly – to say nothing of such minor items like hospitals, schools and causeways."

Sir John was well known for his anti-Marxist feelings. As Hulugalle points out, the Marxists feared Sir John more than any other member of the Government. "He is a political boss who does not believe in a policy of allowing the devil to get the best tunes. He organises the anti-Marxist youth, dressing them in green bush-coats and teaching them patriotic slogans and songs. He makes the flesh of big business creep by constantly reminding them of the Red menace and uses their money for party propaganda. In Parliament he flings quips and taunts across the floor of the House at the Trotskyist leaders." ('Some Friends in Profile')


Premier stakes

Although he was Leader of the House after S.W.R.D. Bandaranaike quit the Government in July 1951, and was the most senior minister, he was not picked to become Prime Minister after D.S. Senanayake died in March 1952. Naturally he was disappointed after Governor-General Lord Soulbury appointed Dudley Senanayake.

Though he showed his dissent he agreed to be in his Cabinet but soon things turned sour after the appearance of 'Prime Minister's Stakes 1952' in 'Trine', a weekly tabloid. It related the story of intrigue within the Government party soon after the death of the Prime Minister. It was hinted that Sir John was the author of the document. The new Prime Minister was pressurised to ask for the resignation of Sir John who was on a visit to America. Sir John returned no sooner he received the cable.

Meanwhile, Sir Oliver Goonetilleke was paving the way for an amicable settlement.

Political commentator J.L. Fernando (Lake House) writes: "Sir John arrived by 3:30 p.m. airplane at Ratmalana. A few UNP Youth Leaguers staged a minor demonstration. But he got into his mother's car and after calling at his Kandawala home for a very few minutes where my friend Shirandhananda (experienced Lake House political reporter) whispered the message (to immediately meet the Prime Minister and express regret – a formula by Sir Oliver) on my behalf, Sir John was driven to his mother's home in Horton Place. From there he visited Dudley Senanayake in the latter's Senate building where there had been a tearful reconciliation under the benign influence of Sir Oliver, the ace among peace-makers. The same night Sir John in his capacity as Minister of Transport and Works issued an official communique which should have produced the laugh of the century. The fact that Sir John accepted its contents was funny. The fact that Prime Minister Dudley Senanayake accepted it as an adequate settlement of an issue which had threatened to blow up his Cabinet was funnier. But the funniest feature in the whole episode was how deftly Sir Oliver had mesmerised both contestants." ('Three Prime Ministers of Ceylon – An Inside Story' 1963)

The communique said:

"I returned to the Island today in order to discuss with the Prime Minister the situation arising from the publication in a newspaper of the document called the 'Prime Minister's Stakes 1952'.

"I explained to the Prime Minister that I had nothing to do with the publication. I also denied the truth of the statements in this document which are attributed to me. The Prime Minister has accepted my explanation."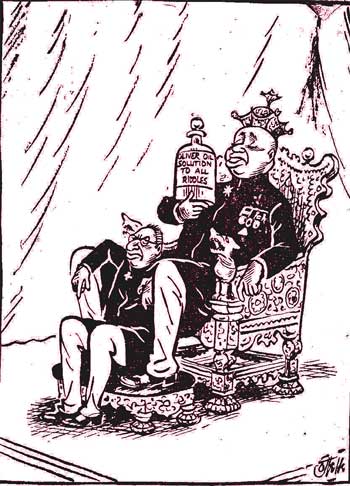 In the saddle

In August 1953 the 'hartal' staged in protest against the removal of the rice subsidy upset the sensitive Prime Minister Dudley Senanayake. He was worried about the impending visit of Queen Elizabeth II the following year. Under heavy mental stress he developed an old stomach ailment and decided to resign. Sir John succeeded him as Prime Minister.

In a pen-picture of the new Prime Minister, J.L. Fernando signing as 'E H' (Egg Hopper referring to the weekly egg hopper breakfast he had with Sir John for several years at his Kandawala Walauwa) wrote:

"So the Old Man's lieutenant is in the saddle now. He could not better than following the footsteps of his Chief who governed a country justly and with courage. Within recent times there has been in the democratic camp, among those who do not believe in Revolution, a definite swing in favour of Kotelawala. Even those who looked upon him at one time as 'a dangerous man' now instinctively mention his name as the most suitable to steer the ship of State.

"Therefore he starts off on his new role with a great deal of public goodwill on his side. But let him be careful of two things – that ruthless tongue of his which is both his weakness and his strength, and the gathering around him of assorted characters. To his real friends who upbraid him about his tongue, he is known to have retorted that he is not willing to cut that or any other part of his anatomy. That may be one of these Kotelawala 'bon mots'. But as Prime Minister of a country a man has to undergo some penance at least. It will be penance also to keep at a distance those vultures who hover round men in the seats of political power. True 'nobody great or small can be ruined except by his own hand'. But in a small country like Ceylon you cannot blame the people if they pass judgement on their elected representatives by the company the latter keep."

During the short period he was Prime Minister (October 1953-April 1956) Sir John was very much in the news. He planned 'a grand and sincere welcome' to the Queen who came in April 1954 with the Duke of Edinburgh. The visit was a great success. During the royal visit he advised the Queen to appoint Sir Oliver Goonetilleke as Governor-General in succession to Lord Soulbury since he could think of 'no one better qualified for the high office'.

A conference of South-East Asian Prime Ministers was held in Colombo just after the royal visit. This meeting was to lead to larger meetings at Bogor and Bandung where he was much in the news.

During his tenure Ceylon was admitted to the United Nations in December 1955.

Although Parliament could go on until 1957 he moved for a dissolution in February 1956 and the general election was fixed for April. It was a total disaster for the UNP which was reduced to just eight seats. Sir John had once again won the Dodangaslanda seat. Bandaranaike became Prime Minister.


Retirement

Sir John decided to retire from politics and spend his time mostly in England where he had a property in Kent. In 1979 he donated his Kandawala residence and the 48-acre estate to the government for the establishment of a national defence academy. (He had been in the Volunteer Force joining the Ceylon Foot Infantry in 1923 rising up to be a colonel. He was later made Hon General.) He received several titles during the era when British honours were accepted. He was knighted in June 1948 and made a Privy Councillor in 1954.

He was back in Sri Lanka in the latter part of his life and following his death on 2 October 1980, the defence academy was opened. It was raised to university status and is presently the 'General Sir John Kotelawala Defence University' – a fitting tribute to the fearless third Prime Minister of

Sri Lanka.