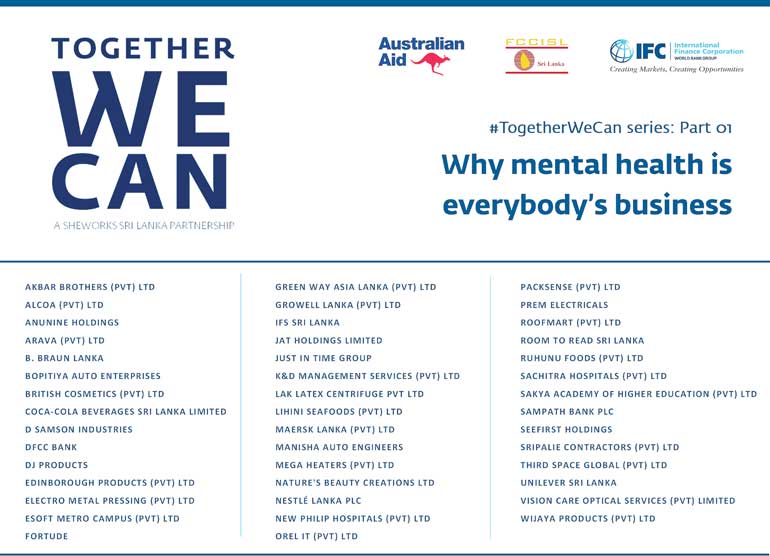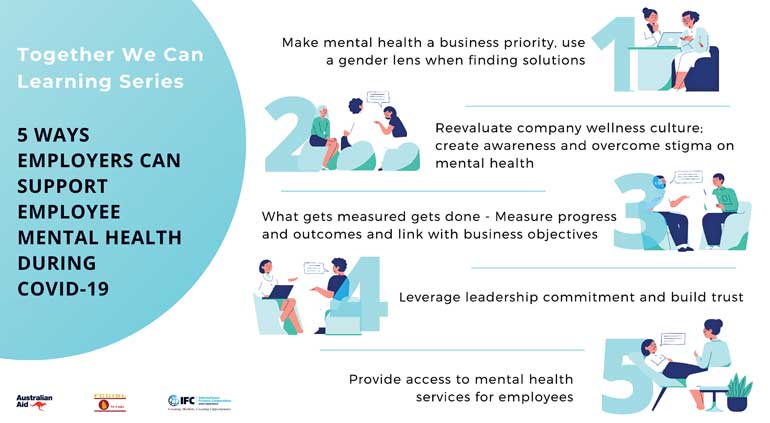 At a time when the global pandemic is reshaping the world we know, it has had a tremendous impact on our mental well-being. From social media to clinical studies, we have ample evidence to show how people across the world are struggling to stay safe while trying to keep their jobs. Anxiety, for many, has become a way of life leading to severe stress, burnout, and depression. Concerns range from potential job losses to longer working hours along with the guilt of exposing families to risks, among others.

This is where employers can step in. "Ensuring that staff have access to well-being and mental health support can help improve relationships, increase productivity, loyalty, and retention," said Dr. Megha Gore, a clinical psychologist for the World Bank Group (WBG) and a member of the WBG's Mental Health Strategy team. She was speaking at a learning session on the impacts of inequality on mental health during the COVID-19 pandemic.

The recently-held event was organised as part of the 'Together We Can' peer learning initiative – launched under the IFC-DFAT Women in Work program – and in collaboration with the Federation of Chambers of Commerce and Industry of Sri Lanka (FCCISL).

Good mental health is critical for a healthy society as well as for the growth of businesses and economies. Even before the pandemic, the World Health Organization (WHO) estimated that the global economy loses over $ 1 trillion per year due to depression and anxiety.

In Sri Lanka, an IFC study on the gendered impacts of COVID-19 on employment in Sri Lanka's private sector highlighted that around one quarter of Sri Lankan women and men reported being distracted at work due to health, stress, or mental well-being related issues. The study also revealed that women were twice as likely to report household or care responsibilities as factors impacting their productivity than men. Moreover, women in senior positions were twice as likely to experience increased hours of work compared to their male colleagues. Unsurprisingly, over one-third of employees identified mental health support as an asset in maintaining work-life balance during the pandemic.

In this context, while most Sri Lankan employers are aware that COVID-19 has impacted the mental health and well-being of employees, they are not sure how to support them. In response, the IFC-FCCISL learning session—led by Dr. Gore, Arjuna Nanayakkara, Head of Shared Services Centre London Stock Exchange Group (LSEG) Sri Lanka; and Shanelle De Almeida, Group Wellness Manager at Hemas Holdings PLC—aimed to help over 40 Sri Lankan companies by mapping five ways in which employers could support their staff during the pandemic.


Laying the foundation for mental wellness at work

First, companies should use a gender, sector, and generation-specific lens to prioritise mental well-being. This is important because mental health needs differ from person to person. At Hemas, for example, nurses requested counselling, while sales representatives requested help to overcome their increased dependency on nicotine.

Explaining how Hemas Holdings was able to identify the varying needs, De Almeida said it is important to create open lines of communication with employees to understand the root causes of their stress and anxiety and the kind of support they would prefer.

Second, companies need to build awareness to help overcome the stigma often associated with mental health, which is why it is important for leaders to talk about their commitment to addressing mental health issues at work and then act upon them. In addition to maintaining confidentiality, companies should assure staff that reach out for help will not impact their performance or career prospects. This can help encourage staff to ask for support.

Companies can adopt different strategies to this effect. At LSEG, managers are trained to identify and build rapport with employees while guiding them toward Employee Assistance Service Schemes where they can speak to mental health professionals. At Hemas, physical fitness challenges are used to start a conversation, which serves as a segue into well-being topics. Further, games and quizzes are helping educate staff and normalise conversations around mental health.

Third, what gets measured gets done. While behavioural change takes time, companies should set targets, measure progress, and mark every win no matter how small. Understanding how employees feel about the support resources offered, and what impact those have on staff is key. Employee surveys, focus groups, or informal check-ins can be useful for taking a pulse on this.

Fourth, companies need to leverage leadership commitment and build trust. Speaking on LSEG's open-door policy for check-ins between management and staff, Nanayakkara said, "With work from home, we cannot supervise the workflow as meticulously as before. This is why leaders must build trust between themselves and their teams. Caring for the holistic well-being of staff is a great way to earn that trust."

Among other challenges, COVID-19 has also triggered more domestic abuse cases. Organisations can play a key role by ensuring access to dedicated units for domestic abuse prevention and family counselling services. In Sri Lanka, the Courage Compassion Commitment (CCC) Foundation or the CCC Line and Women in Need are two professional service providers who offer such support. Fifth, it is imperative that companies provide access to mental health services to staff and consultants at all times and not just during a crisis. As Gore underlined, "Organisations do not need a heavy budget to begin their wellness journey." Instead, she explained, the key is to start small and make incremental changes over time.

Mental well-being has serious consequences not only for the individual but also for the productivity of the organisation. With COVID-19 pandemic still in full force, the need to prioritise employee health and well-being is stronger than ever. Holistic well-being cannot be achieved overnight, but when businesses embrace mental health as a strategic organisational priority, they can catalyse change, creating healthy work cultures along with a resilient workforce.
---
(Twigg is the Program Manager for IFC-DFAT Women in Work Program in Sri Lanka, and Arunasalam is the Employment Lead for Women in Work program. Connect with womeninwork@ifc.org for more info on the program)
[If you would like to contact a support service for people who have been victims of domestic violence, or any other form of harassment you can dial 24-hour, toll free and confidential crisis support line – 1333 (www.CCCline.org)]