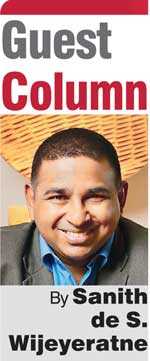 In a recent promotion in Sri Lanka, an internationally reputed Fast Moving Consumer Goods (FMCG) company gave away a free gift with every purchased pack. The product was labelled as an 'Environmentally Friendly Product', but was in a completely sealed package that did not allow the potential purchaser an opportunity for tactile contact. Only after making the purchase was the writer able to feel the product, and its plastic touch prompted some investigation into its production process.

Informal enquiries through back channels revealed that the product was supposed to be made from 50% straw and 50% polypropylene. Since the product was made from a composite material, the product in question could be difficult to recycle. Thus, the product was bound to end up in a landfill or a beach with other plastic debris. Given the circumstances, how does this qualify as an 'environmentally-friendly product'? But more importantly, what consequences will this company face for making such a misleading claim? Unfortunately, the answer is 'none'.

This is a classic example of 'Greenwashing'. Greenwashing (a compound word modelled after 'whitewash') is the practice of making unsubstantiated or misleading claims about the environmental benefits of a product, service or company policy. Evidence that an organisation is greenwashing often comes from pointing out the spending differences: When significantly more money and time has been spent on advertising about being 'green' than is actually spent on environmentally sound practices. Some famous greenwashing examples are when Mobil Chemical added some starch to their 'Hefty' trash bags and then labelled them as biodegradable, for which they were sued for their false claims and had to subsequently remove the term from their packaging and advertising. Another example is the $200 million public relations and advertising campaign to rebrand BP as an environmentally friendly company with the slogan 'Beyond Petroleum' (https://www.azocleantech.com/article.aspx?ArticleID=109).

The reality is that being merely recyclable is not enough to make it truly environmentally friendly. In the United States, less than 10 percent of plastics were actually recycled, causing a strain on resources, landfill space, and oceans. Calling recyclables 'eco-friendly' is too big a claim considering the inefficiency of our recycling systems and the scale of plastic pollution (http://blogs.worldwatch.org/greenwashing-green-products-trying-trick).

In 2008, Nestle Waters Canada even ran an ad claiming: "Bottled water is the most environmentally responsible consumer product in the world." Several Canadian groups quickly filed a complaint against the company. Five years later, during Earth Day 2013, the International Bottled Water Association doubled down on the sustainability claims, announcing that bottled water was 'the face of positive change' because the industry was using less plastic in its bottles and relying more on recycled plastic. Sustainability promises aside, only about 31% of plastic bottles end up getting recycled, which means that 'the face of positive change' creates millions of tons of garbage every year, much of which ends up in landfills or the ocean (https://www.theguardian.com/sustainable-business/2016/aug/20/greenwashing-environmentalism-lies-companies).

In order to be truly credible, green claims should be specific, measurable, relevant to the product, and confirmed by a third-party certification body. These principles are affirmed by the Federal Trade Commission's 2012 Green Guides, which provides guidance for green marketing. The guides now include a section on certifications and seals of approval, which encourages specificity of claims, and disclosure of the certification body's relationship to the company. The verification of claims by a third-party firm can discourage exaggeration, white lies and other greenwashing pitfalls that occur when a company certifies its own products. Certification bodies also tend to bring deep expertise on the standards to which they certify, while the product manufacturers may only have surface-level knowledge of the standards (https://www.triplepundit.com/2014/06/fight-greenwashing-value-third-party-certification-green-building).

The US Federal Trade commission gives the following guidance to companies to avoid green washing;

nMarketers 'should not' make broad, unqualified general environmental benefit claims like 'green' or 'eco-friendly'. Broad claims are difficult to substantiate, if not impossible.
Marketers should qualify general claims with specific environmental benefits. Qualifications for any claims should be clear, prominent, and specific.
When a marketer qualifies a general claim with a specific benefit, consumers understand the benefit to be significant. As a result, marketers shouldn't highlight small or unimportant benefits.
If a qualified general claim conveys that a product has an overall environmental benefit because of a special attribute, marketers should analyse the trade-offs resulting from the attribute to prove the claim.
Claiming 'Green, made with recycled content' may be deceptive if the environmental costs of using recycled content outweigh the environmental benefits of using it.
With regard to certifications, the FTC's (https://www.ftc.gov/tips-advice/business-center/guidance/environmental-claims-summary-green-guides) Endorsement Guide state:
Marketers should disclose any material connections to the certifying organisation. A material connection is one that could affect the credibility of the endorsement.
Marketers shouldn't use environmental certifications or seals that don't clearly convey the basis for the certification, because the seals or certifications are likely to convey general environmental benefits.
To prevent deception, marketers using seals or certifications that don't convey the basis for the certification should identify, clearly and prominently, specific environmental benefits.
nMarketers can qualify certifications based on attributes that are too numerous to disclose by saying, "Virtually all products impact the environment. For details on which attributes we evaluated, go to [a website that discusses this product]." The marketer should make sure that the website provides the referenced information, and that the information is truthful and accurate.

nA marketer with a third-party certification must still substantiate all expressed and implied claims.

In today's context, there are some significant benefits of independent certification:
They function as an indicator of the company's commitment.
They provide an opportunity to identify process inefficiencies and implement best practices.
They are an external verification of the internal workings of a company that will highlight potential problem areas that may not be evident to the internal workforce.
They become a control mechanism for the company's management.
They are a reassurance to the consumer that the product has enhanced environmental credentials.