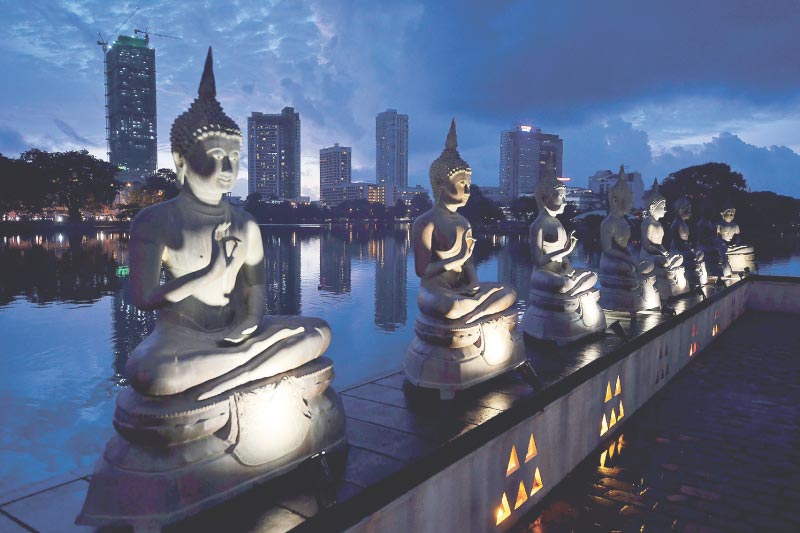 Will Sri Lanka be a relevant travel destination in 50 years? What will our island look like in 100 years? These are vital questions the pandemic has provided us with generous time to reflect on. If we continue down the post-war trajectory, which was 'build, build, build and visitors will come with money, money, money,' it will be harder to reap the many long-term financial gains from a more conscious and responsible revival of tourism – Pic by Shehan Gunasekara
---
It's been 18 months since global lockdowns began, yet COVID-19 continues to threaten lives and livelihoods worldwide. The faster we accept that this 'new normal' is here to stay, the better equipped we are to recuperate our losses and overcome continued adversity.

Good Life X had the opportunity to speak with commercial real estate and hospitality enthusiast Chalana Perera on how some tourism players worldwide have embraced the pandemic. Perera believes the pandemic has provided Sri Lanka's tourism sector with a unique opportunity to stand out against competition by using travel and tourism as a force for good.

Perera relocated to Sri Lanka from Europe, where he developed urban lifestyle hotels and hybrid hospitality concepts for international investment funds. He now partners with private investors, developers and operators to create long-term value by repositioning real estate assets and regenerating operating businesses in Sri Lanka. Perera has a penchant for projects that prioritise responsible stewardship, including environmental restoration and holistic regeneration.
Following are excerpts from Good Life X's insightful

discussion with him:
---
Q: In your opinion, what is the reality of the current situation for the global travel and tourism industry?
I see the reality of the situation in the opportunities presented. The world recorded around 1.5 billion international and 18.8 billion domestic tourism arrivals in 2019. Travel and tourism accounted for 10% of employment and 10% of global GDP that year. However, the industry was by then also responsible for over 8% of global carbon emissions! This detrimental environmental impact was set to increase with the continued growth of global travel. While many lament the harsh impact of the pandemic on tourism, I strongly believe that COVID-19 granted an unprecedented and much-needed opportunity for our industry to re-evaluate and redefine its true purpose at the crucial juncture that tourism priorities balance between people, planet and profit.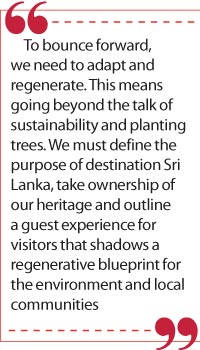 Q: You say that the industry was presented with an opportunity at the onset of the pandemic. How have players in the global travel and tourism space acted on this opportunity?

Great question. If a business approaches this new working paradigm with agility, the better equipped it is to recuperate any losses and overcome continued uncertainty. Never have destinations worldwide seen their global competition disappear overnight! Some destinations have acted on the unique opportunity by positioning themselves accordingly.

For example, Mexico dealt with a major COVID-19 outbreak, yet the country's borders stayed open with a consistent quarantine-free policy that attracted an astounding 23.2 million international visitors in 2020 and over 10 million in the first half of 2021. Turkey was also an agile mover, attracting 12.7 million tourists in 2020 alone.

Closer to home, the Maldives re-opened for international travel in July 2020 with a strong, unified PR campaign. The Maldives has since attracted over half a million tourists, with an increased average stay of 9+ nights. Unlike Mexico and Turkey, the Maldives is dependent on tourism. Similarly, the Seychelles became the world's first country to vaccinate 90% of its adult population, subsequently re-opening to tourism in August 2020.

Many European governments took a different approach, restricting travel outside the continent, and incentivising domestic travel and spending. This resulted in rural European towns, villages and farms benefitting from a surge in bookings, with huge demand for regional hotels, campsites, guest houses, forest cabins and cottages. Rural parts of the USA and Canada witnessed a similar boom in domestic nature-based tourism near national parks, forests, lakes, and mountains.

I believe Sri Lanka can learn from these destinations and acknowledge that the pandemic has generated significant household savings, particularly in high-income countries.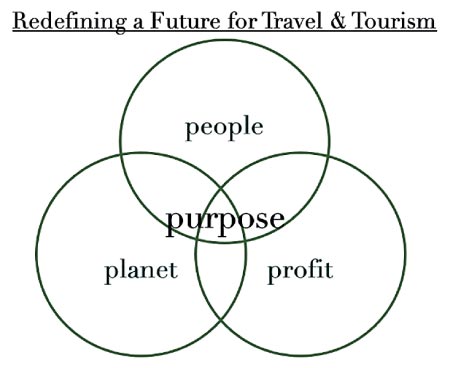 Q: Looking at our own tourism industry, what are your thoughts on how we reacted to the pandemic?

What I admire about Sri Lanka is our resilience, proven through the numerous crises faced in our relatively short life span as a global tourism destination.

According to official statistics, in 1971 Sri Lanka recorded around 39,600 tourist arrivals. Thereafter, there was almost always growth in visitor numbers, with exceptions in 1983-88, 2000-02, and 2006-08. The Easter attacks in 2019 devastated the tourism industry as forecasts were set to break all records that year, yet our recovery from those attacks has been recognised by international experts as one of the strongest and fastest post-terrorism recoveries in global tourism. That is testament to our resilience!

Having said that, despite the onset of COVID-19, there is a sense of complacency and an insular "island mentality" among some of the "veteran" tourism players. Such mindsets inhibit our ability to adapt, regenerate and reposition Sri Lanka, ultimately threatening the island's long-term relevance and appeal as a destination.

In my opinion, some Sri Lankan tourism players place a disproportionate focus on money and numeric targets, instead of longer-term targets built on quality, value and purpose. Such monetary focus is short-sighted, and that is where I see the opportunity to contribute in a more responsible manner to safeguard the longevity of our precious island. For tourism to survive (and perhaps thrive) in a pandemic, the industry requires awareness and acceptance of a need to change. We need agile leadership, regenerative destination practices, flexibility and most importantly open-minded, progressive collaboration between the private and public sector.

I firmly believe we have all the ingredients for success locally – not just the physical island, but also the talent, knowledge, passion and entrepreneurial spirit to develop and drive a responsible, world-class and future-proof tourism agenda, whilst having a good time!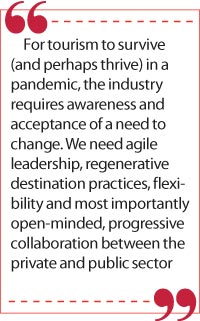 Q: So, why should the Sri Lankan tourism industry approach the current scenario differently?

Certainly an important question. As the pandemic curtailed basic freedoms, many people worldwide felt compelled to realign their priorities and become more mindful of their well-being. This has subsequently led to pent-up demand for slow luxury, purposeful travel and the recognition that travel can be a force for good. Post-COVID travellers are increasingly more conscious of their holistic well-being, seeking high-quality experiences that also foster well-being for the local communities and local environments in their host destination. I believe that this transformation will have a significant impact on destinations and tourism operators. This is also where I see potential for Sri Lanka to become a global leader in responsible tourism.

The bucket-list idea of travel may have worked for Sri Lanka in the past, but it is not particularly where global travel is headed in the future. The pre-COVID "round-island" tourism model where guests would fly to Sri Lanka, visit Sigiriya, go on a safari to see a leopard, go whale watching, etc. will not and should not sustain our industry going forward. In addition to damaging the environment, the round-island model reduces the quality of a guest's experience and directs tourism receipts to the hands of a few players that dominate the industry. For Sri Lanka to remain an attractive destination, we should not be promoting a box-ticking, numbers-based mass tourism agenda. It doesn't make sense from a carrying capacity, environmental, experience or well-being perspective for both man and the planet, guest nor host.

Will Sri Lanka be a relevant travel destination in 50 years? What will our island look like in 100 years? These are vital questions the pandemic has provided us with generous time to reflect on. If we continue down the post-war trajectory, which was 'build, build, build and visitors will come with money, money, money,' it will be harder to reap the many long-term financial gains from a more conscious and responsible revival of tourism.

Sri Lanka's natural beauty and cultural heritage are our tourism industry's strongest assets. Hotel brands and concrete resorts are commercial products that can be found worldwide, but Sri Lanka's pristine waterfalls, endemic species, dense national parks, rich heritage, singular ancient ruins, and primary rainforests can't be valued the same. To bounce forward, we need to adapt and regenerate. This means going beyond the talk of sustainability and planting trees. We must define the purpose of destination Sri Lanka, take ownership of our heritage and outline a guest experience for visitors that shadows a regenerative blueprint for the environment and local communities.

Considering everything this island has to offer, we really do have the opportunity to stand out. Products such as wellness and holistic well-being, outdoor adventures, nature-centric experiences, land and water sports, traditional farming and fishing, wholesome food and nutrition, conservation, biodiversity, spirituality and remote working already exist on our menu. Let's communicate our value proposition consciously and coherently whilst facilitating responsible, purpose-driven guest experiences on the island.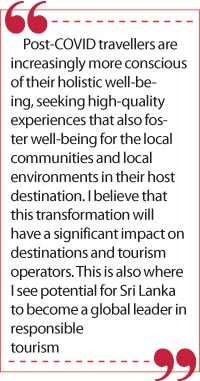 Q: You decided to return to Sri Lanka during this challenging time for the travel and hospitality sector. Why?

My background in hospitality and real estate investments has taught me that crisis means opportunity. To me, the pandemic presented a timely opportunity to showcase Sri Lanka's regenerative heritage to the world. I saw potential to contribute to the betterment of our tourism industry, to help the island remain relevant as a high-quality destination for the long run. This potential and my love for the country fuelled my decision to leave behind my career and life in Europe.

Key to ensuring our future relevance is understanding who we are as a destination. Our ancient heritage as a regenerative society that coexisted with our environment is also our inherent opportunity. We have everything the global traveller wants, but professional work must be done to effectively communicate our position and strengthen our brand as a regenerative destination.

For example, spirituality is core to the wellness and mindfulness sought after by a growing number of travellers, and it is a significant part of our heritage and culture. We have a wealth of local expertise on mindfulness, hundreds of ancient forest monasteries, but are we responsibly promoting these resources and safeguarding their authenticity?

Our mountains and waterfalls are largely undiscovered and free of signage, allowing guests to adventure into the wild, to experience real hiking off the beaten path and to responsibly cool-off in pristine natural pools. We need to consciously preserve the virginity of these places in order to remain appealing and relevant for generations to come.

We must accept that simplicities such as fresh air, starry skies, peace of mind, time offline and unspoiled nature are luxuries that will only appreciate in value. Sri Lanka is extremely well positioned to offer such luxuries, for as long as our tourism sector, including policymakers, investors and hotel real estate developers, act with a conscience. The more concrete and plastic and the less nature we have intact, the less relevant and less celebrated we become as a destination. There's a fine line between development and conservation and the onus is on us to straddle that line carefully.

The pandemic has granted us the gift of time to responsibly realign Sri Lanka's travel and tourism sector. Sri Lanka is home to many conscious entrepreneurs creating purpose-driven businesses, the discrete voices working hard to regenerate value on a grassroots level. I'm pleased to see Good Life X bring these entrepreneurs to the limelight and thrilled to see the efforts and initiatives set out regarding a more responsible revival of Sri Lanka's tourism sector. I am optimistic that together we can purposefully regenerate destination Sri Lanka, to ensure our island remains revered by both residents and visitors alike, for generations to come.
Good Life X, is an innovation and development catalyst, geared to build the next generation of life-enhancing regenerative companies in Asia. GLX provides critical knowledge and expertise to rapidly advance the prospects of Asian startups, SMEs and investors focusing on regeneration and innovation through their solutions. We are rooted to our origins yet global in our outlook, collaborative and above all biased to action!

Founded in 2018 as a pilot project, GLX has now taken wings as its own private entity equipped with extensive experience and tested models we created over the years in transforming and elevating sustainable local startups and SMEs in the food, agriculture, design, wellness and tourism space. Through our programmes we have worked with over 50 companies across these sectors.