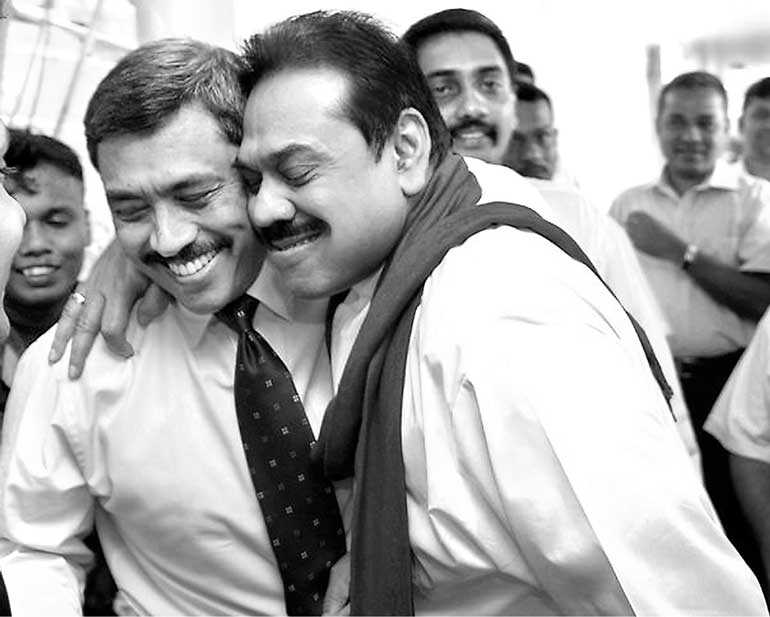 One cannot get closer than this to a country's president and that is why the back channel to the Indian establishment was such a success. A relieved President Rajapaksa hugs his younger brother Gotabaya soon after the then Defence Secretary escaped an assassination attempt by the LTTE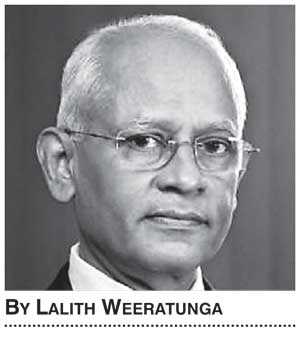 By Lalith Weeratunga

It is no secret that foreign ministries work in watertight compartments and often under immense pressure. As a result, they cannot be flexible, and quite obviously cannot think out of the box. Even the most experienced Foreign Service officers have to be cautious when dealing with their counterparts due to sensitivity of the work they handle.

In writing a memo, a letter or a communique', foreign ministry officials take extraordinary precautions, and that's quite understandable. Because of the visibility they get in the global scene, external affairs or Foreign Service personnel exercise tremendous caution and hence the stress they experience.

The initiative

In the case of Sri Lanka's Foreign Ministry activities too, this lack of space to be innovative has been long observed. It's no fault of the personnel but that's the way foreign ministries work; whilst working within the policy framework of the government, the foreign ministry has to ensure that foreign relations and bonds built over decades are not harmed.

The period after 1983 was particularly a testing one for our Foreign Ministry. It has had to defend the Government in power and safeguard Sri Lanka's image at every international forum. Every Government that had to face the onslaught of the Liberation Tigers of Tamil Eelam (LTTE), required the Foreign Ministry to defend its action in the struggle against terrorism; it was no easy task.

The LTTE had gained a strong foothold in every Western capital, and certainly in the minds of the politicians and the populace as a liberation movement. What the LTTE propagated, very often blatant untruths, was absorbed as gospel truth.

The reason is clear: the LTTE was able to be flexible in its dealings with foreign governments and decision makers in the world capitals and certainly with the international media, while our Foreign Ministry even with some of the best Foreign Service officers Sri Lanka has ever produced managing our missions abroad, had to work within a tight framework. Added to their woes, the budgets they could work with were paltry. Moreover, developing, nurturing and establishing sound interpersonal relationships had certain limits.

Our neighbour India was the most crucial factor to manage if we were to defeat terrorism and bring peace to our country. This was a well-known fact. In managing India, particularly their foreign office, Sri Lanka needed a broad range of skills and competencies; there was a dire need to establish a mechanism to create a dialogue outside the normal diplomatic channels. In other words, a new relationship had to be created and nurtured.

It was no secret that the two countries, India and Sri Lanka, looked at each other with some degree of suspicion, due to a variety of reasons, perhaps an accumulation of misunderstandings that were never cleared. Most, if not all of these misunderstandings centred on national security.

While India looked at Sri Lanka to ensure that the latter would never permit its soil or waters to be used by any external entity to launch an attack on India, Sri Lanka throughout its history of diplomatic efforts tried, sometimes in vain, to convince that the Sri Lankan soil or the Sri Lankan maritime domain would never be at the disposal of any external entity.

Such fears cannot be allayed easily through official manoeuvres and on the other hand, guarantees given could not have been taken seriously because of political vicissitudes.

In this backdrop of 'touch and go' relations between the two countries, India and Sri Lanka, some mechanism had to be established outside the framework of the two foreign ministries to build a strong bond between the two leaderships. As mentioned, the LTTE had been very successful in convincing the global powers that be, that what took place in Sri Lanka was genocide and not a struggle to defeat terrorism on its own soil.

Sri Lanka's image had been tarnished so much that a new approach was required to restore its image. One should understand that LTTE's influence on Tamil Nadu was quite formidable; this left no room for India's leaders in New Delhi to take a realistic view of what was happening on Sri Lankan soil.

I cannot remember the exact day or month, but in around 2008, Delhi's 'eye' in Colombo, High Commissioner Alok Prasad, one day met President Mahinda Rajapaksa at Temple Trees, the office complex of President Rajapaksa, and suggested to the latter to identify three persons close to the President to represent Sri Lanka and that India would also identify three equals and that the 'threesome' on either side could develop a rapport leading to an active dialogue to keep the leaders of either side informed of what was taking place.

Quite interestingly, I recall President Rajapaksa nominating straightaway, Basil Rajapaksa, at that time Senior Advisor to the President, Gotabaya Rajapaksa, the Defence Secretary and me as his threesome, later to be known as the Troika. Not much later, Alok Prasad informed President Rajapaksa that India had named M.K. Narayanan, National Security Advisor, Shankar Menon, Foreign Secretary and Vijay Singh, Defence Secretary as India's Troika.

Most of us holding key positions in President Rajapaksa's Government were very friendly with Alok Prasad and met for informal discussions very often. India House was the venue of many of these friendly chats. In one of these casual meetings, I learnt later, Gotabaya had mentioned to Alok Prasad that an informal channel outside the Foreign Ministry would most likely facilitate the dialogue between the two Governments and ease the tensions that cropped up from time to time. It is out of this discussion that the idea of the Troika emanated.

Alok would have obviously cleared the concept of the Troika with his bosses in Delhi before he proposed this innovative to President Rajapaksa. My guess is that Gotabaya, at the time he tossed this idea to Alok, was seeing the reality – with the Sri Lankan Government engaged in a serious attempt to eliminate terrorism was also finding it difficult to await the outcomes of formal channels to exchange ideas and keep each other fully informed of what was taking place. Moreover, he would have observed the tensions between the two leaderships as a negative impact on Sri Lanka's attempt to dislodge the terrorists from its soil.

Personnel involved

The threesome from each country were formidable people who had the ear of their leaders as well as their governments. At the initial stages, I was designated the leader of the Sri Lankan Troika, maybe due to the official position I occupied in the Government. Indians always respected protocol as well as hierarchy and that may have been an additional reason for my being nominated as the head of the delegation. On the Indian side, the Troika was led by M. K. Narayanan, India's respected National Security Advisor. Later, on our side, leadership changed, as Basil Rajapaksa became a Member of Parliament and the task of leading the Troika fell on him.

Much of the success attributed to the Troika was also because each person in the two teams had a direct link to his respective leadership. On our side, all three of us enjoyed the confidence of the President but it is only natural that the duo, Basil and Gotabaya, knew better what their brother's thinking was on matters relating to relations with India.

I recollect the first meeting of the Troika that took place in Delhi at the Hyderabad House without any fanfare. The two sides understood very well that the purpose of this hitherto untried mechanism was to increase the level of understanding between the two officialdoms and also had there been any misunderstandings due to communication issues, to iron them out.

In my opinion, this initiative was more useful to Sri Lanka than to India because we were then in the thick of fighting the LTTE and it was crucial that India was fully aware of what the Sri Lankan government and its Armed Forces were doing. The personnel involved in the Troika could not only place facts with authenticity but could also take decisions on behalf of their respective government. Had there been any issue arising out of these discussions, any member in either of the teams could be on the phone to the leadership and obtain advice on further action.

At this first meeting, I vividly remember how the NSA of India clarified with the minutest detail as to why India needed to understand fully how we set about eliminating terrorism. Their responsibility towards the Tamils of Sri Lanka came out loud and clear. But that did not deter the Indian Troika denouncing terrorism and pledging their fullest support to eliminate terrorism in Sri Lanka.

On the other hand, for Sri Lanka this initiative allowed to lay bare the facts before those who mattered in the Indian policy making apparatus; most often sensitive information doesn't get across in its purest form when foreign ministries interact.

Besides, even with the usual camaraderie, Foreign Ministry officials are shackled to a great extent. I have seen on numerous occasions how Foreign Ministry officials have to check from Colombo what had to be said in response to a sudden issue or problem. That's the nature of the official channel of communication. However, the Troika could work differently because of the very nature of the dialogue. It was a friendly exchange of ideas, a sort of friendly banter, but certainly on most serious issues.

Although the two teams sat opposite to each other, there was no official colour to the whole episode. The atmosphere was that of an interaction between long-time friends. This first meeting was important because it would set the tone for future interactions. There were no others to brief and assist. Just the three from each side participated in this first discussion; I cannot remember whether we had our High Commissioner in Delhi attending the meeting. It is my faint recollection that Alok was around, justifiably as the man who made this innovative project a reality.

Whatever discussed at this Troika meeting were to be conveyed to the top political leadership of each country, enabling each country's leaders to get the best picture possible of the fast unravelling scenarios. This also put a stop to wrong messages flowing from one capital to another. As an ardent fan and a student of communication, I was quite aware how messages get garbled when passing through so many people. The chances of misinterpretations were hardly any. Each of us took down notes; Shankar seemed to be the official recorder for the Indian side, being the meticulous note taker he was.

An interesting observation I made was that none of us had that air of caution; usually at official meetings of this nature, one has to be careful when one speaks due to tenets of diplomacy and also due to implications any statements may have. Here was the complete contrast to all that; each of us had a high degree of self-confidence as well as the implied assurance that each of us would not be misunderstood. Any of us could freely present our viewpoint unlike in formal meetings where one wrong word could jeopardise one's entire career or future.

Consequent to this first encounter, two or three months later, the Indian Troika visited Colombo and we had our discussion at the Taj Samudra hotel in Colombo. Once again in a very friendly setting. By this second meeting, the crucial importance of this innovative measure had been proven beyond any doubt and the two leaderships had been fully briefed about the workings as well as the content of the discussions. What had been undertaken by each team had been fully accomplished; there was no need for any review of past decisions. Each of us had that feeling of confidence and accomplishment that the Troika had become a permanent feature in the realm of foreign relations, at least with India.


Several interactions took place during the ensuing years, quite regularly until Sri Lanka was able to officially declare that it had eliminated terrorism. Even after May 2009, there were a few meetings but on a less frequent note. There were many interesting comments made by Troika members at these meetings which are too numerous to mention.

But one remark made by the NSA of India at one of the meetings held in Delhi still remains etched in my mind. He asked Sri Lanka's Defence Secretary, "Gotabaya, how do you manage to keep Colombo quiet?" I observed that Narayanan had much respect for the in-depth knowledge Gotabaya had of the unfolding events in Sri Lanka and in particular the way he provided leadership to the on-going effort by the Sri Lankan Government to eliminate terrorism.

There were many instances where the camaraderie the Troika had created facilitated crucial issues to be sorted. One of the most significant outcomes, I experienced in April, 2009, when our Armed Forces were pretty close to eliminating the scourge of terrorism.

Gotabaya had received a call either from Narayanan or Shankar seeking an opportunity to urgently call on President Rajapaksa to brief him on some of the concerns the Central Government of India had in regard to the advances the Sri Lankan Armed Forces were making. And they wanted to come the following day, 24 April. I recollect Gotabaya phoning his brother, President Rajapaksa and seeking his approval to invite the duo from India. The go ahead was given and in less than 15 minutes Gotabaya returned the call to his Indian caller.

The following day, both Narayanan and Shankar Menon flew into Katunayake in a special jet to meet the President. The meeting took place at Temple Trees around 10 a.m. At the meeting, the two top Indian officials were joined by Alok Prasad and his deputy Wikram Mishri. Gotabaya and I were the other two participants with President Rajapaksa in the chair. What transpired at the meeting is history.

It was at this meeting Narayanan conveyed a request of the Indian Government to President Rajapaksa to stop any military activity in the north as the State Government elections in Tamil Nadu were to be held in mid-May that year. After an initial outburst, the President explained to the Indians that there was no possibility to let the LTTE off the hook in the last stages of the fight against terrorism. He explained to the Indian delegation that no heavy artillery were being used and only small arms were deployed.

I remember it was a Friday and the President assured Narayanan and Shankar that on Monday a special meeting of the National Security Council would be convened and this decision confirmed after consultation with the Armed Forces Chiefs. The Indian duo left the same day much relieved.

As discussed, the historic NSC meeting took place at the President's House on Monday 27th, quite early in the morning and Alok Prasad was waiting in my office for the outcome of the meeting. President Rajapaksa discussed this crucial issue up front and having agreed with the Armed Forces Chiefs permitted me to leave the meeting to convey this landmark decision to Alok Prasad. The Indian High Commissioner and I together drafted a short note embodying this decision of the President to be conveyed to the Indian Prime Minister. In fact, Alok called Delhi seated in my office.

This is the most salutary outcome of the whole exercise of the Troika. This kind of interaction would have never been a reality through normal diplomatic channels. It would have taken quite a number of letters, and probably a few visits by Foreign Ministry officials to get a meeting scheduled between a President and a top official delegation, particularly under the circumstances then. The question of time was the most crucial aspect and the concept of Troika proved its worth in this particular episode.

Lessons to be learnt from this innovative mechanism are many. Firstly, in difficult times, governments have to look toward out-of-the-box initiatives to create better understanding with foreign governments. The outcomes of such initiatives could be fed into the official channels and keep them fully briefed so as not to jeopardise the formal channels of communication.

Secondly, the leaders in countries could pick competent officials or political personalities in whom such leaders have high confidence to intervene on behalf of the country to buttress foreign relations. However, extreme caution should be exercised by those interventionists not to work outside the policy framework of the government they represent.

Thirdly, those who are elected to power by the people should comprehend the importance of official as well as semi- or unofficial channels of communication and that long-cherished principles of communication are not violated. Whilst this list is not exhaustive, it portrays the characteristics of a novel initiative such as the Troika in creating a high level of understanding between two Governments when confronted with an issue that has been hitherto labelled as irresolvable.

(This article was originally published in the fortnightly news magazine www.counterpoint.lk.)