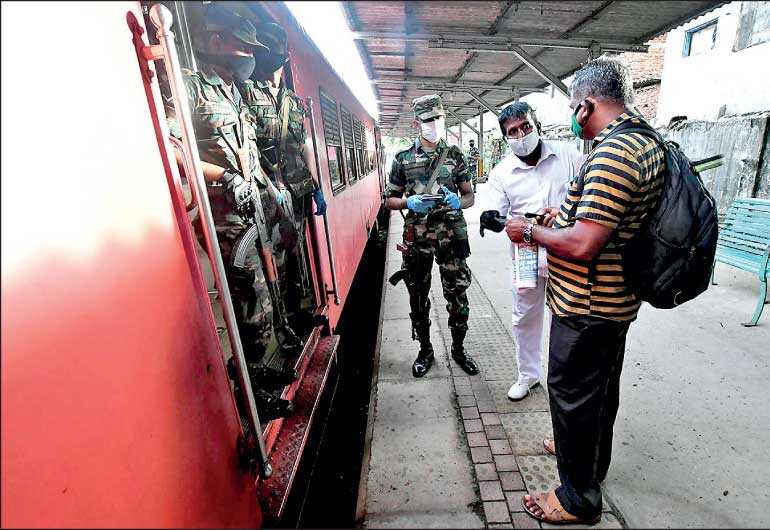 Why don't we bring together the military, medical professionals and marketing strategists to draw up a good practical plan to implement the post lockdown measures to control the pandemic and bring normalcy faster in a more meaningful manner than adopting a very conservative and prescriptive approach? – Pic by Shehan Gunasekara
---
By Eng T.L.R. Thilak Silva

Our country was on a lockdown to control the COVID-19 pandemic and the curfew was imposed on 21 March under the Quarantine and Prevention Ordinance of 1897.

Lockdown of a country in such a situation has many objectives as stated below:

1. Initially for the Government to organise the pandemic control measures.

2. Creating social distancing and restricting mobility among the masses to control spread of the decease.

3. Enable intelligence agencies to track people who have to be quarantined in already identified pandemic spread clusters.

4. Utilise State resources to establish quarantine facilities and treatment facilities.

5. Concentrate State efforts in the pandemic control measures.

6. Indirect strategy of communicating the seriousness of the pandemic and mentally prepare people of all levels to face the consequences.


Satisfactory job well done

In spite of various criticisms, in my opinion, the Government has put together a quite reasonable effort in containing the pandemic situation. Despite a few misses in the planning process which barred the full credit due to the Government COVID-19 Task Force, it has been a commendable, appreciable and coordinated effort. This task force which was set up by the President was headed by Lt. Gen. Shavendra Silva, comprised of the President's Office, country's military establishment, MOH doctors and PHIs, Directorate of Health Services and other support establishments. The GMOA also played a pivotal role. They effectively used the armed forces in setting up quarantine centres, providing security to the quarantined areas, tracking the afflicted people of the already found clusters using military intelligence units and enforcing curfew effectively. The Government also successfully gained the support of the doctors and other medical personnel in the management of the patients in the designated medical facilities.

By early May, before the Government made announcements to allow gradual restoration of normalcy in public life, starting from 11 May, they had totally curbed 27 out of 31 COVID-19 clusters effectively. There have been no new clusters reported within the country other than the ones created by the arrival of people from several countries who were directly put in quarantine.


Planning of the next phase

The Ministry of Health issued a document titled 'Advocacy Brief' on 27 May setting out guidelines for resumption of public activities during the gradual exit from existing restrictions for COVID-19. Its approach has been more prescriptive-based. Some of the proposed measures are not practical for implementation.

As it seems, most of the proposed measures are directly copied from the post lockdown implementation plans of China and other severely affected countries. It should have been better if the recovery strategy for our country was country specific and derived through our own analysis of the overall country situation and experiences so far gathered.


Plight of the people

Due to the lockdown, a good percentage of people who worked in industries and other commercial establishments may not have got their full salaries for the last two months. Some companies may have paid part of the salary and some companies which were already in a poor financial situation after the drawbacks of the 21 April calamity of last year may not even have paid any salary at all. Those who worked in private establishments on daily wages and as casual workers may not have got any wages at all. The situation of those who depended on their own small businesses and vendors should be the same.

Everybody poses the question: Who is going to feed the families of these bread winners when the bread is not on the table? Does our country have social security funds for such people who live in such desperate situations? The Government can do only very little, then where will these people find their food to survive?

So, it is the responsibility of the Government to bring back normalcy as early as possible. For that, those who are in responsible positions need to think out of the box to bring out a strategic solution which can be more practical and realistic than relying purely on prescriptive measures which are very conservative and safe for the decision makers. In other words these prescriptive measures are aiming at putting the burden of responsibility more on the people.


Strategic solution as an alternative to adopting a prescriptive solution

Ours is a country which became famous by ending a 30-year guerrilla war. Such achievements were possible only through meticulously-planned military strategy. During the war, all four forces had medical doctors who saved and treated the soldiers who were injured in the battlefield. Services of these doctors have always been remembered and appreciated.

However, when the battles were planned, it was not the Medical Services Corp which made the battle plans, having in mind the sole purpose of reducing the casualties during the battle. Medical Services Corp should have definitely been part of the strategy formulation team to get their views on how the injured soldiers would be transferred for treatment and what measures should be taken to minimise the death and disablement of those who would be injured during the battle.

Similarly, the post lockdown strategies to contain the pandemic situation should be planned by multidisciplinary teams, comprised of those who were involved in controlling the pandemic during the last two months, other external sources and other strategic experts who can bringing in new ideas in the strategy formulation.


Proposed segmentation and targeting strategy to implement as a post lockdown advocacy brief to bring back normalcy in the civilian life as fast as possible

1. Gather all data relating to the COVID-19 clusters.

2. Do a SWOT analysis. Critically analyse where they went wrong during their efforts of last two months.

3. Through this data and analysis, identify different demographic segments which have contributed to generating the identified COVID-19 clusters.

4. Brainstorm to identify any other vulnerable and probable demographic segments which can generate future COVID-19 clusters.

5. Target these identified COVID-19 segments in future control of the pandemic in post lockdown period.

6. Draw up a plan to cover all identified segments and focus more attention on the ways and means of containing the COVID-19 spread through these segments/society groups.

7. Classify the demographic segments based on their risk levels and focus more on the higher risk groups while planning strategies for each such social group.

8. Draw up a communication plan targeting and positioning the selected strategy in various key segments.

9. Draw up a future patient detection plan and a future spread prevention plan.


Proposed selected key members of the strategy formulation group

1. MOH doctors from the Colombo Municipal Council and other affected areas.

2. Military team who were part of the COVID-19 task force and were responsible for infrastructure facilities.

3. Military intelligence team who were involved in identifying people of the identified clusters.

4. Members from military strategy, research and development units of Sri Lanka Army.

5. Key doctors of IDH and Directorate of Health Services headed by Dr. Anil Jasinghe.

6. Renowned marking strategists from the industry and marketing academics from the universities.

7. Advertising and communication experts.

8. Retired senior military officers who were involved in strategic planning during the final stages of war.


Proposed roles and tasks of different groups of the strategy team

1. MOH doctors, military intelligence team and marketers to analyse the affected clusters and future vulnerable groups and separate them into different demographic segments.

2. Military and marketing strategists to do the SWOT analysis and prepare a brief of lessons learned.

3. MOH doctors and doctors from above group 5.0 to categorisation of risk levels of different demographic segments.

4. Military strategists to plan their strategies together with MOH doctors in the control of contracting the disease and spread in different segments.

5. Marketers and communication experts to draw up a communication plan targeting different segments how the control measures and preventive measures should be effectively communicated to various groups based on their risk levels.

6. MOH doctors and doctors of above group 5.0 to plan out together with military team of above group 2.0, how to handle future patients such as those who will come in the future to the country from other countries who are already infected and others who will need to be quarantined.

7. Groups 1.0 to 5.0 to develop future patient detection plan and a future spread prevention plan.

Why don't we bring together the military, medical professionals and marketing strategists to draw up a good practical plan to implement the post lockdown measures to control the pandemic and bring normalcy faster in a more meaningful manner than adopting a very conservative and prescriptive approach? The Government needs to rescue the common people from their present destitute situation and perils faster and without further prolongation.