Data analytics and science key areas of focus
The world's leading provider of front-office offshore support to the financial services industry, Moody's Analytics Knowledge Services, has seen its Sri Lankan operations expand during the last few years. The Knowledge Services arm is part of Moody's Corporation, which has over 100 years of experience and reports annual revenue of over $ 4.2 billion. The Knowledge Services arm is 16 years old and has global staff strength of 3,000, around 250 of whom are based in Sri Lanka. Moody's Analytics Knowledge Services' global footprint includes offshore centres in Sri Lanka, Beijing (China), Bangalore and Gurgaon (India) and San José (Costa Rica), apart from business development centres in New York, London, San Francisco, Hong Kong and Singapore.

Moody's Analytics Knowledge Services Executive Director and Global Head Robert King visited Sri Lanka recently and Daily FT met with him for an exclusive interview on the company's operations and success in Sri Lanka, future plans, and industry challenges and trends. Following are excerpts of the interview with Robert King and Chanakya Dissanayake (Country Head Sri Lanka and Senior Director of Investment Research at Moody's Analytics Knowledge Services):
By Nisthar Cassim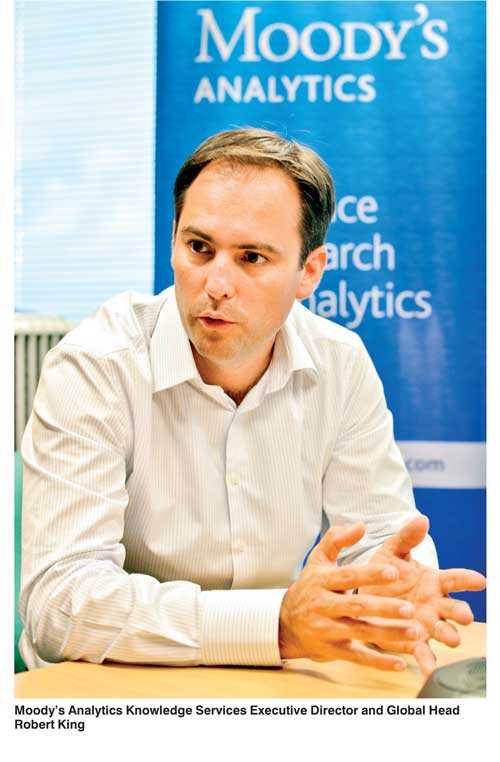 Q: How has the investment in and the performance of Moody's Analytics Knowledge Services in Sri Lanka been so far?

A: Globally, we branded Moody's Analytics Knowledge Services as a business in December 2016. This brought the Moody's brand to Sri Lanka and since then, we have consistently grown our client base and revenues. Sri Lanka now accounts for nearly 10% of our global staff strength. We are proud of the opportunities we offer our employees in Sri Lanka, such as career development, training and overall investment. Strong partnerships with universities have been a cornerstone in terms of talent acquisition and development. It has been a good story. We are planning for double-digit growth in Sri Lanka, both in revenue and employee numbers. Despite challenges in global financial markets, the operation in Sri Lanka is going well. We are very proud about this.


Q: What kind of engagement do you have with the team when you visit Sri Lanka?

A: My visits are to ensure our 250 employees understand the contribution they make to the global growth of Knowledge Services, which has nearly 3,000 staff globally, and the role they can play in the future, and to ensure they feel they are full members of the Moody's family.


Q: What are your plans for Sri Lanka?

A: We are opening up a couple of new growth opportunities for Sri Lanka and our staff. Sri Lanka has been a strong location for our asset management and investment banking clients for a while now, but more recently, it has been exposed to commercial lending-oriented credit research. We also are specialising in data analytics to work with investment banking clients, and much of this is conducted by our Colombo team. Moody's Analytics Knowledge Services recently made a large investment in automation technologies. Colombo will be a centre of excellence for data analytics and science for Moody's Analytics Knowledge Services. It is an area in which we are seeing significant interest from our global customers, and we, therefore, expect data analytics to be a big area of growth for us.

While around half of the Sri Lankan team is engaged in the core business of investment research and asset management, some teams have initially been assigned to focus on data analytics, to give a differentiated perspective to the investment research that banks publish. Firms are looking not only at financial fundamentals in research, but also for insights gleaned from big data. This is more to do with looking at non-traditional unstructured datasets to see what new insights can be gained for investment strategies and ideas. Additionally, Sri Lanka's previous Head of Technology has been seconded to Moody's Analytics London Office to be part of the global team to drive data analytics and machine learning-oriented research.


Q: What is unique about Sri Lankan talent?

A: One of the most unique facets is high-quality financial literacy. We are strongly committed to our partnerships with local universities, making substantial investment in terms of time and money. Our educational partnerships are the strongest and most developed, compared to our other locations. In 2008, we partnered with the University of Colombo to launch the Master's Program in Financial Mathematics. We regularly have young faculty members of the Universities of Colombo, Sri Jayewardenepura and Kelaniya following our capital markets training programs, which in turn helps them to impart practical capital markets analysis skills and learning to their students.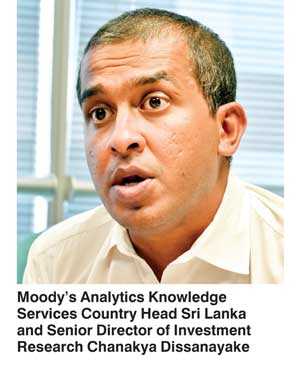 In terms of private universities, for example, we are one of the largest recruiters of students completing their education in economics and finance via the University of London's external programs. The top performers of each batch get an opportunity to interact with our research managers, who conduct technical lectures in areas such as fixed income research, as Sri Lanka's bond market is still in a fledgling state.

Moody's Analytics Knowledge Services also works closely with accounting bodies such as the Institute of Chartered Accountants of Sri Lanka, CIMA Sri Lanka and ACCA Sri Lanka. We have also pioneered valuation bootcamps – to provide training and orientation on capital markets for chartered accountants. When we started business here, one of our key value propositions was to introduce Sri Lanka's finance and chartered accounting talent to global capital markets firms. We have trained over 1,000 Sri Lankans in the field of global capital markets and have been the stepping stone for most of the Sri Lankan talent working for global investments banks in New York, London, Hong Kong and Singapore.

We also have been the training partner for universities participating in the CFA Institute Research Challenge; this competition has contributed significantly to enhance talent, skill sets, and employability. Due to these specific initiatives, a career in capital markets is now a more visible path for top graduates, unlike just a decade ago.

We also highlight that we have provided capital markets training to 40% of CFA Charterholders in Sri Lanka. Therefore, Moody's Analytics not only provides an excellent employment opportunity, but also makes a significant impact on the wider Sri Lankan capital markets community and the investment finance segment, having, very often, been the employer with whom most started their careers. We expect to further enhance our broader knowledge-sharing initiatives in the areas of skills development and financial/capital markets literacy.


Q: What are the prospects for Moody's Analytics Knowledge Services in Sri Lanka?

A: Our business is growing, and what is interesting is that we are growing in new and different areas, for example, data science, machine learning and big data. These are new skill sets for which we may not have recruited Sri Lankan talent in the past but are doing so today, broadening our employment not only in the traditional financial analytical disciplines but in new areas as well. The key development is combining world-class talent with automation technology. Our business in Sri Lanka is also directly supported by the Moody's Innovation Centre, which is tasked with exploring and developing solutions in the fields of machine learning, artificial intelligence, big data and research process automation tools.



Q: What are the latest dynamics in the research industry?

A: Moody's Analytics Knowledge Services' clients include more than 200 of the world's leading financial institutions, and Moody's Analytics serves over 4,000 clients. The investment research industry is also undergoing rapid change. To remain competitive and paid for investment research, asset managers are in search of even more differentiated research. Our global investment banking clients are constantly seeking technology-enhanced solutions. The fintech revolution currently underway is very relevant to our industry and clients. We hope to combine Moody's Analytics' experience and automation technologies to offer new insights and tools to our customers.


Q: The basic jobs of accountants and auditors will likely be replaced by technology. Will machines replace people?

A: At present, machines aren't replacing humans. First, machines need to be told what to do. Second, the current levels of innovation and technological development are augmenting, not replacing, human processes. Furthermore, some of the growing and emerging technologies will actually save analysts' time, as they would enable some of the most basic tasks to be automated. For example, automating quarterly earnings update processes would free up analyst time to assess industry changes and trends, and to suggest more long-term investment ideas. New technologies are likely help up-skill human talent and move analysts up the value chain. We will, therefore, continue not only to invest heavily in technology but also to hire.


Q: What are the current challenges facing the global financial services industry?

A: The global investment banking industry is in a low-growth phase, and banks are facing pressure to optimise return on investments and profitability. In addition, the asset management industry is being restricted by regulation under the Markets in Financial Instruments Directive (MiFIDll). There is no standard response to MiFIDll, and each asset manager is reviewing their business and responding differently, depending on their strengths and weaknesses and how they perceive their future business models.


Q: Have client demands changed significantly recently, and what dynamics are now driving their businesses?

A: Client demands vary by sector. For example, many commercial banks are reviewing their lending operations and trying to optimise their processes and lending practices. This is proving to be a source of business growth for us, as we have expertise in this area. Another growth segment is compliance, with clients wanting to partner with us to optimise their processes and best practices. We are also seeing demand from European mid-tier investment banks that previously were slow to adopt offshore knowledge services. We are engaged in a number of discussions with such banks at present.


Q: Sri Lanka aspires to become a knowledge and offshore financial hub. What are your comments on this?

A: Sri Lanka needs a combination of the right talent and infrastructure. We hope that other global companies would see early movers such as us, the London Stock Exchange, and HSBC as the forerunners. We are very proud of our success in our Sri Lanka-based operations and are planning on growing our business here, and hope others will do the same. Our experience is that Sri Lanka is an excellent place to do business.


Q: Is Sri Lankan talent knowledgeable and ready to face demands driven by advanced technology?

A: The strongest demand is for youth with backgrounds in software development and experience in capital markets to provide specific research solutions to investment banks. We are ideally positioned to provide Sri Lanka's youth with such opportunities. Our strength is our ability to combine software development, data science talent and financial analysis expertise – to link financial markets domain knowledge with technology knowledge. This is part of our value proposition, which we think is very unique. We educate technologists about finance and financial professionals about technology, and aspire to be skilled in both fields, which previously were distinct career paths. We are using our university outreach program to convey the clear local and global demand for financial analytical skills combined with technological literacy and capability. Some universities that have traditionally been strong in their software engineering courses are now offering courses in finance. We believe a stronger industry-academia partnership will establish the importance of this twin qualification.


Q: What factors will attract more companies such as Moody's Analytics Knowledge Services to Sri Lanka or help existing players to expand?

A: I believe Sri Lanka's infrastructure is developing. For example, Virtusa started in Sri Lanka; it now has a NASDAQ listing and mega operations globally. Sure there are realities we have to face in terms of talent scalability, as Sri Lanka is a small country. Policymakers seem to be trying to upgrade the quality of tertiary education and the university system. Some of the established state universities are progressive, and if regional and newer institutions also scale up, it would result in a large talent pool for the growing knowledge services industry. Industry groups such as SLASSCOM are also advocating similar moves to address the issue of scalability.


Q: How do you encourage female professionals to grow their careers?

A: We consciously support and promote female employees. The Colombo office is home to a Women's Employee Resource Group, and we run a female manager empowerment program globally, which includes mentoring when female employees return to work. Our business is best served by a diverse employee base and by supporting and growing our female talent base. We are proud that across Moody's Analytics Knowledge Services, we have a number of females in managerial positions. In Sri Lanka, a significant proportion of the analysts are females, one of our highest ratios globally, and many have progressed to become senior leaders. We acknowledge that most of Sri Lanka's graduates are females and that encouraging them to be part of the active and employable talent pool is important.


Q: What have you learnt from the other locations in which you operate?

A: India benefits substantially from the large numbers of Indian employees in locations such as New York and London who return to their home country periodically. This 'brain gain' enhances its capabilities, not only in the local capital markets, but also in other sectors. Sri Lanka also has a large diaspora, including professionals, and if it could create conditions conducive to bringing them back home, it would experience a similar significant boost.


Q: Is the proposed India-Sri Lanka Economic and Technology Agreement an opportunity for or a threat to the knowledge services industry?

A: We believe that stronger economic and trade partnerships with countries in the region will bolster Sri Lanka's economy in general, not only the knowledge services industry. That said, we are confident that with our scale in Sri Lanka and the talent available, we can continue to grow. I can say we have scaled up appropriately in Sri Lanka, for now. We foster a culture where employees feel valued and management is supportive of career growth and aspirations, and we try to ensure work-life balance. We help our employees accumulate globally marketable capital markets experience faster than elsewhere in the industry.

Our investment in terms of time and money in Sri Lankan universities and financial education institutions is higher than in any of our other global offices; this is a critical factor for our being able to attract and grow talent in Sri Lanka. This is a not a CSR activity but part of our core. We believe that if we want to attract quality graduates, we should also be a value-adding technical partner, supporting university faculties and students. We conduct a strong four-month internship program, and most participants are absorbed into the company. The majority of our Colombo staff have been with us for at least five years, and those who have left have done so to pursue postgraduate education overseas, other careers in capital markets here or abroad, or entrepreneurial ventures.

Pix by Daminda Harsha Perera