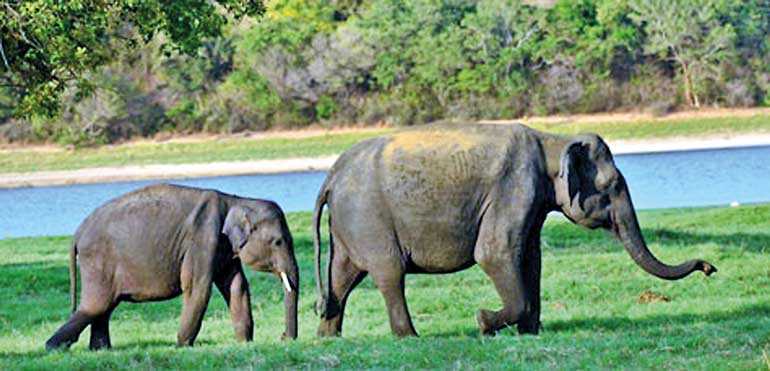 Every year, political interferences in wild life management are getting more and more and it is a very depressing situation – Dr. Sumith Pilapitiya
By Shanika Sriyananda
A renowned conservationist Dr. Sumith Pilapitiya claimed that Sri Lanka is at cross roads when it comes to wildlife conservation as the number of animals in all parks in the country has declined drastically while political interferences in wildlife management have steadily increased over the last 30 years.

He said while no meaningful mitigation measures have been taken to reverse the loss, parks are overcrowded with tourists, human-elephant conflict has become intense and conflicts between humans and other animals have also become a serious issue.

"Every year, political interferences in wildlife management are increasing and it is very depressing," said Dr. Pilapitiya, who moderated a panel discussion at the public lecture on 'Where is wildlife conservation in Sri Lanka today?' held recently to mark the 125th anniversary of the Wildlife and Nature Protection Society.

However, he said the Department of Wildlife Conservation (DWLC) should be applauded for taking initiatives to develop their own management plans for all protected areas without local or international expertise.

He also said that the DWLC have commenced an awareness program together with the Sri Lanka Tourism Development Authority and Sri Lanka Association of Inbound and Outbound Operators for jeep drivers in Minneriya.

"The DWLC has also announced that only certified jeep drivers will be permitted to enter into Minneriya and Kaudulla National Parks from 1 July. Nearly two-thirds of jeep drivers in Wilpattu have been trained and then the drivers in Udawalawe will also be trained soon. But the drivers in Yala will be trained at last. Why? Yala is full of politics and they have preferential treatment for their gooneys there," he claimed.

Meanwhile, the former DWLC chief revealed that the DWLC is short-staffed but it couldn't fill its 500 approved cadre vacancies because the Treasury is not releasing money.

"We have to praise them for conserving and protecting the lands under their purview amidst all constrains. There are less encroachments in forest lands compared to DWLC lands. Within my short stint at the DWLC, I found that they are performing well even under political pressure," he said, adding that a hotelier in Yala have told that the DWLC is performing well when there is no government as there is no one to interfere in their work.
Humans and leopards

Rukshan Jayawardena explaining about history of leopards, its conservation efforts, leopard related tourism, said that the biggest threat to conserve Sri Lanka's big cat – Panthera pardus fusca known as 'kotiya' in Sinhala, is the political interferences when enforcing the law.

Defining the characteristics of a leopard, which is the world's most distributed and highly evolved wild cat, he said that humans and leopards have a long history of over three million years of association but humans have learnt very little about the magnificent creature.

"Leopards which live in human dominated lands and humans interfere with their lives. As a result, we have problems like in India where leopards enter into villages, attack people and injure them severely," he said, adding that leopards are highly adoptive to different climates, habitats and forests sizes.

He said that they are the only mammals that can be adaptive other than humans and they can live where humans live.

Citing studies done by Dr. Sriyani Mithrapala, who had found that the Sri Lankan leopard was genetically distinct and a separate sub species, Jayawardena said that it requires more conservation attention.
The biggest threat to conserve Sri Lanka's big cat – Panthera pardus fusca known as 'kotiya' in Sinhala, is the political interferences when enforcing the law – Rukshan Jayawardena
"If the Sri Lankan leopard disappears, the world will lose one of its 14 subspecies," he stressed.
Jayawardena said that in the dry zone when their natural habitats decrease leopards will kill cattle, buffalos and goats. "People poison the dead carcasses and later leopards die due to poisoning. It is very tragic as it will become a zone of dead, where other animals will also die due to poisoning," he said.

According to Jayawardena, chain-link cages have been distributed among cattle keepers to cage the young calves, which were the main preys of leopards, at night.

"It was successful but occasionally leopards, which are very resourceful, tenacious and do not give up easily, have ripped open and gotten into the cages," he explained.

Jayawardena said that although leopards in the wet zones, other forest patches like Sinharaja and Kanneliya and adjacent forests which are protected and not protected, they don't have conflicts with humans but they are targeted, especially the black leopards, which has a small percentage in Sri Lanka.

He said that Sri Lanka has to manage leopard centric tourism or 'leopard fever' which put immense pressure on national parks both Wilpattu and Yala National Parks.

"More than any other animals, leopards draw people locally and foreign in large numbers and people chase leopards using their phones. When a leopard is seen they call or message putting pressure on the animal," he explained adding that there is a sever lack of enforcement in Sri Lanka when it comes to poaching or killing animals.

"When it comes to enforcing law, the biggest obstacle is convictions due to political interferences, which is mostly said 'Mage minissu nidahas karanna', which means 'Release my men' by politicians."
Importance of a Marine Protected Area

Highlighting the importance of having clear targets to conserve country's marine resources, marine biologist Nisal Perera said Sri Lanka does not have clear conservation objectives, which will spell out targets for the next 5, 10 and 15 years to monitor the increase in certain marine populations.

"When we want to protect or conserve a growth in a certain population we have to design management interventions in achieving the set targets and monitor effectiveness based on that and then to be adoptive," he said explaining the characteristics of a Marine Protected Area (MPA).

He said that declaring an area in the ocean or costal environment will help to conserve critically endangered important habitats, species and also the marine environment where resource use is very common.
Every year, political interferences in wild life management are getting more and more and it is a very depressing situation – Dr. Sumith Pilapitiya
"The MPAs can be used to manage commercial fish stocks. It is an area of enforcement but very difficult to manage. But they give us the opportunity to focus the resources in one specific area. The MPAs provide a nursery as a kind of refuge to restock population. Many fishing communities when they have successful MPAs are able to have higher yields," Perera said.
He noted that the MPAs support livelihoods directly, tourism in certain areas and also cultural aspects. However, he said that when designing and managing MPAs, not only the glamour habitats like coral reefs but also whales and dolphins should be representative in the MPAs to have connectivity of all ecosystems.

"Connectivity is very important. Ideally it is large protected areas or a network of small MPAs. It makes more ecological, like the boundaries where the elephants pass, for marine mammals to cross. It should be inclusive and not only about conservation. We are looking at different areas like fisheries, tourism and research. All these areas need to be considered in larger MPAs," Perera said.

According to Perera, out of 17 MPAs declared under the Fauna and Flora Protection Ordinance, Sri Lanka has only five MPAs which are primarily associated with coral reefs and are focused on true marine ecosystems.

Sri Lanka's five marine MPAs have 32,366.63 hectare and 12 costal MPAs covers 75,441 hectares. However it covers less than 1% of the surface area.

Of the total hectares of the five MPAs, Bar Reef Marine Sanctuary spans to 30,500 hectares and the rest of the four MPAs make up of 1,500 hectares.

"It covers a very small area. All are fragmented and not close to each other. We tend to be biased towards popularity as we are not going to conserve large areas and mostly concern to conserve or block the ocean areas where fisheries has become an issue. We need to prioritised areas which has critical ecosystems and need to look into the ecosystem services they provide, their role in larger ecological systems for different species," he said adding that Sri Lanka needs look at ecosystem based approach but not just species, corals, sharks or various other isolated species.

Perera said that in the absence of clear objectives or targets, there is no monitoring evaluation for management success and also scientific researches within MPAs to document changes.

"All research is done by independent organisations or individuals, it is not directly related to management. This is due to low compliance and poor law enforcement," he opined.

The five MPAs, which were primarily tasked to protect coral reef and if so there should be healthy live coral covers in those MPAs but those coral reef have been subjected to bleaching.

"Globally if the coral cover is 30%, it is considered healthy but in Hikkaduwa National Park it is 15%, the coral reef of the Bar Reef Marine Sanctuary is 7%, Rumassala it is 16%. These are in the South West coast and record an unhealthy coral cover," he noted.
Sri Lankan bird species are fast disappearing while approximately 100,000 birds die annually in the Colombo-Galle Southern Expressway – Dr. Sampath Seneviratne
According to Perera, over fishing, human impact, pollution, under-graded tourism and coral bleaching have badly affected the live coral cover in the South West coast.
The Pigeon Island and Pasikudah in the East coast records healthy live coral coverage of 50% and 40% respectively.

"Coral bleaching happens due to warmer ocean temperature as a result of climate change. It is resulted in corals losing their colour – first they turn to white – and then they tend to die off. We need to look for managing for resilience for climate change which is again push into MPA management in Sri Lanka," he explained adding that coral reef is not the always highest in resilience.

According to Perera, researches are needed to identify which coral species have better resilience, which can survive to stress and recover better form regaining activities, better ecology, better resilience factors like ocean circulation, and better composition of coral species.

"Based on findings, we can manage MPAs but it is basically managing people in the boundaries of the MPAs. We cannot control the climate change within MPA but managing people who interact with those species in the ecosystem is possible," he said.

Bar Reef Marine Sanctuary, which is one of the largest coral reef systems in the country with a high coral cover, was declared as a marine sanctuary in 1992. A research carried out by NARA had found that it had 80% exceptionally high and very healthy coral reef cover when the areas were not exposed to fishing and tourism.

He said most of the corals in Bar Reef had died and the live coral cover decreased to around 1% in 1998 due coral bleaching but the survey done in 2002 showed a steady improvement in the reef.

"This was due no management and less stress from humans as there was no fishing and tourism due to the war. It is natural for ecosystems, whether in land or in oceans, to recover. It was left to have a natural recovery and it had improved but when the coral bleaching struck it in 2016, the coral reef cover again decreased drastically to 7%," Perera disclosed.
Birds of Sri Lanka

Dr. Sampath Seneviratne explaining five key aspects of conserving birds, said birds in Sri Lanka are under threat, rapidly disappearing and some projections for the next 25-years clearly show that the number of forest and residential endemic birds are dwindling.

He said that Sri Lanka's location attracts over 250 species of birds from the Asian region, Europe, Alaska, Iran and Rajasthan.

Explaining the characteristics of birds Dr. Seneviratne said that birds, which are social monogamous use visual sensory system like humans in their day-to-day functions and culturally, socially and ecologically birds have fair similarities to humans.
Sri Lanka does not have clear conservation objectives, which will spell out targets for the next 5, 10 and 15 – years to monitor the increase in certain marine populations – Marine Biologist Nisal Perera
"However, birds are disappearing fast. The global report published by the Bird's International reveals that 25% of birds out of 10,000 species are endangered and a UN report, released few weeks ago, has stated that 5-10% of species in the planet are threatened with extinction. Over one million species are under the threat of extinction. What matters most is that 47% of humans are directly or indirectly would be affect due to the extinction of these species," he stressed.
"It was found that common forest and garden birds in Colombo district are disappearing and they have projected that some of the forest and resident and also common endemic birds in the country are decreasing but urban home garden birds have not been affected yet," he said.According to a research on common mountain birds done by his students has revealed that birds like Yellow-headed Bulbul, Blue Eye Catcher and Ceylon Wobbler have been dropped by 85%.

"There is a fairly rapid population reduction in birds. For an example over 30% of bird species in Kottawa forest in Galle have been disappeared during the last 150 years. When compared to the bird population in the Colombo University, the quality and the quantity have been dropped drastically," Dr. Seneviratne said, asking why birds disappear.

He said birds, which have more resilience and withstand to pressure, fast disappearing mainly due to planned and unplanned development in the country.
"When I was travelling in the Colombo-Galle Southern Expressway I have noticed nearly 30 carcases of birds of that particular day. When calculated over 100,000 birds die annually and over 1,000 birds die in a one kilometre of the highway. There are over one million kilometres of roads in the country. Although I have no proper figures for number of birds that die on our roads, it could be millions," he said.

He said with enriching home gardens, creating green corridors, practicing sustainable agriculture and land use patterns to increase bird population, we can have hopes for conserving bird species in the country.

Dr. Seneviratne also said that four billion birds in North America die as a result of sky rising building with glass. "Their sensory system is wired to direct white or sky. The glass reflects white so they go to the glass thinking it is sky but they are too late to detect the difference as they use white as a reference point to understand where is the horizon," he said.
The Human-Elephant Conflict

Spelling out the mitigation methods implemented to solve the Human Elephant Conflict (HEC) Dr. Prithiviraj Fernando, a reputed researcher on elephants and the Chairman of the Centre for Conservation and Research (CCR), said that none of the measures taken so far were not to address the issues that the elephants undergo but were for the betterment of the people, who had been affected by the elephants.

"Only the elephants in national parks come out during daytime but others wait till dusk to move. We have entirely ignored the problems that the elephants have. Can we get rid of over 4,000 elephants? It is not easy to do," he said.
People and elephants suffer from this conflict but the mitigation methods that we used to solve HEC cause immense harassment to elephants, which are living in fear – Dr. Prithiviraj Fernando
He said that the elephants are killed, injured, snared, use hakka patas (jaw bombs), shot dead and electrocWuted. "Elephants also die as they fall into agricultural wells and pits. Over 250 elephants are killed every year and it had increased to 300 elephant deaths, last year," Dr. Fernando said adding that every year over 70 people die due to HEC.
According to Dr. Fernando, in the conservation point of view, the only option is learn to live with elephants, which are sharing land with 10-15 million people, 1.7 million acres of paddy and millions of houses.

"Otherwise we will lose 70% of elephants in this country because 70% of elephants coexist with humans. According to an islandwide survey done recently people (28,600 km2) and elephants (2,860,000 ha) share 44% of the country, there are elephants in 62% (40,625km2) and people in 82% of the land, no people in 18% of the land and no elephants in 38% of land in Sri Lanka," he revealed.

Dr. Fernando stressed on implementing community based electric fences (permanent fences around villages) to address HEC and also erecting seasonal fences to protect paddy cultivations.

"There are methods that can promote coexistence and mitigate the conflict. But who can do it and how much will it cost? It was said the cost is Rs. 180 million and if the conservation sector is to allocate this amount of money, this will not happen," he said.

Listing out the mitigation measures taken for the last 70-years: elephant drives to herd them to protected areas, translocation of males which are attacking villages, electric fences around protected areas, distribution of firecrackers among farmers to protect their crops, he said the DWLC which is entrusted to protect the country's animal and their welfare could not handle issues related to people when there were many agencies which are responsible and mandated to look after the welfare of the people affected by the HEC.

"In the North Western area with 5,000 sqkm, where there are 42 tanks in 25 sqkm and 42 tracks of paddy fields, people expect the DWLC to prevent 50 elephants, that we are tracking, storming into the tanks and properties. There are only five who can address HEC out of the 36 in the entire staff, including the drivers," he said.