By Dr.Ganeshan Wignaraja and Dr. Dinusha Panditaratne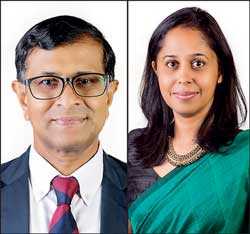 The evolution of Sri Lanka's foreign policy since the election of a unity government on 8 January 2015 merits interest. Changes include the country's engagement with a wider range of international partners, as well as a commitment to address the country's post-conflict concerns.

These changes have been pursued within a new and overarching foreign policy framework that is perhaps less well-known — a framework of positioning Sri Lanka to become a vibrant and prosperous centre of the Indian Ocean. Developed by the post-2015 government in view of increasing prosperity and competition in the Indian Ocean, this foreign policy framework builds on Sri Lanka's established status as a non-aligned South Asian nation.
The rise of Asia, spearheaded by China's rapid growth, has transformed the Indian Ocean into one of the world's busiest East-West trade corridors. It carries two-thirds of global oil shipments and a third of bulk cargo. Growth in the Indian Ocean is robust, benefiting from a rich natural resource base, vast fish stocks and a talent pool of educated youth. Economic reforms in India, Sri Lanka and others are unleashing the private sector as the engine of growth.

The 28 dynamic economies that border the Indian Ocean across Asia, Africa, the Middle East and the Pacific are expected to collectively grow at about 6 % per year in the next few years, compared with only 3.7% for the fragile world economy. Per capita income in the Indian Ocean region is expected to nearly double from $3200 to $6150 between 2017 and 2025, which would make it an upper-middle income region.

This represents a huge economic opportunity for Sri Lanka, which is strategically located in the Indian Ocean. Sri Lanka relies on open sea lanes for its imports of petroleum, food and machinery, and its exports of tea, apparel and rubber products. Sri Lanka plans to become a regional trading, logistics and finance hub, situated between the leading hubs of Dubai and Singapore. Among other initiatives, cutting red tape and prudent macroeconomic management aim to give birth to an international financial centre in Colombo Port City, which would complement the shift towards services-led development.

But four external risks threaten to compromise regional peace and prosperity. First, the Indian Ocean is at risk of heightened competition between big powers, similar to what is transpiring in the South China Sea. An impasse between these powers or a skirmish at sea could disrupt regional trade. Second, natural resources and fisheries are being depleted at unsustainable rates. Third, there are difficulties in containing maritime crimes such as people smuggling, drug trafficking and piracy. Fourth, trade protectionism is on the rise, partly due to a backlash against globalisation, disruptive technological change and a simmering emerging-market debt crisis.

A key point of Sri Lanka's foreign policy since 2015 has been to revive the country's support for a rules-based regional and international order. This mirrors what Lee Kuan Yew pursued for Singapore, in the knowledge that rules protect the interests of smaller countries against larger ones. Sri Lanka has been a member of the WTO since 1995 and was a signatory of the pre-WTO General Agreement on Tariffs and Trade (GATT) in 1948. The country also played a role in the development of the United Nations Convention on the Law of the Sea (UNCLOS).

In an important new initiative for a rules-based regional order, the Sri Lankan government convened a landmark conference, 'The Indian Ocean: Defining Our Future', in Colombo during 11–12 October 2018. This Track 1.5 dialogue brought together over 300 senior officials and academics from over 40 Indian Ocean littoral states and major maritime users.

As an island nation located in the Indian Ocean and a smaller state that cannot afford to be a huge military power, Sri Lanka is unable to address the country's external risks alone. The Government, therefore, convened this conference to understand the impact of these risks and to address them jointly with other countries in a transparent and orderly way.

This approach is a tried and tested method for successful small countries — Singapore in ASEAN, New Zealand in the Pacific, and the Netherlands in Europe — that have faced similar risks. The conference laid important groundwork for a future inter-governmental conference to arrive at a shared understanding on the future of the Indian Ocean.

Foreign policy seems distant from most Sri Lankans' minds. But complacency would be a costly mistake. A rapidly-changing economic and geopolitical scenario makes engagement with and support for a rules-based order in the Indian Ocean fundamental for Sri Lanka's future peace and prosperity. In view of the uncertain and possibly thorny path ahead, patient yet determined diplomacy is required.
(Dr.GaneshanWignaraja is the Executive Director of the Lakshman Kadirgamar Institute of International Relations and Strategic Studies (LKI). Dr.Dinusha Panditaratne is a Non-Resident Fellow of LKI. The opinions expressed in this article are the authors' own views. They are not the institutional views of LKI, and do not necessarily represent or reflect the position of any other institution or individual with which the authors are affiliated. This article was originally published on the East Asia Forum.)