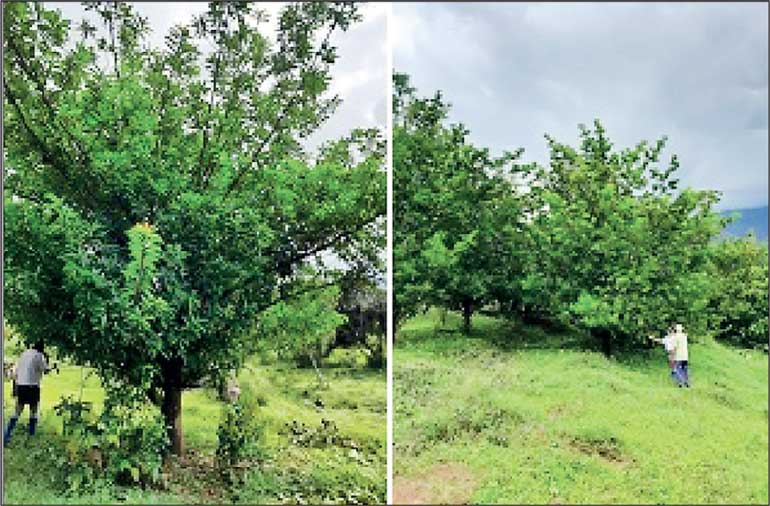 11-year-old Pentadesma trees – 2020
---
By Hemal de Silva
---
This is a response to 'Sri Lanka's health financing challenge: Why smarter spending is key' – Daily FT, 9 April 2021 (http://www.ft.lk/healthcare/Sri-Lanka-s-health-financing-challenge-Why-smarter-spending-is-key/45-716098).
The author has explained the inefficiencies and deficiencies in the prevailing system and the smarter methods to overcome them.
Current issues in health financing
1. Inefficiencies in fund administration and allocation
2. Poor projections of spending priorities
3. Poor collaboration
Towards smarter health spending
1. Well-developed and transparent accountability mechanisms
2. Better planning
3. Better coordination and collaboration
Bearing in mind that these problems have been known to exist during the past several years, how soon will these smarter methods show positive results or will they be able to effectively and wholly overcome the inefficiencies and deficiencies in Sri Lanka's health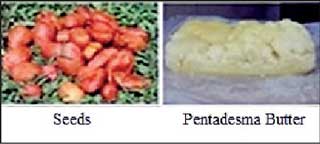 financing challenge?
It is a known fact that in Sri Lanka (SL) cardiovascular diseases (CVDs), a non-communicable disease (NCD) has reached epidemic proportions with the highest number of annual deaths (34%) due to them. Therefore, the expenditure on CVDs itself must be substantial and included in the actual capital and recurrent expenditure in the health sector for 2015. Six published reports with reference to CVDs are referred to below.
1. Despite the expenditure on CVDs, "….. nearly 60-80% of coronary artery diseases are not curable but can and should be prevented" ('Looking after your heart: Start young') – http://www.sundaytimes.lk/160918/mediscene/looking-after-your-heart-start-young-208717.html). If prevention is the key, will it cost less or more for the health sector?
2. "Cholesterol Won't Kill You but, Trans-Fat Could" – ('Professor who campaigned to ban trans-fats dies at 102') – (https://www.washingtonpost.com/news/to-your-health/wp/2017/06/02/professor-who-campaigned-to-ban-trans-fats-dies-at-102/)
3. "WHO plan to eliminate industrially-produced trans-fatty acids from global food supply" – (https://tinyurl.com/y8ysfm9x) When 'REPLACE' was announced by WHO on 14 May 2018, Dr. Tedros asked, "Why should our children have such an unsafe ingredient in their foods?".
4. "Trans-fats: an "invisible" danger in Sri Lanka?" (http://www.informmagazine-digital.org/informmagazine/september_2018/MobilePagedArticle.action?articleId=1419913#articleId1419913)
5. "Denmark, trans-fat ban pioneer: lessons for other countries" (https://www.who.int/news-room/feature-stories/detail/denmark-trans-fat-ban-pioneer-lessons-for-other-countries)
6. "EU sets legal limit for trans fats to fight heart disease" (https://www.foodnavigator.com/Article/2019/04/25/EU-sets-legal-limit-for-trans-fats-to-fight-heart-disease)
To summarise, the above reports make it clear that 'prevention' is the key to reduce incurable coronary artery diseases by reducing and eliminating the 'invisible' industrial trans-fats (ITF) from the food consumed, as recommended by WHO and proved by Denmark, the pioneering country that introduced control of the content of ITF in 2003. Why is this 'invisible danger' still ignored in Sri Lanka?
Processed food made with partially hydrogenated vegetable oils is tastier, have longer shelf life and improves the appearance of the end product. Such food contains unknown contents of industrial trans-fats (ITF) in them. If the nutrition facts do not specify the content of ITF the consumer will have no idea of the danger of consuming such processed food. It is essential for the producers of processed food to ensure what is produced for the consumer are good for their health. Unfortunately, in SL there are no regulations to limit the content of ITF in processed foods. What is the solution?
Outsource
Outsourcing has become a major trend to reduce costs, free up resources, improve productivity and efficiency, among others. When it is known that the reduction or producing ITF-free processed foods can prevent CVDs, can this be at least encouraged and outsourced to reduce CVDs and expenditure in the health sector?
Outsmart
Outsmarting is one way to defeat or get the better of a problem, in this instance, the health financing challenge on expenditure for prevention of CVDs. Is this possible?
Outsourcing can outsmart it
In the annual health sector capital or recurrent expenditure, the cost for the production of reduced or ITF-free processed foods essential for the prevention of CVDs will not be included. However, if the production of such healthy food is encouraged or outsourced, the funds needed for financing Sri Lanka's health sector will be a lesser burden on the already debt burdened economy of Sri Lanka.
The essential primary steps to be taken to outsource the production of reduced or ITF-free processed food are;
1. Grow the species 'Pentadesma butyracea' (African Butter Tree) to diversify uneconomic tea and rubber to extract pentadesma oil/fat from the seeds of the fruit. This can be undertaken profitably on tea and rubber plantations by the present management.
2. Pentadesma fat is a substitute for cocoa butter that need not be hydrogenated and produce trans-fat free processed foods. This can be demonstrated by extracting the oil/fat from the 600-700 kg of seed currently produced locally and allowed to go waste. This research can be carried out locally by Sri Lankan Food Scientists.
3. The production of reduced or trans-fat free food can be carried out by organisations already in the food and confectionery business in the country.
4. Will Sri Lankan RPCs, food scientists and food and confectionery businesses accept this challenge?
The main advantages of growing Pentadesma:
1. Pentadesma butyracea can diversify uneconomic tea and rubber, increase the productivity of land, not be labour intensive and increase the population of perennial trees in the rural areas.
2. Pentadesma fat is a substitute for cocoa butter, a low-cost nutritious commodity compared to palm oil, produce ITF free processed foods and a better moisturiser than shea butter.
3. This species will be productive for well over a century, produce an edible fruit with oil rich seed and give more benefits to Sri Lanka and its environment compared to tea, rubber, coconut or oil palm.
The specifications of pentadesma fat published for the first time by Dr. D. Adomako, a botanist in Ghana in 1966/67 is reproduced above. These results have been proved valid time and again since then. About the same time five scientists from the Peradeniya University published a paper on the extracts of the bark and wood of the same species taking some of the samples from the tree in the Botanical Garden, Peradeniya. It is unfortunate that the real potential of the species and the vegetable butter extracted from the seed of the commonly known African Butter Tree was not known at that time.
Limiting the content of ITF is the Common Sense Responsibility (CSR) of all.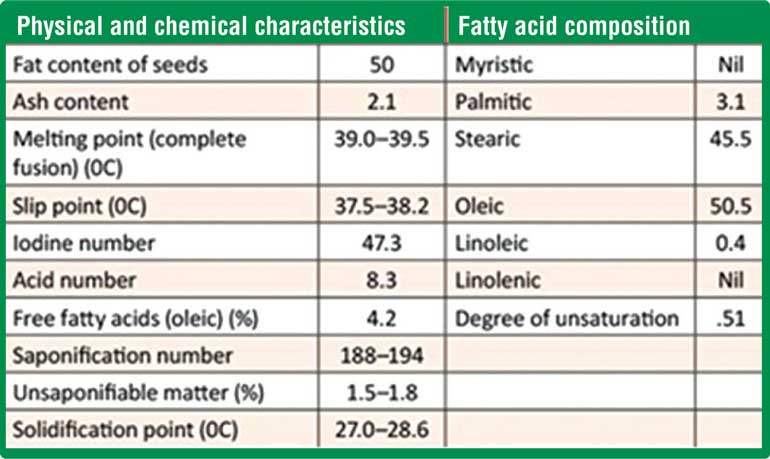 ---
(The writer can be reached at hsdes59@yahoo.com.)
---