Prof. Meegama (right) and Dr. Punchimudiyanse demonstrates how Sinhala Sign Language operates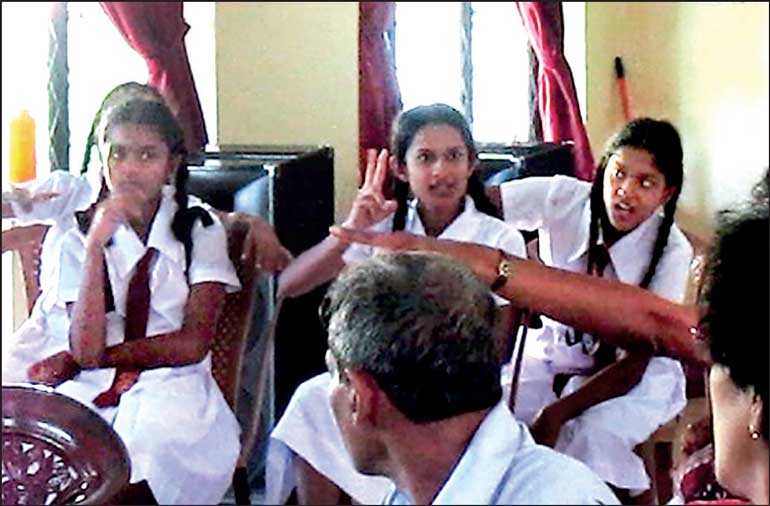 Students of Rohana Special School Matara responding to SSL
---
Deaf people in Sri Lanka and those who are involved in serving them encounter difficulties to communicate with them. To penetrate this impasse and to fill this void, Professor R.G.N. Meegama from the University of Sri Jayewardenepura and Dr. M. Puchimudiyanse (for his PhD research) from The Open University of Sri Lanka have developed a Sinhala-to-Sinhala Sign Language translation software. The software translates Sinhala voice/Sinhala text to a group of Sinhala Sign Language (SSL) gestures via 3D virtual human (3D avatar) appearing on a computer. The research project was carried out from 2014 to 2017.

In this major community service venture, an abled partner, The National Science Foundation (NSF), joined hands with the OUSL duo in awarding a grant of Rs. 2.5 million under their Technology Grant Scheme.

The fact remains that the social order of humanity has been that whatever disabilities mental or physical born to this world, they have to be treated equally. But it is found that there would be some constraints when interacting with disabled people. Particularly in Sri Lanka with the limitations of social acceptance, poverty and the family atmosphere, disabled people are considered a nuisance or a burden.

With the innovation of SSL in Sri Lanka while ensuring dignity, respect and equality a 'Sinhala Sign Language (SSL) which is the main mode of communication for Deaf persons, using modern technology, this new form of communication could become the main form of communication for Deaf people.

Since all healthy people are not conversant with SSL, a Deaf person who lives in Sri Lanka is unable to get the required services efficiently from a school, hospital, bank, court, shop, public transport or from any other institution due to lack of Sinhala-to-SSL interpretation support.

During the past two decades, advances in computer technology have resulted in improving accessibility for the Deaf and Hard of Hearing (HOH) through electronic devices and software. Comparatively, such innovations are low for Sinhala Sign language.

According to Sri Lanka Federation of the Deaf (www.slcfd.lk), there are over three hundred thousand (300,000+) Deaf people in Sri Lanka. Moreover, the World Health Organisation has revealed that approximately 9% of the population in Sri Lanka has loss of hearing (www.whosrilanka.org).

As such, it is clear that non-accommodation of Deafness is responsible for isolating a large segment of the society who would otherwise have made a profound impact on the economic development of the country had there been a technique for them to communicate with other segments of the society effectively.

It has the capability of signing a regular Sinhala sentence like "mother goes home" using 300+ SSL signs. All other unknown words, such as names, are signed using character-by-character 61+ fingerspelling alphabet, which is synonymous to Sinhala alphabet. Moreover, the software can translate numbers and basic mathematical equations into SSL. Along with the capability of adding new SSL signs within minutes, the software is also capable translating some of Sinhala grammatical notions to SSL.

National Science Foundation Scientific Officer Dr. Priyanwada Warakagoda indicated that it decided to make this grant considering the tremendous importance of the project, especially to the Deaf community. She said that the grant was awarded to design and develop a software module to recognise "Sinhala voice and convert it to Sinhala Unicode text script real time and the design includes developing a database for Unicode text to conversational/ letter mapping of sign language; develop a gesture sequencing engine to map Sinhala laymen sentences to Sinhala sign language with the support for internationalisation among other designs and developments".

Prof. Meegama indicated that several professional sign interpreters, SSL linguists, sign teachers have contributed to the project in the SSL domain. They are Ranaweera Premasiri of Yashodhara Special School, Balangoda; Christopher Delmar of Deaf School, Ratmalana; Hammi Dias of Ministry of Social Empowerment and N.D. Abeygunawardana of Rohana Special School, Matara.

He said that a series of workshops were conducted in Yashodhara Special School, Balangoda; Deaf School, Ratmalana, and Rohana Special School, Matara to validate the software. Benefits of the project could be obtained by teachers of special schools and special education units of regular schools using this software to train SSL to Deaf schoolchildren and conduct SSL examinations using the software.

Dr. Punchimudiyanse said that the parents of a Deaf child could use the software at home to train SSL to kids as well as themselves. Institutions may customise this software to express their business functions to the Deaf community. Moreover, public and academia may use the software to translate prepared speeches, prepared lectures, spontaneous day-to-day communications and notices to SSL. Thus, the benefit to the society offered by the project is clearly evident, he stressed.

The SSL lacks a full range of signs to teach the regular school curriculum to Deaf kids. Furthermore, the SSL technique to express Sinhala grammar is not popular among the Deaf community. As a result, Deaf and HoH students fail in examinations – a problem faced by schools of special needs, he said.

Prof. Meegama said that their next objective is to build a national online standardised SSL database that would benefit all stakeholders to facilitate equal rights in education and in employment in the society for the Deaf to contribute to the socio-economic and development of the country.

He asserted that the software development of the project was carried out at the Apple Research & Development Centre of the Department of Computer Science, Faculty of Applied Sciences of the University of Sri Jayewardenepura and at the Department of Computer Science, Faculty of Natural Sciences and Centre for Media and Educational Technology of the Open University of Sri Lanka.