By Tisaranee Gunasekara
---
"It is like a tricycle. Mahinda Rajapaksa is the front wheel, and Gotabaya Rajapaksa and Basil Rajapaksa are like rear wheels. If only one of the wheels is missing the tricycle will not run. That is the reality"
– Namal Rajapaksa (Newswire – 5 July 2021) –
---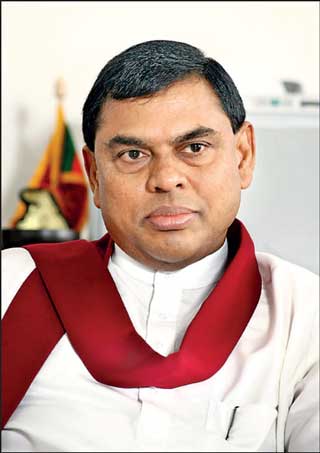 Basil Rajapaksa, the economic superman, is here, to heal, to make whole
---
The mystical seven. Thebes had seven gates, ancient Egypt seven heavenly cows, Snow White seven dwarves. The tailor sewed himself a sash claiming, Seven with one blow. They were flies but who'd know that?


Now this magical, mythical seven has a new entrant. Basil Rajapaksa, we are informed, assured, reassured, has seven brains. This we know from an impeccable authority, an SLPP parliamentarian.

#Me Best, might be President Gotabaya's mantra. But the emperor's state is too stark to be ignored. A new saviour is needed to befuddle the disenchanted voters and to hearten the despairing votaries. Since the mindset is feudal and the project is dynastic, the saviour must be a Rajapaksa. Namal is too young for the mantle. In any case, primogeniture is an occidental concept. In the orient, brother succeeding brother was normal.

So, Basil Rajapaksa, the economic superman, is here, to heal, to make whole. True, the regime was always a trident. Basil Rajapaksa was the third prong when the tax base was denuded, interests slashed with a machete, and money printing turned into a children's game. But facts are dispensable. The past is a work-in-progress, ever remade to suit present needs. Basil Rajapaksa is infallible now, just as his older brothers were then.

What is surprising is not Basil Rajapaksa's advent, but the timing of it. Why is Saviour Season 3 unfolding while Saviour Season 2 is still in its first half?

The Rajapaksas pushed the Pearl of the Indian Ocean on to China's orbit. Perhaps they regarded this political relocation as a panacea, believed Beijing will reward their fealty by flooding Sri Lanka with American dollars. The reality is clearly otherwise. China is unwilling to function as a cash cow for the Rajapaksas and unable to save the regime from international opprobrium. Now the Rajapaksas are scrambling to gather a few million dollars from anywhere just to stay afloat.

Having cocked a snook at India just months ago, they are now back at Delhi's door, complete with ingratiating smile and begging bowl. They are also hastening to pacify the EU, as the sudden willingness to reform the PTA demonstrates.

Perhaps it was the danger of losing the GSP facility that compelled the Rajapaksas to accept the reality of China's inadequacy as a patron. Another wake-up signal might have been the statement by the vice chief of Indian naval staff, Vice Admiral Ashok Kumar: "China's presence in Sri Lanka could be a threat... We just need to ensure it is closely watched" (https://www.republicworld.com/india-news/general-news/chinas-presence-in-sri-lanka-could-pose-a-threat-keeping-close-watch-indian-navy.html). When your giant neighbour looks at you with askance, you'd be stupid to feel safe.

In a sense the Rajapaksas are back where they were during the 2006-2009 period, when they had to gain Indian and Western support – or at least neutrality – in order to prosecute Eelam War their way. That task was handled mainly by Basil Rajapaksa, as the Wikileaks cables for the period demonstrate. He allayed Indian and Western misgivings with honeyed promises and whispered confidences, clearing the politico-military path for his brothers.

In the coming months he might undertake a similar makeup job, applying non-aligned concealer on the regime's Chinese foundation. Holding and winning provincial council elections without recourse to murderous violence would be a top priority.

Thalif Deen, in his entertaining and informative memoir, No Comment, writes how our 1948 application to join the UN was vetoed by the Soviet Union due to the perception of Ceylon as a Western pawn. The Security Council resolved to postpone the admission, until there was "sufficient proof that Ceylon was a sovereign and independent state."

PM Sir John Kotelawala appointed Esmond Wickremesinghe as a special envoy tasked with gaining admission to the UN by lobbying US and Soviet diplomats, a task he successfully completed with help from R.S.S. Gunwardane. Colombo learnt the danger of becoming embroiled in big power politics and never forgot that lesson, until the Rajapaksas came along.

Can Basil Rajapaksa, he of seven brains, regain Western support/neutrality while keeping China happy? Will Beijing permit even a cosmetic shift away from its corner?

China's Somozas?
Somoza unveils the statue of Somoza in Somoza Stadium – that was the title of a poem by Father Ernesto Cardenal, preeminent Latin American poet and Nicaraguan revolutionary.

The Somoza dynasty ruled Nicaragua for 43 years, from 1936 to 1979. Anastasio Somoza Garcia won a presidential election and transformed himself into an autocrat. He empowered his family, suborned the military, subverted the constitution and cracked down on opposition. He was followed by sons Luis and Anastasio Somoza Debayle.

By the time their rule ended, the Somozas owned around a quarter of Nicaragua's agricultural land, the national airlines, two shipping companies, banks and insurance companies. They even bagged the international assistance that poured into Nicaragua after the 1972 earthquake which killed 10,000 people and rendered 50,000 homeless.

The Somozas were cunning and resourceful dynasty-builders, but they wouldn't have lasted so long had it not been for unstinting American support. The American patronage became cast in stone in the context of the Cold War and especially in the aftermath of the Cuban Revolution. Perhaps that was the kind of backing the Rajapaksas were hoping for when they hitched their own dynastic wagon to China's rising star – unlimited economic and military assistance and unconditional political protection.

In May 2021, when the second COVID-19 wave was rising, Premier Mahinda Rajapaksa made a public appeal to China asking for oxygen and artificial respirators. Beijing promised, but of actual delivery no record can be found. Now Sri Lanka is starved for oxygen economically and financially, and again forced to look elsewhere for life support.

A new cold war is in the making, but Beijing lacks the necessary political, economic and military resources to fully subsidise its client states (as the US did during the old cold war). There is also a question mark regarding the sustainability of the confrontationist path China is on currently. Is the new cold war a project of the Communist Party or is it merely a politico-personal project of Xi Jinping? In sharp contrast to post-Mao leaders (including Deng Xiaopeng), he is creating a new cult of personality around himself.

There's even a Xi Jinping Thought – a conceit that went out of fashion after Mao – which has been incorporated into the constitution of the CCP. He has also removed presidential term limit provisions, a key component of the political reforms instituted by Deng Xiaoping and honoured by all his successors. How secure is his dominance over the CCP? How much of his global power project (including the extravagant Belt and Road Project) would remain once he is gone?

In short, the Rajapaksas cannot depend on China to bail them out, politically or economically. To evade bankruptcy, they need to pretend to be what they are not – democratic, reconciliatory, non-aligned, sovereign. To create space for future repression, they have to pretend to ease on current repression. Survival demands a show of change. Who better to undertake that smoke and mirror operation than Basil Rajapaksa?

Casting an acceptable veil over this Augean Stable would be no easy task. The RSF has included President Gotabaya Rajapaksa in its latest Predator's Gallery. Senior DIG Deshabandu Tennakoan – who might end up the IGP – reportedly threatened investigative journalist Tharindu Jayawardane by invoking Vellupillai Prabhakaran's fate.

Perhaps the senior policeman was taking a leaf from the presidential book since Gotabaya Rajapaksa too invoked the grisly end of the LTTE leader in his reaction to Harin Fernando. (Incidentally, in a You Tube video uploaded days ago, monk-politician Vedinigama Wimalaratne thero claimed that he was abducted by the same senior DIG and forced to give his consent to the appointment of Athuraliye Rathana Thero to the sole national list seat allocated to Our Peoples Power Party). These occurrences exacerbate fears about the safety of those who are in the regime's crosshairs, like Shani Abeysekara.

Minister Johnston Fernando's uncouth and deadly statement about crow-killing is probably how the Government would have liked to deal with the rising wave of popular criticism and insubordination. Since Beijing is failing to live up to Rajapaksa expectations, such extreme measures may be abandoned for now. That is probably why the police tried to obtain judicial cover in their attempt to crack down on farmer protests. The police asked the court to issue notice on the JVP's Samantha Widyaratna and Namal Karunaratne and three others for violating quarantine regulations. The court refused to oblige, pointing out that the police can make the arrests under existing laws.

Minister Fernando's crow-killing statement was framed by a broad criticism of the Archaeology Department for ordering a temporary halt to the dredging of the ancient Tissamaharama tank by a Chinese-Lankan joint company. The dredging was a government decision, he disclosed and therefore all Government institutions should support it. Was that why Major General Mohan Rathnayake went berserk when wildlife officials on the lookout for an elephant-calf abduction questioned him about his nocturnal and unauthorised roaming in the Minneriya National Park?

Can Basil Rajapaksa put a temporary stop to the puerile words and deeds of the regime's more doltish actors and buy the dynastic project much-needed breathing space? A difficult task but not an impossible one, if he can play the China card right. After all, the egregious MBS, the true master of Saudi oil wealth, remains untouched proving, if proof was needed, that American/Western backing for democracy and human rights (including the right of a journalist not to be dismembered while still alive) is negotiable.
Salvation politics at a dead-end
"Testing is killing me," Donald Trump reportedly shouted in March 2020. "I'm going to lose the election because of testing. What idiot had the federal government do testing?" The words are quoted in a new book, Nightmare Scenario – Inside the Trump Administration's Response to the Pandemic that Changed History, by Washington Post journalists, Yasmeen Abutaleb and Damian Paletta. Donald Trump's instinct was correct. His inability to manage the pandemic was a key reason for his election loss.

On 22 June, the PHI Association informed the country about a new circular stopping mandatory PCR testing of first contacts and ceasing tracing for second contacts. As a result of this don't test don't trace policy, reported infection numbers will go down, the Association warned. While the delta variant is spreading across the island, daily testing has been reduced to less than 10,000. In consequence, reported infection numbers are going down. The regime is probably planning to take a victory lap in time for PC polls.

Efforts are also being made to reduce reported COVID-19 deaths. Another circular permits Grama Niladaris and medical officials conducting post-mortems to release bodies of those who die at home, without a PCR test. In another surreal development a committee has been appointed to study why there was a hike in COVID-19 deaths in June. Perhaps the committee will reveal that high mortality figures are false and even finger a suitable scapegoat, possibly the once favoured and now discarded former head of the Epidemiology Unit. Then by September, Sri Lanka can be declared corona-free. The saviour will be hailed and the dynasty saved.

The presidential system was introduced purportedly to bring about political stability and policy constancy. Instead, the system has led to greater instability and fragmentation, possibly because it encourages power-hunger and a sense of unenlightened self-interest in politicians, turning the ordinarily ambitious into myopic egomaniacs. This is encouraged by the perceived continuity between Sinhala kings and Lankan presidents. Without the faux-royal aura of the presidency and its very real power, the Rajapaksa dynasty even if it happened may have taken a less harmful form.

It is not for nothing that the more successful presidential systems are either in countries without a monarchical past – like the US – or in places where popular revolutions unseated dynasties and killed kings, like in France.

The Opposition too is caught in the grip of politics of salvation. Various oppositional figures are busy presenting themselves as our future saviours. Every leading light in the anti-Rajapaksa camp wants to be the president, to save us.

Sri Lanka has had its share of heroes who have brought us to this place of woe. What the country needs is not another saviour, but a different path. Integral to that transformation should be a plan to replace the executive presidency, with a more balanced system which emphasises laws, institutional building and collective efforts, instead of entrusting all power to hero-saviours who exist only in our dependent and desperate imagination.