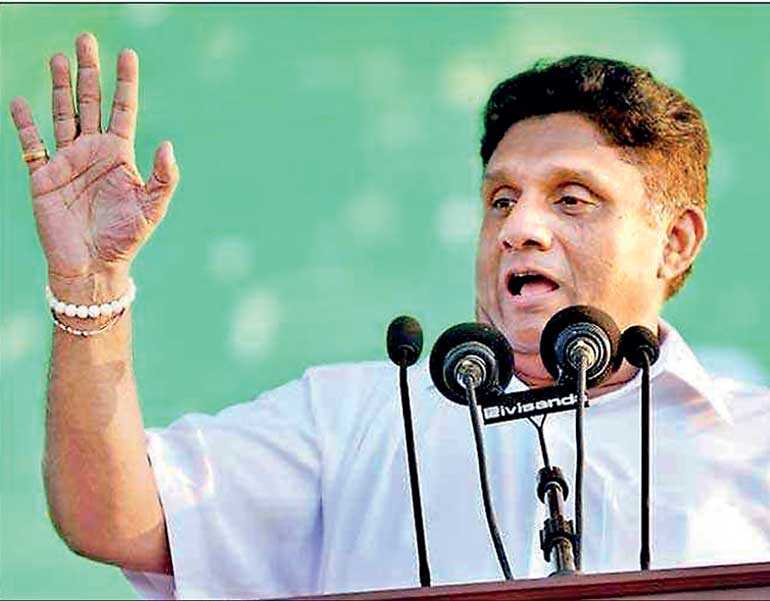 Young Premadasa in the last four years has clearly demonstrated that he is hungry for getting things done. He has executed with precision
---
By Bert Gunawardene

Minister of Housing and Construction Sajith Premadasa is clearly a man who has declared war on poverty. If he becomes the seventh elected President on 17 November, he will hopefully liberate the downtrodden citizens of our nation.

Many of the lower middle classes hope that, like his father, he will do good for the poor. Many of them believe he will give shelter to all. Unlike his father, young Sajith has had the opportunity of studying in the best schools overseas. London School of Economics and Political Science, University of Maryland, University of London, Mill Hill School United Kingdom. Young Premadasa therefore surely does not have an inferiority complex like his father. His knowledge and English-speaking ability is the best among the presidential hopefuls. Young Premadasa in the last four years has clearly demonstrated that he is hungry for getting things done. He has executed with precision. His housing programs and the church reconstruction program clearly won the admiration of many people, including the President and Cardinal Ranjith, a fierce critic of the Government, while his rival the controversial former defence secretary Rajapaksa focused on grandiose construction projects like the military headquarters, the largest tower in South Asia and redevelopment of the arcade at a huge cost to the taxpayers during his tenure. What Sri Lanka needs now to move on are; national unity, more investment in education, international goodwill and security for every citizen to live with dignity. The advantages Premadasa has over his rivals are:


He is 52 years old while Rajapaksa is pushing 70 years
He is a true son of the soil. He has not given up his citizenship at any stage
He genuinely cares for the poor
The most educated out of the lot
No murder or corruption allegations in courts


His main rival Rajapaksa's main advantage is that he was part of the team that won the war in 1998. So Rajapaksa and his team are hoping people will forgive him for taking an oath that absolutely and entirely renounced all allegiance and fidelity to any foreign prince, potentate, state, or sovereignty of whom heretofore he had been a subject or citizen and that he agreed to bear arms on behalf of the United States when required by the law.
Pledges

Premadasa has said repeatedly that no one will be allowed to misuse public property as in the past and no one will be given the opportunity to engage in fraud or corruption. He has said that several development projects would be initiated that would solve the problems of the people. Premadasa's biggest drawback is that he lacks experience in handling the military and security matters. He has now put that to rest by saying that Field Marshal Sarath Fonseka the man who fought the war on the battlefield will be given the highest office related to national security and terrorism will be totally eliminated.
Challenges

To win Premadasa needs to muster over 6.4 million votes. He is a fresh face and young. He is more attractive to the two million floaters than any other candidate. But he has been part of a Government that has been marred with indecisive leadership. A President who did not lead and a Government that could not sell what they had accomplished. He needs to show a young team that is not tainted with corruption or poor performance. It took the Government four years to say that 75% of the borrowings in the last four years was to pay off the debts of the previous Government. He needs to win the confidence of the private sector and middle classes with clear policies. He surely can do that with ease. He has four weeks left to convince the floaters that he means business.
Last hope

The freedom, the ability to criticise liberally, and the ability to do politics on the street will disappear for sure if the Rajapaksa family re-emerges. Those who are now shouting for change must surely be satisfied with what the Rajapaksa family dishes out to them. Nothing is going to change from the last tenure. We saw that for 10 long years. SLPP unlike SLFP, is the Rajapaksa clan's political party. They built it and won with it. There is no legacy or values to talk about. Thus they have a right to do whatever they please.

People therefore need to vote wisely and decisively. They are voting for their grandchildren and for those still unborn. We need to be mindful of what Epicurus said many years ago: "Do not spoil what you have by desiring what you have not, but remember that what you have now was once among things only hoped for."