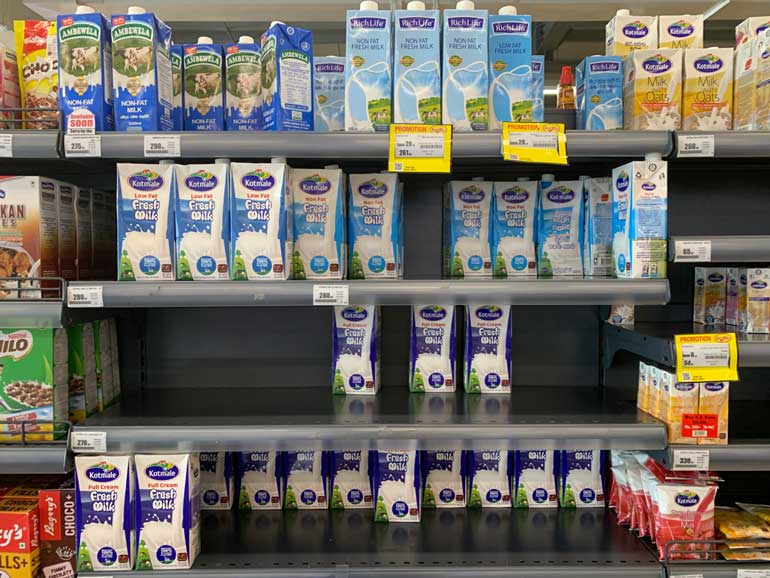 Dairy products at a supermarket in Sri Lanka
---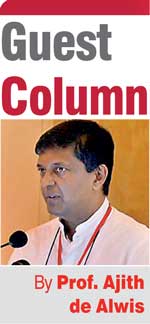 I remember a long time back listening to Dr. Verghese Kurien in a World Food Congress, in awe of how an individual could ideate and drive change and make a real difference in society.


I was not alone with the view and that day the audience in Toronto was quite significant as it was the opening plenary and he was an invited speaker – 'Father of the White Revolution in India' or in a more affectionate manner as the 'Milkman of India'. He was discussing the revolution he gave birth to.

This happened in a country such as India where the scale to impact has to be significant. His action had also been motivated as a result of responding aggressively to a comment that had been levelled at milk in India – 'The sewer water of London is superior to the milk of Bombay'. The response changed an economic history.

Yesterday my visit to a local supermarket reminded me of Dr. Kurien and the lesson he scripted. I was staring at two shelf spaces on a supermarket aisle as usually, the shelves should not be empty. In one place the absence of a particular food product was obvious. However, on an adjacent shelf the same product was available in plenty. The food product that was missing was the dry milk powder packs.

Standing with not so many customers paying attention was liquid milk in aseptically processed packets. Usually the pasteurised packs are not available in supermarkets, which too is unfortunate. The story of milk in Sri Lanka is definitely not one that we can yet be proud of.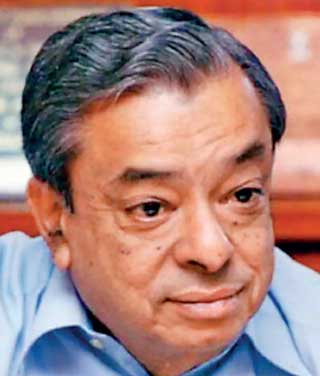 Dr. Verghese Kurien, the 'Father of the White Revolution in India,' also known as the 'Milkman of India'
---
White Revolution in India
Dr. Kurien went back to India to Gujarat after his graduate studies in USA and settled down in India to work. What Kurien contributed was heralding the White Revolution in India. White Revolution relates to the availability of milk across India.

His action was in the 'billion-litre idea' later becoming known as the Operation Flood. He combined the development of robust supply chains, ensured feed availability with feed mills, and deployed modern technology and innovative marketing to realise the goal. In the process India went on to become the world's largest producer of milk and milk products.

The cooperative company, Anand model of dairy cooperatives that came up in the process is Amul – Anand Milk Union Ltd. – and today it is celebrating 75 years of service to India and has an international presence. Amul came up in Anand in the State of Gujarat as the Indian dairy cooperative society. Amul is a proud company in India and the Hindi movie 'Manthan' (1976) is all about the journey.

The founding principle was the dairy farmer receiving a decent income for his produce. His effort was in ensuring 70-80% of the price that the consumer paid is received by the farmer. This is much better than what President Kennedy in USA did where his objective was a minimum of 50% for farmers in general.

The idea embedded here is the protection of the farmer. Imagine the situation in Sri Lanka with a farmer – all farmers, not just dairy farmers. These are principles well worthy of emulation.

It is interesting to note that the most influential company in Sri Lanka in the dairy sector also is a cooperative based company in New Zealand. New Zealand is credited with running the dairy milk
program with the lowest carbon footprint. Have we ever understood the power of cooperatives in an agriculture system?

Amul also developed the first-ever plant in the world for turning buffalo milk to powder. Today milk tankers ply on Indian rail with bowsers hooking up to transfer their contents. On multiple strategic locations state-of-the-art factories are present turning this precious raw material to value added products. The butter girl of Amul is an iconic corporate symbol and she is known to speak her mind beyond milk!
Situation in Sri Lanka
Food availability, wastage and cost still evoke passionate arguments in Sri Lanka. We are 71 years since independence and well into the 21st century. Governments can still get toppled over the question of food. No love is greater than our love with food!

Today the topic of milk has come up, one among many of course. The issue is we are appearing to miss the favourite cuppa in the morning milk and tea of course as milk in a particular form is missing. The usual habit is having milk powder and it is the powder that completes usually one's morning ritual. The question of liquid vs powder has to be argued out but it would be a one of understanding and change.

We should be shifting to liquid milk. My view of powdered milk is that food type belongs to the disaster or emergency food category. Definitely powdered milk can be kept for a long time and that is why it suits the user condition I indicated.
Making milk powder
Consider how milk powder is made. Milk is processed primarily in removing the water content to make the powder. Considering that the percentage of water in milk is quite high, a significant amount of energy has to be used in evaporating the water. One may work with separate removal of fat, etc. to produce products such as cheese. That is why we get full cream to non-fat milk. We also have questions such as fat replacements in milk.

Powder once packaged in a correct manner does not require refrigeration whereas liquid milk definitely needs refrigeration. Today the process technology is such that you can have liquid milk products that do not require refrigeration in transport and retail. It is only once the pack is opened that it would require low temperature storage.

A refrigerator at home comes into the equation. Dr. Kurien developed a chilled supply system backed by kiosks – a milk ATM! – for communities to supply milk. Anyway we should look at the upliftment of the society through our action and this is not a development that we should factor out.

India did demonstrate liquid milk consumption even without the refrigerator at home. Usually one kg of milk powder packet is produced using 8.5 litres of milk. There is a certain energy consumption at the factory level. If the powder is generated in the country and then one proceeds to drink tea with powder, it certainly is not efficient. If the powder is coming from outside there at least the logic of not spending energy on transporting significant amounts of water.

It is interesting to remember that is why the British introduced the desiccated coconut industry to Sri Lanka. Then Ceylon had the first manufacturing facility of DC in the world. They did not want to transport water either and that is quite logical. Just contemplate the final act of making the cup of milk tea – we boil water and then pour it over tea leaves and add milk. In that process we of course heat more than the required water too.

Then you dissolve the milk powder but drink once the temperature has come down to a certain level. Adding milk as a liquid would temper the temperature straight away. Some diehards may want their milk hot as well and I do not think there so many of those. Our enjoyment of a cup of tea depends on significant amount of energy. Powder in turn has also meant significant foreign exchange.

A little known fact of Dr. Kurien is that he also made India self-sufficient in edible oils. Producing milk is a topic we have spoken much on in political platforms and national budgets. How many times have we brought in super cattle from overseas with the intention of improving milk production? How many times have all these efforts ended up only in controversies over animal numbers and deaths?
A lesson from Qatar
A lesson of course which demands some financial muscle is when Qatar overcame the liquid milk issue after the embargo from its neighbours. Airlifting of cows from New Zealand and then turning a building complex into production and producing feed with using sewage sludge, etc. – a whole system was put in place. It must be stated even in the hot desert sun, they did not pursue milk powder but liquid milk.

My visit to the supermarket also left me with sadness. I remembered Amul's entry to Sri Lanka and how that chapter ended. We had one of Dr. Kurien's close co-workers in Sri Lanka who stayed on beyond Amul's time in this country.

You just cannot copy steps and climb your way to success. Examining the number of slogans that we have made up to now, we have only become living proof of the statement that action without understanding and rhetoric sans conviction can only yield empty shelves and empty coffers. However, only a few may be quite happy with the status of the current Sri Lankan 'milky way'.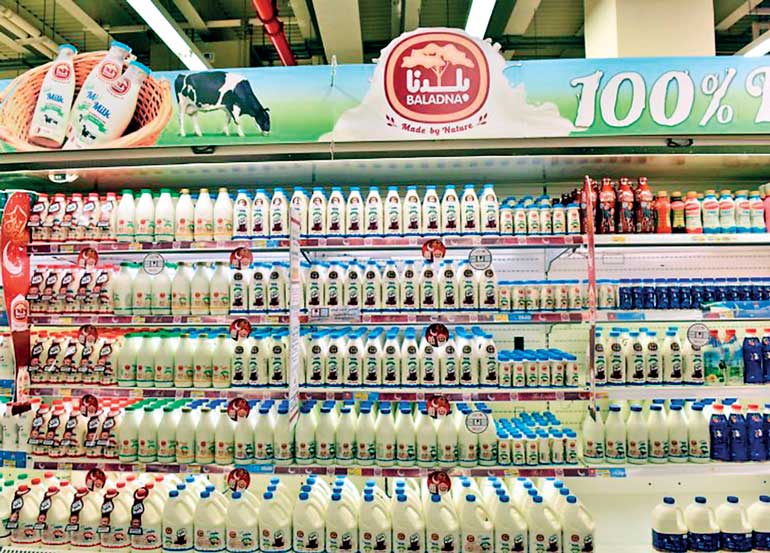 Qatar Milk is a recent story of dairy development
---