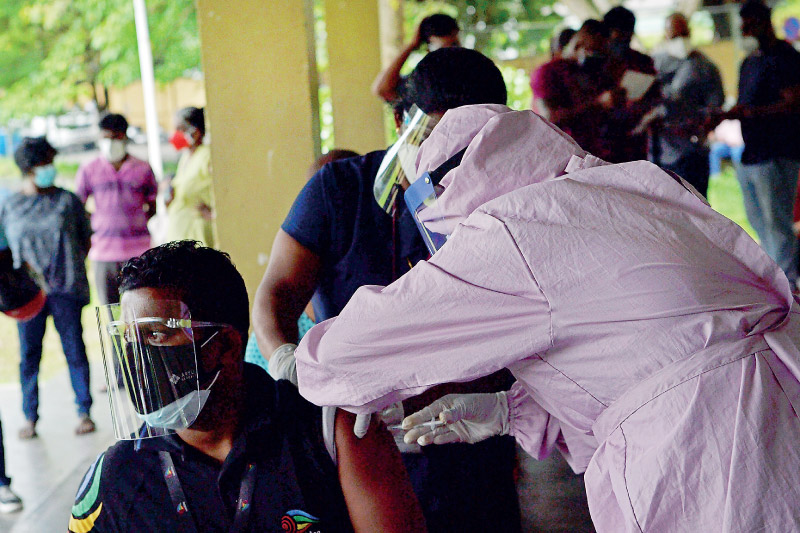 What will finally stop this epidemic is natural decline or vaccination of the population as Israel did for their citizens. The latter should be our priority. People should as early as possible get their doses of the COVID-19 vaccine, whether it is the AstraZeneca, Sputnik V, Sinopharm or Pfizer vaccine that is available in their area. If we want to stop large-scale deaths as in India this should be done immediately. We don't want this to happen in Colombo – Pic by Shehan Gunasekara
---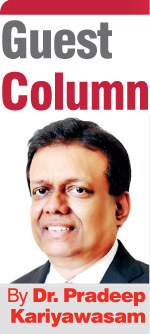 The fourteen-day lockdown to prevent the further spread of COVID-19 virus has now become a 21-day event although travel restrictions are not in place as expected. The inevitable happened in April this year after we were lax in taking the timely decisions.

In January this year I had warned through newspapers about the possibility of the UK variant B 1.1.7. (now called Alpha) arriving in the country. Many who came over from the UK were in protective bubbles or in quarantine centres, before they were allowed out in the community and that included the English Cricket team.

Some blame one English cricket player for this outbreak but there could have been others infected with the virus that arrived from the UK. Considering that the PCR tests show only 70 % of infected persons as being positive for the disease, so many others could escape being detected with COVID-19 and be symptomless carriers.

What has happened, has happened. It is interesting that the virus has spread to a lot of areas before it was found but details are sketchy. So maybe it was here for a few months before the existence was confirmed in April this year. The lowering of the number of PCR or antigen tests may be the reason why this was not detected earlier and the lower infection rates that were shown since February this year were not factually correct.

Then, when the first notification of the possibility of the arrival of the virus was made on 8 April, the immediate reaction should have been to order a total lockdown of at least the Western Province. But then it was important to have the New Year festivities and here we are. The lockdown was one-and-a-half months late! Let's stop the blame game now and take urgent informed action to control the present outbreak post lockdown. Otherwise, it would be catastrophic for the country.


No coordinated efforts, prioritising vaccinations

The six strains of COVID-19 virus in the country at present are detectable now, and the areas where each is located are mapped at least by the district. When patients were found mainly Grama Sevaka Divisions were brought under lockdown to control the spread. Some were opened after a few days or weeks. This was hardly enough to stop this epidemic spreading.

There seems to have been no coordinated efforts by the stakeholders and a blame game was on. While politicians have to listen to the people's woes, the health authorities have to impose conditions laid out in the Quarantine and Prevention of Diseases Ordinance. The Mayor or the Medical Officer of Health is the Authority to implement the conditions in this Ordinance at local level and therefore it is seen that the Municipal Councils or Town Councils have a role to play during this period too.

While local lockdowns may have worked in the peripheral areas in the short term, such small lockdowns could have been ineffective, useless and dangerous in areas where large crowds live such as towns and cities, where a large number of slum and shanty areas and middle-class housing complexes are situated side by side allowing the disease to spread like wildfire.

The solution for such areas was vaccination of all people at least over the age of 30. But it did not take place as that was not a priority and then there was a vaccine shortage. The rich had an unfair share of the vaccines which is happening even today. I hope they will realise that by vaccinating the people in the poorer areas we will stop the spread into other areas. They live in small, poorly-ventilated slums or rooms, sometimes five to six in a room that in itself will create ideal situations for virus transmission unlike in richer areas.

Although mutations take place all over the world and will continue until COVID-19 goes away, most of the vaccines seem to be holding well against them. The infected people plus vaccinated persons will create herd immunity but only vaccinations can prevent massive infections and mutations quickly so that there isn't much of a damage to the society.

The toll of this traumatic experience for many cannot be measured individually or as a society. Families have suffered socially, economically and some have already lost their beloved ones. The death of pregnant women shows how traumatic the experience could be not only to the family but also to the health staff.


Properly policed lockdowns

Lockdowns themselves will not stop the spread among the people unless they are properly policed. This is what happened in the recent days where 50-60,000 vehicles entered the city every day. In poorer settlements where last year people had to face 60-day lockdowns, which are not acceptable at all, now life is continuing like on any other normal day.

Now that the scientists have identified that the virus stays alive in the body only for six to seven days, a quarantine period or a proper lockdown of 21 days would suffice to clear an area of the virus. We need 21 days as the incubation period could be up to 10-14 days and after getting infected, the virus will be dead by in six to seven days. Of course, there are outliers to this range.

The law enforcement agents should build positive relationships with their community, respect civil rights and not impose unnecessary hard and fast rules which may be counterproductive. With the threat looming due to the UK and other new variants, we have to prevent the disease spreading but at the same time see that socially and economically people are not that affected, as for more than a year they have undergone immense hardships. This is so, especially with the farmers and middle level traders, who are unable to trade or sell their crops due to sudden closures and lockdowns.

'Live with the virus' should be the slogan for the next few months. TV footages show vendors with perishable items such as vegetables and fruits told all of a sudden to pack up and go from road side, fairs or economic centres. I understand the police have been given orders but then these people should have been handled more humanely. Perhaps they also should be allowed to sell the products maintaining health conditions.

Consumers should be told that only one person is allowed near a street vendor at a time and they should stand in queues with a two-metre social distance between them waiting for their turn. Small scale shops should be allowed alternatively so that there won't be a rush to buy food stuff and other items.


Communication breakdown

Unfortunately, the communication between the Government agencies and the people at large have broken down. People are not aware of the areas where the virus is lurking around. No direct communication to the poor people, the most vulnerable sections of our society and they are not organised although civil societies exist. The people are apprehensive about the actions of the law enforcement officers and the Public Health Inspectors.

Usually, in Colombo health educators and Instructors communicated well with the people, spreading out the health messages in an appropriate manner. Today we don't have that system anymore. The result is disorganised communities in the cities especially in the urban slums and marginalised apartment complexes. Prevention and control of disease spread therefore has become impossible as there is no community participation.

More informal health education actions should be carried out visiting the probable high-risk areas and action should be taken to look into various needs of the people in locked down areas whether it is the rice, fruits and vegetables, dry rations, curry powder, cooking oil, gas or whatever they need or simply the need to sell their wares.

Quick, strong and timely action

So, what should be done to rein in the virus and stop this menace?

First, in future we have to take quick, strong and timely action to stop the transmission of the disease. The prevention and control should involve the following actions for outbreak response: surveillance of patients and contact tracing, laboratory testing, case management at home and hospital level, infection prevention and control, travel restrictions, lockdowns, epidemiological and outbreak analytics, dissemination of information to relevant officials and most importantly to the general public, logistics, risk communication and community engagement.

Lockdowns are may be a short-term strategy but not desirable in the long-term as a strategy and what should be done is to place systems in place and building up of capacities not only the health staff but also the general public for short and swift actions to prevent the spread of the virus.

With regard to travel restrictions the strategy should be based on the notion that when people stop moving the virus also stops moving and if it stops moving then it dies away. Data has shown that eight out of 10 people should stay at home for the corona virus to be controlled. This is an important message as sometimes even the vaccinated get ill.

What can be suggested is that at any time or any day both the public and the private sectors should have only 20% of their office staff at work at least until the end of September this year. All Government departments, businesses or institutions should have their own COVID-19 prevention health protocols in place catering to the specific needs of such places. This is important especially for Government institutions.

The manufacturing industry can have all their staff in bubbles by providing the staff with lodgings. The same goes for the building industry. The staff can be allowed home once a fortnight after being checked by a physician whether they have the symptoms. They should also be given a place in the priority list for vaccinations. In any case if they have the disease the others also will get ill by that time and then the whole group could be quarantined together.

Private transport for the staff is important and that goes for the Government workers also. Similarly, others also can make arrangements after obtaining medical opinion by those who are involved in covid-19 prevention. Those drivers and conductors in the transport services also should be vaccinated as a priority.

The COVID-19 Prevention Task Force should work in smaller sub-committees: Disease Control; Security; Logistics, Vaccine procurement and delivery; Hospital Management; Economics, Manufacturing, Agriculture and Trade; Ambulance Service etc., and meet the Task Force with their own decisions which should be conveyed at the meetings with the Head of the Government. That meeting should be for only the key officials from these sub-committees or those who are invited specially to hear their opinions. Those who come with different opinions should be given a chance to voice their concerns at each level.

Public Health staff should engage with local communities in the MOH areas to build trust for evidence-based actions to detect possible cases and encourage local leaders to support outbreak control response measures. Strategic decisions with regard to control measures should be taken at central level by an expert panel comprising epidemiologists, virologists, public health and hospital administrators. Ambulance services should be combined and coordinated by one sub-committee. All vacancies for health staff should be filled at least temporarily especially, those in the public health workforce.

All decisions should be based on guidelines, policies and decisions of the Task Force or Presidential directives based on worked out strategies, the analysed information, maps, risk assessments, and the epidemiological situation. The basic messages to the general public should be to wear a mask, wash the hands, keep social distance, get vaccinated, self-isolation and get medical help if they suspect they have the disease, home quarantine if required, etc.

On the side of the authorities, they must ensure equitable treatment of all people, free equitable access to diagnostic tests, therapy, and vaccines, which should be allocated according to worked out criteria and needs. The local NGOs and INGOs should be roped in to help whatever way without getting involved in decision making and politicians should be involved only for organising the people for PCR testing or for vaccination programmes. It is a must to have proper communications with people in the area and the health staff comprising of the field officers are the best to do this.


Future lockdowns must cover larger land areas

Secondly, in future lockdowns must cover larger land areas than at present. For example, if patients are found in a certain Grama Sevaka (GS) Division, then lockdown the surrounding GS areas too as obviously people don't contain themselves to their own areas but would have gone into other close-by areas also even before the virus was detected by PCR or antigen testing.

If there are tens of GS divisions affected then the MOH areas or even Districts should be locked down. However, the essential staff should be allowed to go to work and trading of essential items should be allowed. Every household should be issued with a card where only one person at a time is allowed outside to go to buy needed items.

If these measures still don't work out then curfew should be declared in such areas again for at least two weeks and see the progress. What has been mentioned above are the basics that should be attended to stop the third wave and not an exhaustive one.

What will finally stop this epidemic is natural decline or vaccination of the population as Israel did for their citizens. The latter should be our priority. People should as early as possible get their doses of the COVID-19 vaccine, whether it is the AstraZeneca, Sputnik V, Sinopharm or Pfizer vaccine that is available in their area. If we want to stop large-scale deaths as in India this should be done immediately. We don't want this to happen in Colombo.

Vaccine misuse, pilferage and only the privileged getting the injections should be stopped forthwith. Now that the health and armed forces staff are given the vaccines, the next priority should be the field staff, people in high population density areas where the disease affected large numbers and decisions should not be based on their connections, power or money.

Hope we will stick to basics of epidemic control and control this third wave, and see that all are safe in this country.
---
(The writer is former Chief Medical Officer and Chairman, Standing Committee on Health/CMC.)
---