German Ambassador to Sri Lanka Jörn Rohde - Pic by Ruwan Walpola
---
Germany, one of Sri Lanka's key development partners and export markets, in addition to being an important source market for tourism, is happy with the growth in bilateral footprint, but strongly believes there is vast potential for more economic cooperation for mutual benefit.



In an interview with the Daily FT, German Ambassador in Sri Lanka Jörn Rohde shares some key recent milestones in bilateral relations, as well as on-going measures to further enhance strong ties. Rohde also gets candid on some of Sri Lanka's immediate challenges and possible ways to address them. Following are

excerpts:
By Nisthar Cassim
Q: How progressive have German-Sri Lanka relations been?
A: Germany's footprint in Sri Lanka and vice versa have been growing, resulting in greater bilateral cooperation. In 2015, the German Foreign Minister visited Sri Lanka, followed by a State visit to Germany by President Maithripala Sirisena in 2016. So there have been high-level visits during the past three years. Besides that, we have taken concrete steps to increase Germany's footprint in Sri Lanka, whilst Sri Lanka too has made greater inroads. Our relations and initiatives have been mutually beneficial. We are also seeing a sharp increase in exchanges between the two private sectors, with German delegations visiting Sri Lanka and vice versa (see box 1). This is following the setting-up of a fully-fledged German Trade Office in Colombo, which is a major milestone towards enhancing economic ties. The opening of the German Trade Office professionalises trade relations. This is a proactive office which also has a desk of the German Chamber of Commerce. The Embassy, with limited personnel resources, could not have played this professional role in trade and business promotion and facilitation alone, but this office manned by dedicated and focused professionals can do so. Germany is also stepping up exchange of students and academia from Sri Lanka.


Q: What is the status of bilateral trade?
A: Bilateral trade last year was a record euro 1 billion plus, which is a 10% growth from 2017. Sri Lanka's return to the EU GSP Plus program, as well as exchange of trade delegations, were key contributors to the increase. Sri Lanka's exports to Germany have enjoyed double digit growth regularly, which is a good sign. The Trade Office will further help this momentum, though global trade is facing headwinds in addition to the impact of Brexit.


Q: Your thoughts on recent political and economic developments in Sri Lanka?
A: Sri Lanka had an extraordinary year in 2018, especially with the State of Emergency in the first and the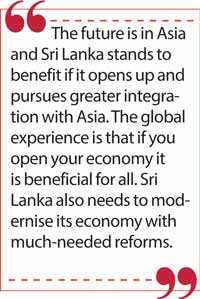 constitutional crisis in the last quarter. This impacted the economy with a faster fall of the rupee, a dip in tourist bookings, and a revision in Sovereign Ratings. Since the re-instatement of Prime Minister Ranil Wickremesinghe and the Government, we see greater stability and renewed positive international interest. We also welcome the announced recommencement of the IMF program with the Government. So Sri Lanka continues to face many challenges – political, social and economic, hence the need to remain dynamic in addressing those challenges. Sri Lanka needs to find the right balance.


Q: Can you elaborate on some of the key challenges?
A: In my view, the most important challenge is to regain investor confidence, for which greater political stability and faster reforms process are key factors. For the latter, the IMF program is helpful, and Sri Lanka also needs to modernise its economy with much-needed reforms.

Sri Lanka should further open up its economy to foreign companies, especially shipping and freight forwarding. The restriction on foreign ownership to 40% in this sector should be immediately removed, as has been done by many other competing and progressive nations in the region.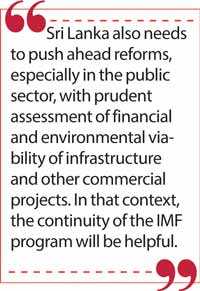 Sri Lanka's strategic geographic location enhances the potential to be a maritime hub, and this advantage can be maximised and realised faster via liberalisation, and not protecting vested local interest. If Sri Lanka fails to open up, other competing nations stand to gain, and it will be Sri Lanka's loss of opportunity.

Past liberalisation measures in the shipping sector have been beneficial, propelled Sri Lanka to be a popular port, and brought in much-needed foreign investment in the development of container terminals. To remain competitive, the challenge is to complete the liberalisation process by allowing foreign investments into shipping and freight forwarding activities. In that context, I don't see any economic sense in limiting foreign ownership. Instead, the failure to liberalise sends wrong signals to the international business community, and suggests that it is not serious in modernising the economy. Sri Lanka must walk the talk.

Another key challenge for Sri Lanka is corruption, which can be addressed by ensuring greater transparency and accountability, especially in the procurement and tender practices. As per the 2018 Corruption Perceptions Index (CPI) compiled by Transparency International (TI), Sri Lanka failed to show progress, and remained at 89th place. This confirms there is room for improvement. Corruption and lack of

transparency dampen investor confidence. Tender procedures must be clear and transparent and concluded without delay.

Sri Lanka also needs to push ahead reforms, especially in the public sector, with prudent assessment of financial and environmental viability of infrastructure and other commercial projects. In that context, the continuity of the IMF program will be helpful.

This year is important for Sri Lanka in terms of elections. In a democracy, elections should be held when they are due. This is best practices and good governance. All stakeholders need to ensure this.


Q: Sri Lanka is aggressively looking at integration of trade with the region with FTAs, etc. Your thoughts?
A: South Asia is the least economically-integrated region and intra-region trade is insignificant. In other regions, neighbours are a country's biggest markets. This is the case of Germany too. In that context, South Asia too must open up, and in the case of Sri Lanka and India, there is great scope for greater trade, and I fully back the Government's efforts to pursue an Economic and Technology Cooperation Agreement with India and neighbours. The future is in Asia, and Sri Lanka stands to benefit if it opens up and pursues greater integration with Asia. The global experience is that if you open your economy, it is beneficial for all.


Q: Your assessment of Sri Lanka's growth potential?
A: We believe Sri Lanka has the potential to grow beyond 5%, if the right policies are implemented amidst greater political stability.

Tourism is a key sector with massive growth potential, but must be harnessed in a sustainable manner. The focus must be to attract quality, high-spending tourists, for which you need good infrastructure and sustainable practices. The Maldives is a good example. On the other hand, Bali, which attracts six million tourists, has set limits on the height of hotels.

Over-visitation of Yala and Mirissa is an issue of concern when it comes to the sustainability aspect; proper rules and regulations must be enforced to retain the attractiveness of these tourist sites. City tourism has its own challenges, and Colombo needs more attractions such as festivals and entertainment. Sri Lanka can learn a lot on city tourism from Europe. Sri Lanka also has good potential for dynamic growth in the knowledge economy and ICT.


Q: What sectors are under focus for greater bilateral cooperation?
A: Skills development is one. Following the successful German Tech in Moratuwa, another was opened in Kilinochchi, whilst the third one will be in Matara. Skills development is a key challenge for Sri Lanka. Other sectors are green and renewable energy, and transportation and logistics.

Germany is also extending support for education for social cohesion; managing Wilpattu National Park and its Influence Zones; vocational training in the North and East of Sri Lanka; small and medium-sized enterprises; and strengthening reconciliation processes in Sri Lanka. (See details in Box 2)

Overall, I am happy about the progress of bilateral economic ties, but potential is far greater.


Q: In your view, what should Sri Lanka prioritise?
A: On the economic side, concrete steps in economic liberalisation, especially with shipping and freight forwarding. Secondly, fair, transparent, and efficient tender procedures.

On politics, during the constitutional crisis, the independence of the Judiciary and the dynamism of Parliament were clearly manifest. So there have been encouraging developments in terms of resilience of independent institutions. Now it is up to politics or politicians to say what they can do and do what they say. Also in a democracy, the timely conduct of elections, i.e. Provincial Polls, and inclusive politics is also important. In all democracies, political parties are the main vehicles for people to express. Sri Lankan stakeholders must avoid thinking in silos.

There is never a case of black or white or good or bad in politics. Everybody has interests, but there must be a path of compromise or consensus, and once decisions are made, they must be pursued consistently or implemented as a national policy, without ad-hoc changes or constant revisions. Sri Lanka must avoid policy inconsistency. A case in point is the Sugar Tax.


Q: Your advice to the private sector?
A: The Government sets the rules and all in the private sector must play by the rules; if there are violations, those responsible must be punished. In most democracies, rules are enforced, and it is in the interest of the private sector to ensure it is so and complied with. Corruption has two sides, and happens everywhere, but the difference is whether appropriate action is taken. This increases investor confidence; hence the private sector must support stronger independent institutions as well as transparency, accountability, and ethical behaviour in their own interest. Every stakeholder has responsibility. The private sector can't cry for Government help when it suits them, and lobby for non-interference when they want. Good and efficient governance helps all.
---
Germany's development support
---
Education for social cohesion. Budget: EUR 8 million. Commissioned by German Federal Ministry for Economic Cooperation and Development (BMZ)
Managing Wilpattu National Park and its Influence Zones. Budget: EUR 8 million. Commissioned by German Federal Ministry for Economic Cooperation and Development (BMZ)
Green Energy Champion Sri Lanka. Budget 0.6 M EUR. Commissioned by German Federal Foreign Office (AA)
Vocational training in the north and east of Sri Lanka. Budget: EUR 14.7 million. Commissioned by German Federal Ministry for Economic Cooperation and Development (BMZ)
Supporting small and medium-sized enterprises. Budget: EUR 12.4 million. Commissioned by German Federal Ministry for Economic Cooperation and Development (BMZ)
Strengthening reconciliation processes in Sri Lanka. Budget: EUR 15.1 million. Commissioned by German Federal Foreign Office (AA), Co-financing European Union
---
German-Sri Lanka private sector networking on the rise
---
​January:
Sri Lanka business delegation to IMM Cologne International Furniture Fair organised by AHK Sri Lanka
Sri Lankan delegation to BAU, the world's leading trade fair for architecture, materials and systems organised by AHK Sri Lanka
Sri Lankan delegation to Green Week, the international leading public exhibition for food, agriculture and gardening industry organised by AHK Sri Lanka


March
Visit of German delegation with interests in solar energy as energy source for buildings supported by the Germany Federal Ministry of Economic Affairs and Energy and organised by AHK Sri Lanka and OAV


May
Visit by Sri Lankan delegation with interests on renewable energy technologies organised by the Germany Federal Ministry of Economic Affairs and Energy and AHK Sri Lanka and Bw-i
Visit by German sourcing delegation with interests in textile, apparel and rubber and organised by AHK Sri Lanka


June
Visit of Sri Lanka delegation to Germany to attend the world's leading trade fair for logistics, mobility, IT and supply chain management with support of AHK Sri Lanka
Visit by German delegation with interests in sustainable mobility, traffic and public transport solutions and logistics. Organised by the Germany Federal Ministry of Economic Affairs and Energy and AHK Sri Lanka and BMWi program

Germany calls for more transparency in SL as bilateral ties expand