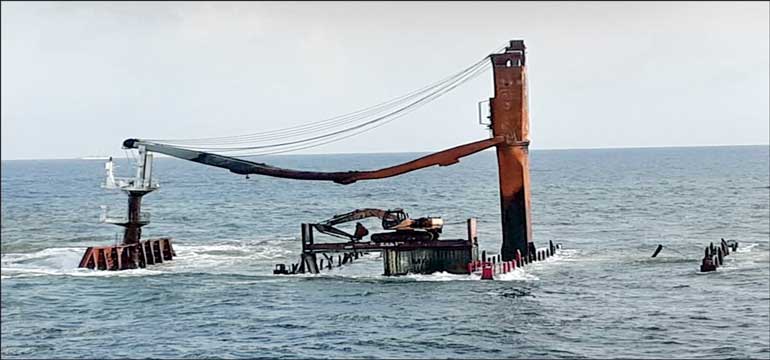 The X-Press Pearl has also become another lesson for this nation state. Growth is when lessons are managed well
---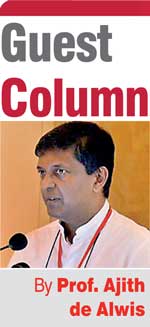 The issue of the X-Press Pearl is still very much alive and on and new words are getting into the day-to-day vocabulary, such as nurdles and pellets. Though the ship is now mostly out of sight and images of bellowing smoke gone, it still is a pollution hotspot with its under-deck cargo mostly spared the fire now present in waters below.

It being placed on the approach path to the harbour may also be an underwater object of concern and thereby affect the operational efficiencies of the port. The important issue is pollution and its variety of impacts and we have now faced a 42-day-long pollution episode with no end in sight yet.

Visual evidence is striking. There is both visible and invisible pollution from an event of this nature and also acute and chronic ramifications. The chronic issues can extend in multiple ways. The invisible aspects of this pollution episode is playing out in a number of ways too. We simply do not see the interaction of UV light in tropics as the pellets float on seawater and that is a simple example.
Proper perspective
It is important to place the accident and the event in a proper perspective. Examining evidence available, this event could be ranked as the worst incident so far when taking only the discharge of plastic nurdles.

The ship had significant polymer and plastic load on board and all of that perished in some way. Those containers that were loosened and fell to the sea thus escaping the fire released nurdles in bulk and the observations of nurdles hitting the beach was one of the first sign of debris from the stricken ship.

Looking back into records no incident could be identified to match with the magnitude of this incident.

What further complicates this accident is the presence of significant tonnage of other chemicals with 81 containers classified under the dangerous cargo category. As the contents and the ship were totally destroyed, this incident certainly would be identified as perhaps the worst combining plastic and chemical cargo together to have taken place in the maritime industry.

The oozing of chemicals from the containers below from the wreck is a continuing pollution saga and chemicals are not the only stuff leaking out. Judging the significance of the polluting strength has been made difficult by the prevailing rough conditions and the turbulence is also preventing divers from accessing the immediate area.

It is wiser however to take all steps to remove the cargo and attend to the wreck too without delay and weather is not an excuse and that is why there are technologies. Each passing moment is having a compound effect on the environment with the wreck sitting in a not-so-stable manner in a salty environment. The subject of this accident is still under the original ownership and the salvor too is reporting to them somewhere in Singapore!
Cause and lessons
When an accident takes place it is quite important that the real cause is identified. Now such procedures are driven with ownership taken over by the State. Moving into the future with the inner wish to be a strong player in the East-West trading route, Sri Lanka should have procedures in place with appropriate processes both in law and technology.

While we do have a contingency plan for an oil spill incident, there is no applicable process for hazardous and noxious substances spill or accident. Almost all cargo ships plying on this ship lane are quite likely to have such substances on board and there is always the possibility of an incident. The statistics again indicates a fire on board a container ship is likely to occur once in four weeks and this is going up from once in six weeks.

If we are to be a hub for all seasons, we must have all possibilities covered and be proficient and competent in response. In the absence of skills and competence, growth is never a possibility. We should not just be sitting down and welcoming people and vessels from outside coming in to help at their own pace.
The Stoltz Amsterdam
An example that comes to my mind and perhaps the most significant involving nitric acid is the Stoltz Amsterdam, a chemical tanker which was c,arrying 8000 MT of nitric acid when it caught fire and sank in the river Rhine. The impounding of the ship was almost immediate by the Dutch authorities. Then the ship was raised on to a pontoon and a meticulous investigation took place.

This is instructive. We know exactly what took place and all the lessons are available. Of course such investigations are done and results shared with all with the intention of no one having to face a similar situation again.

It is not about politics and guilt; the industry is at stake when an accident of this nature takes place and with greater awareness on eco-system services the understanding of potential damage is significantly more. There is also the understanding that an incident spanning just few days can leave almost a lasting and certainly a long-term impact on the surroundings.
Terrible price paid
Definitely with the X-Press Pearl it is quite disappointing and worrying when you think that someone's failure to ensure lashing internally and perhaps compounded by the weak containment and definitely weak adherence to correct practices and norms resulted in such negative impacts to our environs plus livelihoods.

Many animal lives lost, definitely over and above the typical numbers for the period as has been researched, paid the supreme prize for a fault not their own. As one biologist indicated, these were well-fed animals who came on shore. The marks of distress were clearly different from the usual. And some of these majestic creatures were actually from the threatened and rare category and as such quite important to Sri Lanka.

The manmade chemicals do have the innate ability to cause problems and that is why in realising benefits the need for professionalism. This whole episode as one marine news analysis indicated stems from ignoring codes of practices that are in place. The failure here is evident and the identification of the culpability and its true value awaits.
Concerns about nurdles
The nurdles had come in at a time when new knowledge is placing the issue of micro plastics at a level of quite high concern. Nurdles by themselves are primary micro plastics and the issues associated with micro plastics in environment is still being researched upon. The simple fact that these can persist for years as well as degrade and disintegrate into even more problematic nano plastics points to a significant high level of risk, notwithstanding any of the others.

With direct connection as cause and effects are being asked and answered, with nurdles the question is easily answered. The spread of nurdles being demonstrated to occur over a wide expanse makes this issue one of regional concern with micro plastics at the centre.

A scientific fact that is becoming known is that the potential of floating nurdles impacting the climate as well. I am sure many would scoff about this, but remember the nurdles were not meant to be released in this manner to float anywhere. It is precisely happening now because of sheer negligence.

There have been quite number of events with nurdles as the polluter. One of the earliest recorded events is from Hong Kong in 2012, where six containers loaded with 150 MT of PP pellets were lost at sea. Millions of pellets covering the beaches raised much concern and alarm. In the same year the MV Rena, a container ship, sank with 1,351 containers on board in New Zealand. In 2017 in Durban harbour in South Africa two containers with 49 tons of PE pellets spread across a 2,000 km stretch of coastline. In 2020 Germany reported a loss of 10 tons of plastic pellets when a storm-damaged container was opened at sea.

These examples indicate that the X-Press Pearl sits right on top with its cargo content, composition diversity, fire and explosions, etc. To reiterate, the saga of the X-Press Pearl is not yet over and that is indeed sad and worrying.

As always the X-Press Pearl has also become another lesson for this nation state. Growth is when lessons are managed well. Events of disaster do have the potential of bringing change and eliciting the best from many. This event with two bangs and much smoke has now settled into a complex situation of corrosion, mixing and reactions. Some are indeed areas we have never dealt with before.