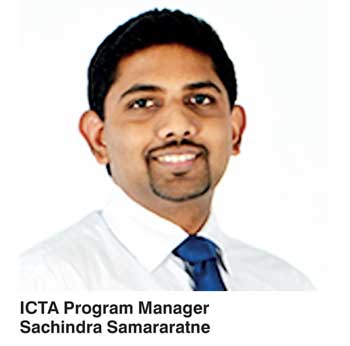 The growth of knowledge-based societies which encompass highly-educated individuals empowered to drive innovation have been witnessed globally. Private sector companies need to gear themselves to cater to the demands of these digitally-empowered citizens. Shenali De Silva (Research Associate, Economic Intelligence Unit) discussed with Sachindra Samararatne, Program Manager at the Information and Communication Technology Agency (ICTA) and member of the Chamber's National Agenda Committee on Innovation, to understand what is in store for Sri Lanka and how the private sector could play a more active role in achieving this goal of becoming digitally inclusive
By Shenali De Silva

1. Private sector collaboration is essential, ICTA is willing to support companies

ICTA plans to organise forums by linking up with chambers to communicate with private sector companies to discuss and advise on strategies and methods of easing the transition into digital businesses. ICTA also plans to provide support forums where companies can meet with industry leaders to understand how they can transform, contribute and grow through digitalisation. The restructuring of strategy and infrastructure for the apparel, shipping, retail and manufacturing sectors in particular will prove necessary to becoming a digital economy.

"We want to engage with the private sector (when I say private sector, I mean; apparel, shipping, retail, manufacturing, and all those industries) by helping them to link up with the companies that have achieved digitalisation successfully."

Meanwhile, the rapidly changing dynamic of digitalisation will require private sector companies to be heavily invested in R&D to ensure that they are at the top of their game – be it product, service or process. ICTA is greatly encouraging of cross-industry collaboration to foster R&D and innovation.

"Partnering with different industries to contribute to new outputs and processes, will lead to innovation and digitalisation, thus delivering to digital customer needs, for example: The IT industry partnering with agriculture industry, every activity that gets digitalised will be an innovation."


2. Collaboration with start-ups can contribute to organisational growth in the digital economy

Start-up businesses are a key growth mechanism for private sector businesses. This is because start-up companies have the resources and ideas to bring about innovation that a traditional private sector company may not have access to.

"Sometimes companies don't have resources in house to bring about innovation, but the start-up can, and that's the model that is globally being practiced, they can work with a start-up and decide whether they want to invest in them and make them part of the company."

ICTA is willing to work with companies that are open to supporting start-ups, and developing a policy and an action plan for a 'start-up eco system' is among the future plans for ICTA. It is currently in its research phase explains Sachindra. Entrepreneurship learning, is an essential element for driving innovation, and is the pre-requisite to getting involved in a start-up culture. However, it is not incorporated into the Sri Lankan culture claims Sachindra. He explains that, a change in mind set is necessary, and it must come from the parents, elders and education. This shift in cultural dynamics will take time and will come with a lot of resistance.


3. Private sector assistance is essential to building a knowledge-based workforce

Sachindra noted that the private sector has an important role to play by providing internship opportunities for students and providing training programs for employees, geared towards creating a digital economy. Meanwhile, companies need to consider the aspect of job roles with the advancement of technology in the work place. Training programs focused on improving an individual's skills and knowledge, coupled with on-the-job training opportunities, will help employees move up the value chain to areas where human involvement is necessary.

"To avoid friction of job loss; individuals must be developed to; take on different job roles, to move up the value chain, or supported to help becoming an entrepreneur in that particular workplace. The education system plays an essential role by producing a creative knowledge based work force."

Private sector companies are encouraged to provide internship opportunities with an effective training plan; to support potential employees by building skill sets necessary for the organisation. This will contribute to a digitally-savvy workforce.


4. Large-scale digitisation projects will create opportunities for private public partnerships

With the introduction of technology such as 'Google Loon' and Initiatives like 'Free Wi-Fi' for all, which are on-going projects of GoSL; cost effective, quality infrastructure and efficient service providers will be required from the private sector.

"The plan is to provide connectivity and access to all of society. This will take place where the funding will come through the GoSL and service providers will be supplied by the private sector. The ICTA is working on an on-going model, with private sector telecommunication companies, including projects like; 'Google-loon' to 'free Wi-Fi accesses'."

Projects such as the Lanka Government Network 2.0, which has already been awarded to Sri Lanka Telecom, will also provide last mile connectivity to houses and businesses all over the island. GoSL also looks to increase international connectivity by setting up a data hub for the region. This would require private sector service providers to get involved in setting up of infrastructure.

"Currently Sri Lanka has links to five to six submarine cables, however if Sri Lanka is to become a hub for a data embassy, it will need servers to be built and data from other countries to be stored means about 15 cables will need to come into the island. These are future plans which will require private sector participation."


5. Private sector companies must help drive the digital movement in rural communities

When it comes to reaching out to societies; language associated with technology becomes a barrier, hence it is our responsibility as individuals and organisations driving this digital movement to ensure that the message goes out in Sinhala and Tamil as well, says Sachindra.

He also emphasises that the focus must not only be on major cities, but island wide. There are many points of access in the private sector to reach out to the communities across the country including, the banking sector, telecommunications and regional chamber networks.

ICTA initiatives like the Smart Social Circle Initiative, takes place in semi-urban and rural areas, by incorporating digital into their daily activities. Sachindra advocated for the private sector to reach out more to rural communities and spread the message of digital through workshops, seminars, and community projects.

"ICTA integrates with small Government units regionally, called the 'gramaniladhari kottashaya' (village-officer divisions). They identify a few key individuals who are influential in these social circles (Police, Nurses, Businessmen), and work with them on using digital to engage with GoSL and to promote businesses and communicate societal grievances to GoSL."

A '1 million devices' (tablets) initiative was also created with the goal of empowering rural villages and schools to incorporate digital in to their daily activities, through the use of devices. Private sector companies can even take the initiative of empowering other rural societies through initiatives like those mentioned above.

According to Sachindra, "In the next two years, all organisations will have to plan to become 'digitally enabled'. We find this at various forums, where the CIOs who are in government and all types of industries are open to thought leadership on becoming digital businesses. Sri Lanka needs to take on this approach."


Private sector companies and other organisations will need to gear-up for the new wave of digitalisation, which may ease business activities. Private-Public Partnerships are highly encouraged in this scenario as this support system can ease transition into a digital economy, and will advocate the drive towards digital for society as a whole.

('The National Agenda' is the Ceylon Chamber of Commerce's knowledge platform featuring insights from members of its National Agenda Committees on Infrastructure, Energy, Logistics and Transport, Innovation, and Finance and Capital. Visit nationalagendacommittees.wordpress.com.)