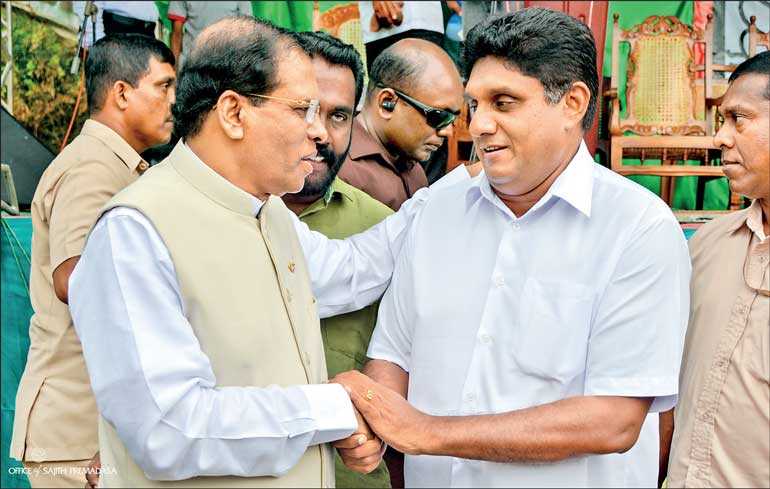 Marketing a political candidate is not an indignity to democratic process
---
If we track back at last year, the highest share of voice topic was undoubtedly 'politics'. Many are speculating now that 2019 will be the year of elections, starting from the Provincial Council elections to General elections and subsequently the Presidential elections. Whist many can speculate, no one actually state the actual order of elections. Be that it may, one thing that will sure happen is that the discipline 'marketing' will be extensively used in the year 2019 by political candidates.

Marketing a political candidate?

If we do a deep dive on the meaning of the term 'marketing,' in simple words it's all about giving the consumer reasons to buy a brand based on one's needs and requirements.

In the game of political marketing too this same process comes into play, with the voters being given a strong reason why they need to vote for a particular candidate rather than the other. So, in absolute ruthlessness of the marketing ethos, I find the new brands that have entered the political arena like Rohan Pellawatte will sure increase awareness on the part of the voter and drive a high involvement decision making process.

My father who hails from the tea industry of Sri Lanka believes marketing a political candidate to high office like a washing powder or toothpaste is the ultimate indignity to the democratic process of a country. This is an interesting argument from an ethical perspective. Let me throw more light on to this argument.


Marketing a politician

Let me begin by explaining what the discipline of marketing means. In simple words it means identifying what a customer wants and thereafter developing a solution to meet this requirement better than competitors but in a socially responsible manner. In the case of politics, the customer is the voter whilst the solution provider is the politician.

A typical voter in a Local Government election is a "household' that consist of a mother, father and children. Hence, if one analyses the customer wants, they can be listed as timely collection of garbage, road maintenance, security around the neighbourhood, adequate street lighting, sewerage and supply of basic utilities, not forgetting access to supermarkets, polas and banks, to name a few.

The candidate who can effectively communicate how these needs can be addressed better with their overall solution will garner the support to be voted in at an election, which incidentally is what the marketing ethos advocates. I would even go on to take the high ground that 'marketing' helps introduce democracy into a country as at the end of the day it supports the decision making process of a voter.


Marketing right?

The logic for the saying that it is marketing that brings in democracy to a system is factually correct for two reasons. The first being that the product/service that is offered by a candidate must communicated effectively in a manner so that the consumer is better informed on who best fits their requirement. However, a point to note is that when communicating, this right must be available to every other competitor too with equal media time so that the 'share of voice' is same and the only competitive advantage is the message offered. This can vary if one has to self-finance one's campaign, which means that the candidate with higher financial muscle can garner a stronger share of voice.

This ethos will hold ground when it comes to the below-the-line activity too, like staging meetings at neighbourhoods as well as hoardings. The second perspective is that once a consumer (in this case a voter) makes a decision and selects a product (the chosen candidate), he or she must deliver the promises made at the time of campaigning. Marketing a political candidate ensures voters makes decision with better information. Hence, it can be said that it is right.


Marketing drives democracy?

However, the debate is when it is not done in socially responsible manner. If these two perspectives are understood, then marketing becomes the modus of ensuring democracy is maintained. This means marketing a political candidate for high office is not an indignity to the democratic process of a country and in fact it facilitates the decision making process of a voter.


Why marketing is wrong

Where marketing comes in for criticism is when marketing a candidate it is done not in a socially-acceptable manner. This includes blocking of competitor media, below-the-line rivalry at meetings are blocked out, voters not being allowed to vote, unlawful voting, etc., to name a few. A point to note is that these unethical practices are not confined to political marketing but happens across many consumer brands too.

For instance, when a malted milk was launched some years back in Sri Lanka, the competitor bought up the key media belts on radio to block the new brand that was being launched, poached the competitor's key employees, and broke down the displays at the retail end whilst over-pasting. Some companies even resort to guerrilla tactics of promotions to undermine the competitor brand.

Some even go to the extent of stalking the route plan of a sales representative's itinerary so that at the retail end you block retail space, which to my mind is somewhat similar to the marketing that is practiced during an election. This is when 'marketing' comes in for flak.


Products must deliver

Another situation where marketing as a discipline draws flak is when it is used in politics, a candidate fails to deliver on the promise made after being elected. For instance, the collection of garbage daily, street lights not working and even after complaining no action being taken to correct same to name a few when it comes to a Local Government election.

Without delivery at the retail end, the challenge will be if marketing of a political candidate to high office can be considered unethical and wrong.


Appoint a regulator

Marketing a political candidate in 2019: One way to correct this situation just like the insurance or the mobile phone industry of Sri Lanka is if a regulator can be asked to play a prominent role, so that major deviations can be corrected. This can include share of voice (SOV) issues and may be even the message content so that marketing unearths the true discipline that can be brought out to showcase democracy in a country.

Some can say that it is a far-fetched idea in the case of political marketing but based on the best practices seen in other countries this can be achieved provided there is a political will in doing so. The challenge is making it happen in a political economy, especially in countries in the Asian and African regions.

Many point out the irregularity of marketing a politician but many brands and companies resort to the same behaviour like breaking down displays at retail outlets, blocking media by forward purchasing at launches, poaching on competitor employees and using guerrilla promotional tactics.

The problem that can arise in the absence of a regulator when it comes to political marketing the candidate who is less aggressive will not be able to carve out a clear positioning in the minds of the voter, which in turn will result in the competitor doing this for him/her, which can lead to confusion in the minds of a voter. This is something that many less aggressive politicians fail to understand.


Politics vs. brands

A point that needs to be highlighted is that there are many clear-cut differences when it comes to marketing a political candidate as against a brand of washing powder or breakfast cereal.

A political candidate has to a sense of urgency as only a four-to-six-week window is available between announcing elections and the implementation of them. So either one achieves Top of the Mind (TOM) awareness and then carries through to be appointed at the election or you are kicked out.

On the other hand, the pace at which one needs to drive a brand will be at a slower pace as the time bar can be longer. This means that the ruthlessness of the tactics used in marketing a politician will be obviously different in velocity and breadth.

Another key difference is that brands can be switched by consumers if they do not meet expectations overnight but in the case of political candidates, the switching time can be as long as six years, meaning the purchasing cycles are different. This further justifies the need for one to practice marketing so that it gives clarity on the decision that needs to be made at a polling booth. I guess this explains the competitiveness in which one plays the game in the political arena when it comes to an election.


Conclusion

Hence we see that 'politics' and 'brands' have a many aspects that are common whilst they have their own industry-related peculiarities too. But at the end of the day the winner is the consumer and in this case the voter. We now have to wait and see if the promises made during the year 2019 whilst campaigning will be delivered on the ground.
[Dr. Rohantha Athukorala is an award winning marketer/business personality, an alumnus of Harvard University and a Fellow of the Chartered Institute Marketing (UK). The thoughts expressed are his own and not the views of the organisations he serves in Sri Lanka or overseas.]