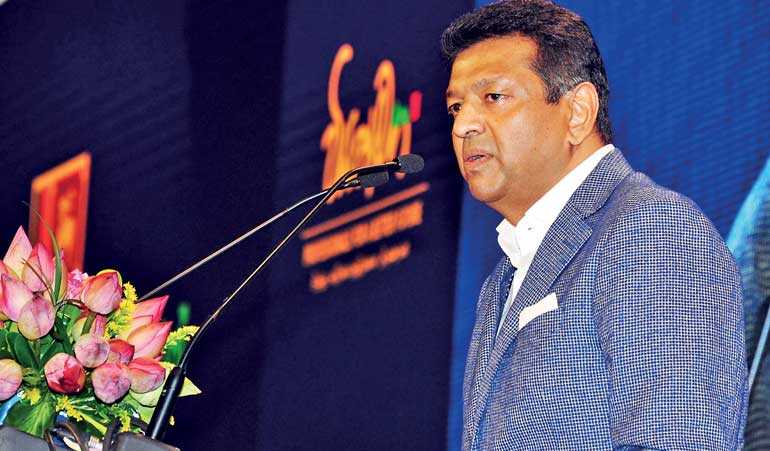 IT industry leader and former SLASSCOM Chairman Mano Sekaram addressing the Viyathmaga forum
IT industry leader and former SLASSCOM Chairman Mano Sekaram, addressing the 'Intellectually Inspired Sri Lanka 2030' Viyathmaga forum recently, called on professionals and entrepreneurs to take the lead to rule the country since the politicians had failed to deliver and execute vision for the betterment of the people.

"The time has come we as professionals, entrepreneurs to take lead and run this country. We have given our politicians enough time and they have not delivered so far," he said, speaking on the theme 'Digital and Knowledge Economy'.

"Everything I've told you today about the digital revolution and digital economy is public knowledge and is available on the web and in many publications. What needs to be done in Sri Lanka is also known, the knowledge economy and most of the ideas I've propagated have been discussed in countless forums already. So what's the difference here? What do we need to focus on today?" he asked those present at the Viyathmaga forum.

"To me just one thing makes a difference… Ideas are cheap, execution is everything. Thomas Edison said Genius is 1% inspiration and 99% perspiration."

He said that the breakout nations like Israel, Korea and Singapore had mastered the art of execution and the reason why the late Prime Minister of Singapore Lee Kuan Yew turned successful was that he was able to execute a vision for his country fearlessly for the betterment of the Singaporean people.

"Why we have failed as a nation? It is not because we don't have ideas or talented people, it is because we are unable to execute those ideas."

Sekaram said there are Sri Lankans in the world changing the landscapes of other countries but not in their own. "Why? Because we are unable to execute and follow up on ideas for the betterment of our people. We keep failing because everything is politicised and we always wait on someone else to make decisions. As Sri Lankans, we want everything for free – we don't feel the urge to create our own destinies, we keep waiting for others to do it," he opined.

"What we need is leadership that has courage to make a change and has the ability to execute great ideas, empowered by professionals and technocrats. The time has come we as professionals, entrepreneurs for us to take lead and run this country. We have given our politicians enough time and they have not delivered, it's our time to lead this country," Sekaram emphasised.


Export-oriented economy

Earlier on his speech, Sekaram said that most Sri Lankans want everything for free, don't feel the urge to create their own destinies and keep waiting for others to do it.

"What we need is the leadership that encourages to make a change and has the ability to execute great ideas, empowered by professionals and technocrats."

Explaining how Sri Lanka could progress similar to the breakthrough nations such as Singapore, Korea and Israel, which are now geared to grab a big slice of the global digital economy, Sekaram said that Sri Lanka needed to be an export-oriented country to drive its economic growth.

"Singapore is a leader in digital infrastructure, with its latest ranking as number one on the Index of the World's Most Technology Ready Countries. South Korea, which had a per capita income lower than Sri Lanka's when Sri Lanka gained independence, holds 600,000 patents (third highest in the world) fuelling its knowledge economy. The UAE has appointed its first Minister of Artificial Intelligence to help the country to become more prepared for the challenges of artificial intelligence," he revealed, asking how Sri Lanka could be a part of this revolution, deliver economic dividends and reduce inequality.

Sekaram said that the biggest foreign exchange earner today was the foreign remittance by domestic workers overseas, worth $ 10 billion, and from export earnings, the garment industry tops with its earnings of $ 4 billion and $ 1.5 billion by tea and next with tourism.

"If you analyse the top three industries in our country, to be employed in 90% of the combined workforce doesn't really require a great deal of education, certainly not at a university or tertiary level. Our biggest revenue earners, essentially, are based on employing a semi-skilled or unskilled workforce," he explained.

However, he said that as a nation, Sri Lankans embrace completely different aspirations, where education is a symbol of progress, social mobility, access to wealth, and in most cases elevation from poverty.


Mismatch in aspirations

Any Sri Lankan parent, whether a three-wheel driver, a farmer or an executive, their greatest shared desire is for their children to be skilled, educated and hold white-collar jobs, he said adding that there is a drastic mismatch in the aspirations of our people –and what our economy is currently able to offer them to actually fulfil their dreams.

"No wonder in every 20-25 years that Sri Lanka experiences conflicts starting from the insurgency in the South in 1971 to the insurgency in the North in 1987 to 1990," he said, asking how the country can bridge this gap, meet the aspirations of the people and at the same time drive our economic growth and what industry would bridge this gap.

Sekaram, who is the CEO of 99x Technologies, suggested to focus heavily on one or two industries and to support an industry, one that would take people from a $4,000 per capita income to a $15,000 per capita income.

"We need to identify the sector that will be the catalyst, which has the potential to elevate Sri Lanka to this paradigm. I believe that one of these is the knowledge industry," he explained, by citing an example where the IT/BPM industry in terms of export revenue set a target to become a billion-dollar industry, was bringing in just $ 50 million in 2000 where he was the Chairman of SLASSCOM.

"It took us 15 years to achieve this feat. Employing 80,000 people, we became a billion-dollar industry with a per capita income of figures ranging $15,000-$20,000. The tea industry, the fifth largest export revenue earner, took almost 150 years achieve the same feat, to become a billion-dollar industry, and to this day has a per capita income of less than $2,500," he pointed out.


Need right vision and leadership

Sekaram said that what was required was the right vision and the leadership to extend the knowledge sector to other industries like medical, engineering, architecture, agriculture, design, etc.

He also said that it was an important opportunity for Sri Lanka to be a knowledge-based economy as the country had been known for its educated population and an efficient education system, which turned out proficient professionals despite some shortcomings in the system.

"With an already existing knowledge economy with doctors, teachers and IT professionals and a more educated workforce, I believe we have a golden opportunity to build this new industry, which will not only meet the aspirations of our people but also reduce the rampant inequality," he predicted.

Increase human capital

Explaining further on the available actionable initiatives to transform Sri Lanka's economy to the next level, he said it was essential to increase human capital – the required number of graduates and professionals, changing the education system, encourage entrepreneurship, build digital infrastructure and finally positioning Sri Lanka as a knowledge hub.


"Over 200,000 students get qualified to enter State universities but only 30,000 get the opportunity, some attend private institutions while about 10,000 students go overseas, draining the country of foreign exchange, and finally a colossal 150,000 students every year do not have access to higher education. To me, this a great injustice, that even after 70 years of independence, we are still so far behind in meeting the aspirations of our people."

He emphasised that if Sri Lanka intends to be a part of the digital and knowledge economy, the country needs more professionals.

He suggested to have universities in each district under the modern education systems. "This is the number one priority to build a nation of educated people and the government must do this in order to quadruple our output of professionals and graduates. That there can be an oversupply of an industry-ready workforce is a notion that does not exist. If we have 10 new medical universities island-wide and passing additional 5000 doctors annually, not only would we improve our health standards, we would also attract global healthcare and medical research companies to invest and set up centres in Sri Lanka," he explained.

Sekaram said that in the present global economy the investors follow talent, no matter where they might be and that was why countries like Israel and Singapore were so attractive to global high-tech organizations and research companies.

Emphasising on the need to change country's education system he although Sri Lanka records of having one of the highest literacy rates in the world, yet rank low on the Global Innovation Index, coming in at 90 out of 127 countries in the 2017 report.

"It is because our education system is extremely efficient but it is not effective. The colonial British education system, which we still follow was created to bring about conformity and compliance, which was required by the colonialists to ensure people were groomed to be subservient and take orders, and to not challenge the status quo. The goal of our education system should be to enable our youth to excel in what they are good at, to be able to create a destiny for themselves as well as for the ecosystems they are a part of," he noted.


Government support

Sekaram said that the innovation would be the driving force in all future economies and Sri Lanka needed inventors and innovators coming out of Sri Lankan universities, research centres and startup ecosystems.

"We need entrepreneurs, who will take on risk and disrupt industries, who will create the next wave of companies that will conquer the world. There is no shortage of entrepreneurship and innovators in Sri Lanka but we need a vibrant ecosystem for them to thrive," he said, stressing the need for Government support, Government technocrats who will facilitate the process and creating the right environment.

He also emphasised on the need of scientist/innovators, entrepreneurship and Government technocrats to work together and expand the knowledge economy, and together driving economic force to succeed.

According to Sekaram, the digital infrastructure is a vital enabler of the digital economy to build physical infrastructure such as airports, ports and highways.

"Delivering digital services to every citizen must be made a fundamental aspect of our digital strategy. The ICT Agency of Sri Lanka, which was set up to provide digital service to people, should be further strengthened," Sekaram.

He concluded his speech saying: "I want leave you with this quote of Mark Twain, 'Patriotism is supporting your country all the time, and your government when it deserves it.'"