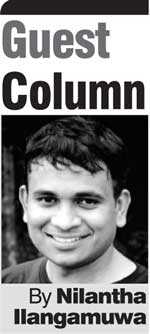 'Israel never hesitated to share intelligence with the

relevant authority' – Schweitzer
Yoram Schweitzer is a senior researcher at the Institute for National Security Studies (INSS), an Israeli think tank. Before he joined the INSS, he was a researcher and head of Educational Curriculum at the International Policy Institute for Counter Terrorism (ICT) at the Inter Disciplinary Center in Herzliya.

He has specialised on internationalisation of suicide terrorism; Schweitzer's writings include 'An Expected Surprise; The September 11th Attack and its Ramifications; Al Qaeda and the Internationalization of Suicide Terrorism; and editing and contributing to 'Female Suicide Bombers: Dying for Equality'.

Recently, I had an opportunity to catch up with Schweitzer and listen to his views on global terrorism, counter-terrorism, importance of intelligence, and Easter Sunday attacks in Sri Lanka.

While denying the recent press reports that Mossad had foreknowledge on the September 11 attacks by Al-Qaeda in the United States of America, he says, "As a former intelligence officer, I could assure you that we never hesitate to share the information and prevent any sort of adversaries, not only against the friendly nations, but also other state parties. Mossad did not have any foreknowledge on the September 11 attack."

"Manufactured lies by enemies," he added.

Schweitzer formerly served as Chief of the Israel Defence Force's Military Intelligence Division's Foreign Terrorism Section, and private consultant to the Office of the Prime Minister of Israel. With extensive experiences in counterterrorism, Schweitzer demonstrates his views on Salafi Jihadi terrorism, Easter Sunday attacks in Sri Lanka, and how Israel could support in eradicating Jihadi terrorism.

While commenting on the Easter Sunday attacks in Sri Lanka he says, "Vulnerable communities can be easily infected by the germs and spread the terrorist ideologies than others. If you look at the background of the ringleader and his motive behind the attack, it demonstrates the vulnerability of this community."

"The military defeat of the Islamic State does not herald the destruction of the organisation, or the end of its activity – quite the opposite. The Salafi jihadist ideology and the modus operandi represented by the Islamic State, Al-Qaeda, and their affiliates continue to inspire terrorists, whether they are directly or indirectly linked to them, or see them as a model for imitation," he said, while quoting his recent analysis on terrorist attacks in Sri Lanka.

The "attack demonstrated anew that the lack of effective cooperation and intelligence sharing between the intelligence, security, and enforcement agencies is a central factor in the success of terror groups to carry out their plans," Schweitzer observed.

"These details and the lessons of bombings in Colombo, if properly learned, will help prevent or obstruct future terror plans of the Islamic State and its supporters – plans that are expected to challenge many countries in the years to come," he said.

Meanwhile, answering why the terrorists targeted Sri Lanka although it doesn't have any political impact, he said, "This is how the Salafi jihadist terrorism strikes. Terrorising society and targeting anywhere vulnerable, and killing as much possible, are the aim of these terrorists."

Meanwhile, responding to the allegations against State parties that are targeting civilians in warfare, Schweitzer is confident that not a single State which is bound by the law of war and ratified international law purposely targets unarmed civilians.

"There are a few fatal incidents, but not a single law-abiding government purposely targets civilians in warfare, but terrorists' prime target is unarmed civilians. No matter what ethnicity or what religious belief you follow, terrorists will eliminate you to propagate social fear and attract attention," he said.

"Countries ruled by dictators are different scenarios," he added.

Challenges are ahead: "Israel is helping to eliminate Salafi jihadist terrorism, and we will always share intelligence with the State parties to support counter-terrorism. Most importantly, intelligence gathering, analysis, and sharing with the correct authority is a need of the hour. We have engaged via third parties or directly with countries to fulfil this need. I have done this before and I'm confident Israel is always standing with the state, not with terrorists," Schweitzer further said.