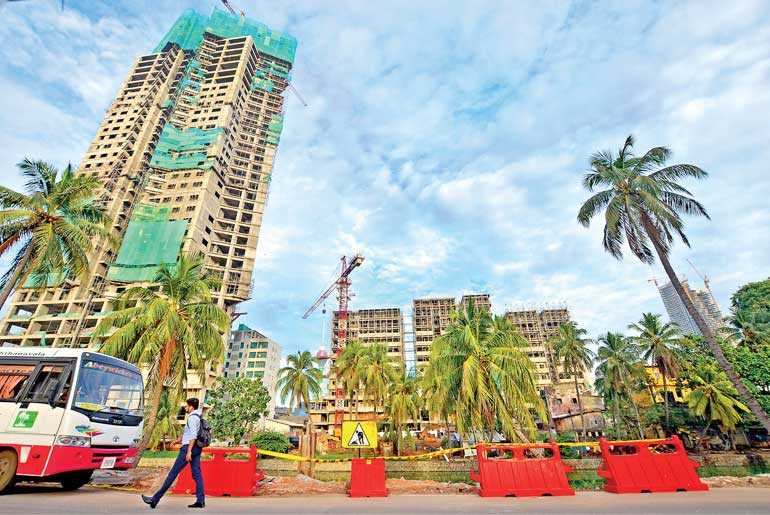 Emerging markets like us need to develop critical new infrastructure to accommodate population growth, rapid urbanisation and rising incomes. This requires our infrastructure strategy to meet the Sustainable Development Goals – Pic by Shehan Gunasekara
By Lahiru Karunathilaka
Getting it right

Infrastructure can drive economic growth and contribute to social cohesion. Infrastructure investment and development is one of the top priorities for governments globally. It is imperative for poverty reduction, social progress and inclusive economic growth.

Emerging markets like us need to develop critical new infrastructure to accommodate population growth, rapid urbanisation and rising incomes. This requires our infrastructure strategy to meet the Sustainable Development Goals. With this attitude infrastructure should not be considered as individual assets, such as highways, power plants, water network, hospitals and should not be planed or strategise under individual ministry portfolios.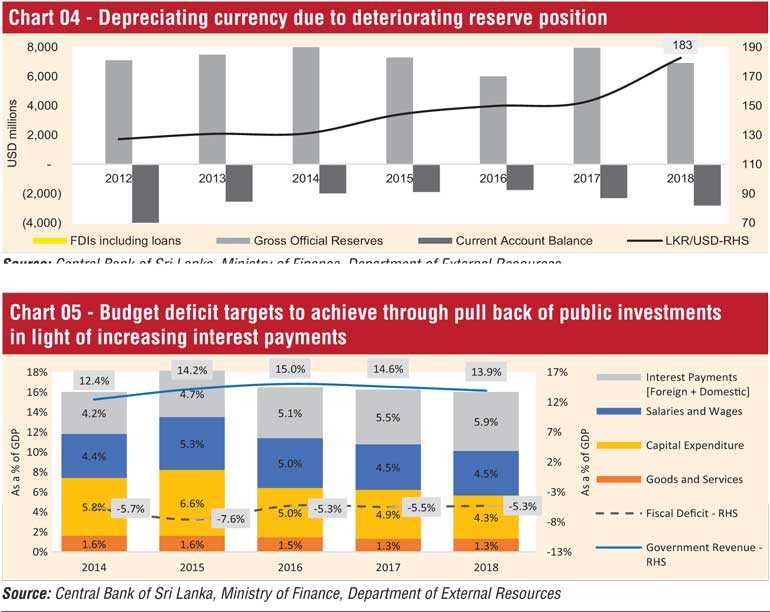 Infrastructure: fiscal policy and a governance challenge

Having said that, almost every Government including Sri Lanka are under pressure to improve their fiscal positions. Poor governance is a major reason why such projects often fail to meet their objectives, budget and time frame. Political influence may impair the decision-making in terms of identifying and prioritising. Coordination across level of Government is difficult despite the fact that majority of the public investments were made at ministry level.

Followed by the adverse weather conditions and sluggish economic recovery, the economy of Sri Lanka continued grow at a decreasing rate (YoY growth of 3.2% in real terms).

Debt to GDP levels are already alarming (see chart 01), future infrastructure investment requirement for the expected economic and social development will without doubt rely on borrowed funds. This will push the countries Debt to GDP level up and bring the macroeconomic stability at a risk. Also, this situation will highlight the policy weakness, gaps in our development priorities and weak economic forecast.

In light of the widening trade deficit (specifically due to import of consumer goods, vehicles and fuel) coupled with the decreasing domestic currency position, the current account balance of Sri Lanka has been deteriorating over time (see chart 03).



Widening Balance of Payment, Trade Account and Foreign Debt Service will have a twin effect on the currency. As such infrastructure investments will drive the economy by;

Directly in the short term through employment and purchasing inputs from other sectors and related multipliers. On this point we should be vigilant on large-scale projects since most of the input we have to import. Such investment would increase import expenditure and pressure the trade balance and balance of payments.

Indirectly in the long term, through raising the production capacity of the economy by reducing transportation and other costs allowing a more efficient use of inputs. For these reasons having a national vision for infrastructure investment is needed.

Country has to ensure that there is a prioritisation of investment in infrastructure and to ensure that infrastructure projects lead to higher GDP. Investment in energy would increase the production capacity of the country and help export and manufacturing industries by bringing the production overhead competitive. Investment in social infrastructure, such as education and youth development can support long term economic growth by improving countries labour productivity and level skills.

During recent past years, Sri Lanka was maintaining a budget deficit in the range of 5.3% to 5.7% (except for 2015) (see chart 05).

Domestic and foreign interest repayments accounts for more than 31% of total Government expenditure (5.9% of GDP) whereas personal emoluments are high as 24% of the total expenditure (4.5% of GDP). Accordingly, in light of the reducing Government income, increasing interest payments and increasing personal emoluments, the said budget deficit was maintained mainly through the pull back of capital expenditure.

Furthermore, Sri Lanka has around 422 State-Owned Enterprises which contributes 13.3% of the GDP (2018). Out of the total SOEs, 54 has been identified as 'Strategically Important State-Owned Business Enterprises' (SOBEs).

During 2018, 16 SOBEs recorded net loss of Rs. 157 billion1. This is 1.25% of the country's GDP (annual UK Government investment is around 2.5% of its GDP).

Above facts indicates that the additional expenditure on infrastructure investment must be found by reducing public expenditure in non-productive areas and through public sector reforms. Institute of policy studies in Sri Lanka states that "the priority for fiscal policy is to release financing for infrastructure investment and reconstruction spending". This entails that a mix of far-reaching economic, institutional and policy reforms accompany a reorientation of public finances.
What should we do to get it right

Develop a national vision for strategic infrastructure

Establishment of a national infrastructure unit with a long-term strategic vision that will address the country's needs. Ideally this unit should be enacted by the Parliament which will create an enabling environment and accountable for the public.

This will enable strategies to serve multiple objectives such as growth productivity and affordability along with identification of interrelation across sectors (Housing infrastructure should support by the right investment in transport).

"Such a vision can reinforce social progress hence increase the social mobility of the country". For example, introducing basic infrastructure such as solar power, pipe born water and increasing the quality and the capacity of the schools in the country will have manifold social benefits. Maternal mortality rates are affected by the quality of water and hygiene. 18% of the schools don't have any type of water source. From the students who enrol for Ordinary Level, only 60% students remain for their Advance Level classes2."
Emerging markets like us need to develop critical new infrastructure to accommodate population growth, rapid urbanisation and rising incomes. This requires our infrastructure strategy to meet the Sustainable Development Goals
Efficient regulatory design
This will mainly address by having an infrastructure unit enacted by the Parliament which will create an enabling environment with relevant power and interconnectivity.

Projects often involve many policy areas, several layers of legislation and regulation, and different levels of Government.
Make the project bankable/investor appealing

Managing any threats to integrity and governance is a key aspect on this regard. Range of stages and stakeholders involved make infrastructure projects highly vulnerable to corruption. The projects has to ensure audit functions have built in and adequate capacity and resources to provide timely and reliable audits. For governments, there can also be competing priorities. Developing countries may put rapid economic growth ahead of environmental and social protection.Evaluate innovative finance options is key during a time when Sri Lanka is facing fiscal challenges. Trade off occurs between infrastructure development and macroeconomic stability. Models such as Public Private Partnerships and infrastructure REIT's may be an option to explore.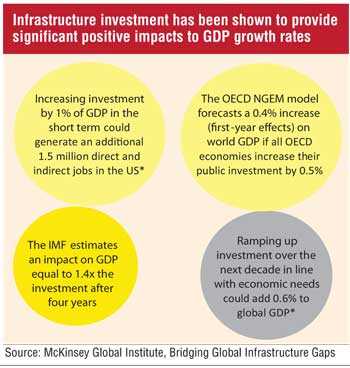 Having said that, the above models need material amount of reforms to be take place in the legal and regulatory system. This is why having a national strategy and an efficient regulatory design on infrastructure is key. Finally, 'Make it Smart', studies done by economics intelligent unit (supported by UNOPS) shows building information modelling (BIM), sensors, and big data will be increasingly important tools which will improve the monitoring of the asset performance and improve the planning of new assets. This can also increase the environmental sustainability of existing assets (making assets future-proof) while cutting costs associated with maintenance.

Latest real word example is Singapore's WaterWiSe system. Using a combination of hardware and software, the system monitors in real time the city's water distribution network. Sensors track indicators, such as pressure, flow rate, pH levels, turbidity and dissolved organic matter. The system enables quicker detection of leaks or burst pipes and facilitates long-term planning for maintenance and system expansion. (www.nrf.gov.sg)

(The writer is a Senior Director at Ernst & Young Transaction Advisory Services with over 15 years of experience in Mergers and Acquisitions, Valuations and Business Modelling and Project Finance and Advisory. The views reflected in this article are the views of the author and do not necessarily reflect the views of the global EY organisation or its member firms.)
Footnotes

1 Excluding the profitability of The Ceylon Fisheries Corporation

2 School Census Report, 2017Source: IMF, Fiscal Monitor 'Debt, use it wisely', October 2016 and OECD Economic Outlook, June 2016