By Graeme Tissera
---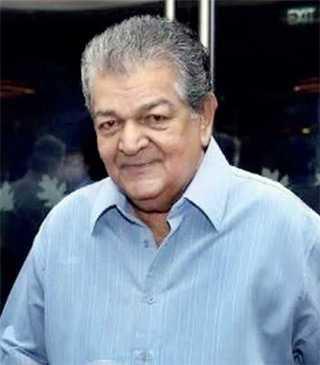 Ajit Chitty
---
The bestowing of legendary acclaim upon a personage is usually in acknowledgement of their accomplishment in a specific discipline, profession or skill. In some instances, individuals that have achieved transformational success through their association with an institution, a just-cause, or even a pressure group, have been included in the narrative of legends. Whilst it is common for Sri Lanka and the world at-large, to have borne witness to personalities that have been afforded such recognition for exploits in a given field, it is rare for one to be revered as a legend for achievement in multiple fields.

Ajit Chitty was an individual worthy of that unique distinction. He was a personality of diverse professions, interests, passions and expertise; a prime example of 'mens sana in corpore sano', an image he earned for himself by being acknowledged for his keen, legal-centric, laser-focused mind, which was complemented by his involvement in numerous physical outdoor pursuits and sporting activities.

Chitty was a keen sportsman of the less athletic kind, excelling in golf, rifle shooting, horse riding and motor rally driving. He had a command and mastery over these pursuits and practiced them with the consummate ease of a natural. His affinity towards the intricacies of these pastimes, inevitably resulted in his peers looking to him to lead the administrative aspects of some of those disciplines, the roles of which he successfully fulfilled, whilst displaying a towering influence of practically accomplished management acumen.

The adventurer and explorer in him accompanied an avid curiosity, which drove him to partake in a variety of pursuits. In time, he was identified as a legendary individual that depicted the very definition of 'been there done that' the knowledge and experiences of which he most willingly shared with those that needed it most. He was a seasoned man, with the experience and competence to navigate the stormy seas and white water rapids of life, a fact that will be readily affirmed by the plethora of those that he counselled and guided through difficult circumstances and overwhelming hard times.

His legendary influence on the business sector, was partly through his involvement as a shipping magnate, where for a short period of time he contributed towards the formation of macro policy for Sri Lanka's shipping industry. However, it was undoubtedly his legendary contribution, impact, authority and control over Sri Lanka's tea industry that was the defining aspect of his career in business.


A tea-man like no other

Ajit Chitty was a tea-man like no other. He grew up in the tea trade of Ceylon controlled by British enterprise. He promptly made his mark by equalling and bettering his English and Scottish peers, by his sheer grasp of the nuances of tea. His passion for tea saw him toil through every agroclimatic tea plantation district of the then Ceylon, with a mission to understand in depth, the defining aspects of how agricultural management, climatic conditions, soil conditions, types of seedling or cultivar, plucking styles, factory elevation, factory machinery and tea manufacturing skill amongst others, influenced the end product of tea.

He became a tea manufacturing legend, who used his in-depth understanding of the factors that influenced the quality of tea, to determine what type of tea is ideally produced on a given plantation. He was also technically and practically adept at demonstrating exactly how it should be done. He combined and complemented that acumen by fine tuning his palate to the sensitivities and individual characteristics of each type of tea.

His legendary tea tasting skills could not only identify the regional subtleties of tea, but also in several instances, reveal through mere taste, the name of the plantation as well. This organoleptic competence ensured that any flaws or taints in the tea were almost immediately rectified, thereby minimising the extent of damage through contamination, the type of fine quality control through taste, which is a rarity these days.

His legendary exploits in the macro administrative and policy aspects of tea are also worthy of mention. He strode like a colossus in the corridors of tea power, using his fine intellect and supreme debating skills to influence policy on a path that would be in the best interests of the country and the tea industry at large. These duties often took him overseas, since the central government at that time frequently looked to him to represent Sri Lanka in matters relating to tea. He accomplished much in those assignments, duly ensuring that Sri Lanka held sway, at the very top of the leadership pyramid of tea growing nations.


The outdoorsman

The outdoorsman in him embraced exploration, the scenic beauty of Sri Lanka and its wildlife. The great outdoors energised him. He always espoused the benefits of fresh air and open spaces, often dismissing the cooling virtues of conditioned air and close confined office spaces as unhealthy. Chitty enjoyed spending time on his various estates and properties around Sri Lanka, some on which he pursued his hobby of horse breeding to a fine art. His love for the outdoors was such that he would often overstay his time and then be led to driving overnight from some distant location, to start the workday in Colombo. Even on those frequent occasions, his energy was such that he would plunge into his duties almost as if he had enjoyed a full refreshing night's sleep.

It is a known fact, one which is now of almost mythical folklore, that he would arrive at the tea auction centre in Colombo from just such a trip, virtually minutes prior to being called upon for auctioneering duties. The challenging nature of those exceedingly unprepared circumstances would visibly energise him, to the extent that one would almost see him revel in it. What would inevitably follow would be a master class in the art of tea auctioning, made possible by his riveting personality and magnetic referent power, together with his command of tea and in-depth knowledge of the buyer profile. Those personal traits would act as the catalyst that would invariably ignite market demand, driving a bullish market trend, to the extent that he would most decidedly and overwhelmingly prevail. Such a display of his plying of craft, would showcase the noble art of the tea broker in all its fine glory, the likes of which are no longer visible or possible in today's bland, impersonal, but perhaps necessary era of the electronic tea auction system.


The lawyer in him

The lawyer in him was always evident, although he never pursued a career in the legal profession. It was one of his most treasured passions, which sometimes even took precedence over tea. He had an inherent legal mindset, which was in evidence throughout his journey in business and in life. It was his father's genetic gift to him, a quality most profound within him. His brilliance of debate was always at the surface, ever present both in verbal and literary elucidation. Those who have been privy to that aspect, would no doubt concur that his rational thought could most often qualify as legal briefs, or even fine academic examples of legal and business templates in the art of arguing or presenting a position.

Ajit Chitty was an ideological champion of deregulation. He loathed and detested what he called the claustrophobic, narrow confines of regulation, for the mere sake of control. His view of regulation was that it was a temporary guide that required periodic review to evolve into fulfilling its core purpose. He often berated the simplistic mindset that enforced regulatory red tape, especially if it lacked relevance and impeded developmental progress.

Chitty never superseded or bypassed rules or regulations. He was exemplary in that aspect. His companies always followed stringent protocols in line with due legal process. However, he was deeply frustrated by those regulations that were illogical, outdated or constituted significant obstacles to overall betterment. He was very much a non-traditionalist, one who embraced the merits of being agile in response to change, as opposed to being bound or impeded by the slow lumbering paralysis of indecision, which is inevitably the offspring of outlived tradition.

Chitty was a quiet, dignified, commanding presence. A man with a unique ability to attract and hold undivided attention through his eloquent verbal articulation. His tone was measured and refined with an undertone of steel. In fact, he rarely raised his voice even in the most trying circumstances, instead ensuring through sheer logic of thought, sound debate and that renowned tone of steel, that his message resonated with those at whom they were directed.


An empathetic man

He was an empathetic man, who swiftly grasped the mindset of those before him. This trait was most evident in conflict situations, where he always kept his emotions at bay, whilst employing wisdom and empathy, to craft, influence and achieve positive win/win outcomes. That empathetic side of him, often resulted in him being fair and just to those that crossed or wronged him, especially if they were at the lower rungs of power. He believed and practiced the adage that those with the greater power and position had the even greater responsibility to be gracious. He was a humane man, who provided unsung relief to those in need, often at considerable personal financial cost.

Ajit Chitty touched the lives of many. It was a positive influence that reached across social strata and cultural spheres. To some it was humanitarian, uplifting them in a time of great need. To others it was a word of encouragement or support at the appropriate time, the impact of which would give them more comfort than he would have ever come to realise. To the many that he brought up in the world of tea, shipping, or some other area of his numerous pursuits of interest, he was a mentor and wise counsel.

To a few in this sphere, his influence was a small piece in their overall jigsaw of life, which nevertheless contributed in some small measure towards their complete persona. To others it was more: a broader defining influence. An aspect which would become part of their identity in such a profound way, that it would remain with them through life. To the latter group, inevitably, their relationship with him would have evolved in time to a close friendship. It would be in this select group that Ajit Chitty will be sorely missed.

They will knowingly or unknowingly carry on his legacy through sheer force of inbuilt habit, such as inherently following appropriate corporate and personal codes of conduct or being led to practicing tea in a manner where it does due justice to the product. They would also in time, mentor and shape the lives of at least a select few, as part of their contribution towards creating the next generation of legends.

Amongst all the great virtues that characterised Ajit Chitty, there was perhaps some fallibility as well. To err is surely to be human, the reality of which does not even preclude legends from indiscretions. In Chitty's case, if there were any, it would most definitely be borne out of his great aversion to being confined, constrained, or being forced to conform to a norm. There were characteristics of a maverick in him, the very epitome of a free spirit, and to understand his compulsions meant being cognisant of that fact.


Fine qualities

Ajit Chitty was many things to many people, but perhaps most recognised as an iconic legend in tea. However, to those who knew him well, it would be his fine qualities as a gentleman, a decent human being, mentor and wise counsel that would resonate most with them. In this vastly compromised contemporary world, increasingly driven and led by materialistic priorities, a man of success is surely more fittingly defined by inner qualities and character, over and above material wealth. It would be these wholesome traits, indiscretions aside that would be the appropriate defining image of this great gentlemen. There is a possibility that we will see some semblance of his kind in the years to come, but it is unlikely that we will ever see anyone quite like him. He was a man as unique in his individuality, as much as he was legendary in his exploits.

May he continue his eternal bliss in absolute peace and tranquillity, with that freedom of spirit that was so much part of his yearning in life, encompassing him always.