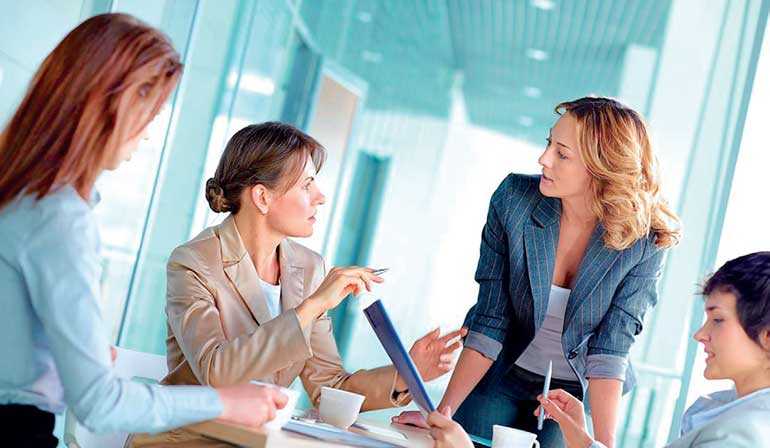 By Ankhi Das

Gender balance is not only a women's issue, it is a business issue. A recent study from the McKinsey Global Institute estimates that women in Asia Pacific, if given equal opportunities at work, would create additional GDP, equivalent to an economy the combined size of Germany and Austria each year. But looking beyond economic gains, when women lead, they are also active role models of change and progress for their communities.

Take the story of Lonali Rodrigo, who graduated from design school just six years ago and saw a huge opportunity to create products by upcycling the waste generated by the apparel industry. She felt that the best way to contribute towards the environment was to turn waste into something beautiful. House of Lonali started their Facebook page in 2011 even before she sold her first product.

The idea was to educate people about waste sourcing, manufacturing and build a market for upcycled fashion locally. Building on the audience awareness, Lonali set up their Instagram account to tell the story more visually and convey the inspiration that can be created even with waste materials. House of Lonali also uses WhatsApp as a networking tool to stay in touch with customers and increase sales by being responsive to any customer who reaches them on the platform from any part of the world.

Lonali said that using social media took her environmentally friendly, upcycling story to thousands of people and gave her the confidence to take the next step. She launched a retail store in the UK a year ago and is focusing on expanding into the Middle East and Singapore this year, with Australia and the US next on her list. Her goal is to design new products and make upcycling a global trend so that less waste ends up in landfills.

As we celebrate women like Lonali and their achievements on the occasion of International Women's Day, we also have a duty to recognise the hurdles women still face and find the pathway to a more gender-balanced world.

To gain a deeper understanding of the differences between male and female business owners, their experiences, and their needs, we mined the Future of Business Report – a collaboration between Facebook, the World Bank and the OECD to survey the 90+ million small businesses on Facebook around the world. It is one of the widest, most global survey of SMBs ever conducted.

The latest report shows that in Asia Pacific, women business owners on Facebook still face significant funding challenges, with many stating that they currently have a bank loan or a line of credit. We know this is consistent with the challenges faced by women entrepreneurs across the region. Apart from finding it difficult to raise external funding, they often need to work twice as hard to balance professional and familial demands and they are more likely than men to run businesses out of their homes – which can deprive them of the networks needed to grow and scale.

Yet there are many reasons to be optimistic. The flexibility offered by digital technologies is levelling out the playing field. It has enabled a new generation of women entrepreneurs and even one-woman micromultinationals who tap into the power of community and conversation to grow their businesses. Around the world, a substantial proportion of small businesses on Facebook are owned and led by women. In the 95 countries surveyed, we found that nearly four in 10 (39%) of people identifying as owners or managers of small businesses on Facebook are women.

In Asia Pacific, women business owners on Facebook report the helpfulness of social media to their business at a rate that is statistically higher than their male counterparts. Women business owners on our platform are also benefitting from the role of community and mentorship.

Connection and mentorship can often make the difference between having a dream and realising it. This is why we continue to invest in #shemeansbusiness – a global initiative designed to help women take the next step in their business ventures. The program provides financial support, advice, training and a supportive community of mentors and peers. Today, we have trained over 136,000 women across the world.

It is exciting to see this vibrant community of women-led businesses on our platform and be part of their growth story. When women entrepreneurs can access the funding, technology and skills needed to succeed, it also enables them to share knowledge and build the future of business together.
(Ankhi Das is the Director of Public Policy for Facebook in India and South and Central Asia. She has 18 years of public policy and regulatory affairs experience in the technology sector.)