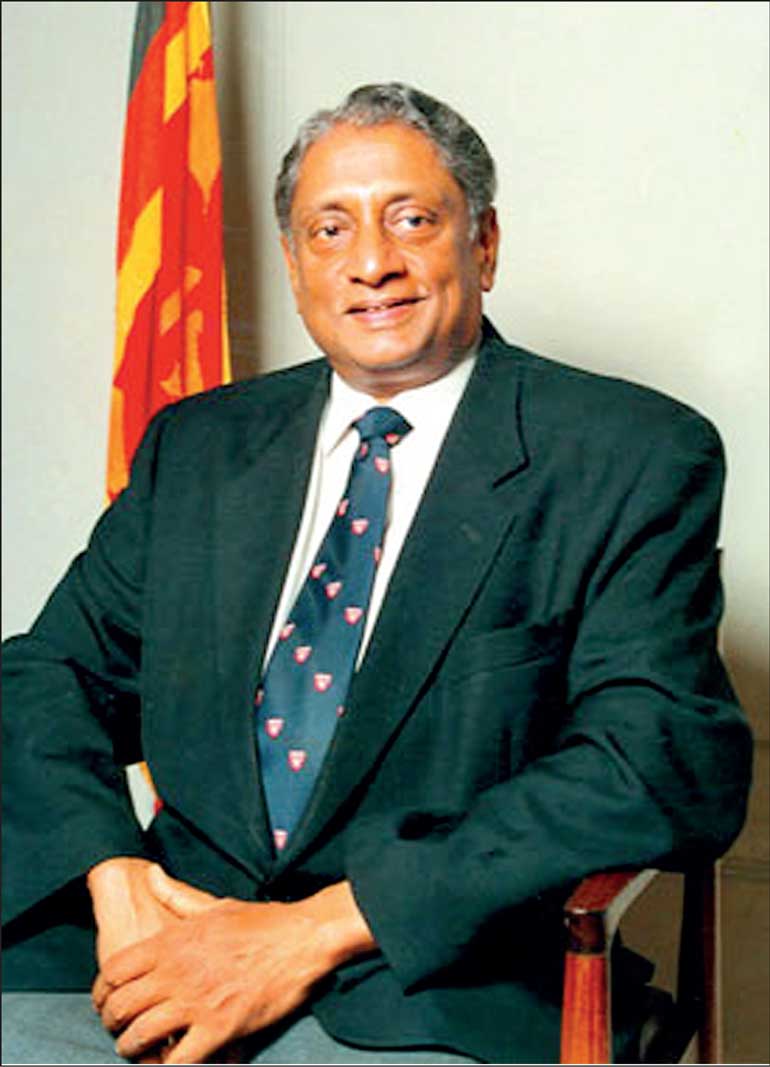 Lakshman Kadirgamar, the best man for the job of Foreign Minister
---

Former Sri Lankan Foreign Minister Lakshman Kadirgamar was assassinated in Colombo by the Liberation Tigers of Tamil Eelam (LTTE) on 12 August 2005. This column intends focusing on the man regarded as Sri Lanka's finest foreign minister this week even as his 16th death anniversary draws near.

I have written extensively about Lakshman Kadirgamar over the years, so much so that his only daughter Ajita has stated in her book about her father that "D.B.S. Jeyaraj has written about LK possibly more than any other journalist."

Ajita Kadirgamar's eminently readable book about Lakshman Kadirgamar titled 'The Cake That Was Baked At Home' has 78 references to lines and passages from my articles. She even says on one page that she 'would almost term me as "LK's unofficial biographer"'.

It is against this backdrop therefore that I write on Lakshman Kadirgamar again drawing on my earlier writings also. This article will be of two parts. The first will relate some details about Kadirgamar's interest in politics in his younger days and the circumstances under which he entered Parliament later and became a prominent cabinet minister. The second part will outline briefly my personal interaction with him.

Lakshman Kadirgamar graduated from the Peradeniya University in 1953 with a LLB (Hons) degree. He entered Law College in 1954 and passed out as an Advocate. He was admitted to the bar in 1955. Thereafter Lakshman proceeded to the UK for studies at Oxford University where he distinguished himself as President of the Oxford Union. He returned to Sri Lanka in 1960 with wife Angela and daughter Ajita.
Contemplating a political career
After his return, Lakshman began exploring prospects of a political career. It is interesting to note that Kadirgamar at that time was contemplating a political future as an elected MP from the north. He was ardently wooed by both the Federal Party (Ilankai Thamil Arasuk Katchi) and the All Ceylon Tamil Congress. Both S.J.V. Chelvanayagam, Leader of the FP, as well as ACTC Leader G.G. Ponnambalam extended invitations personally. Though he never joined those parties or participated actively in politics then, Kadirgamar interacted closely with Tamil politicians of that period.

He also made several visits to Jaffna during this time. One objective was to rediscover his roots. Another was to scout around for a prospective electorate. Though his own family was now Colombo based, there were several others of the extended Kadirgamar family in Jaffna, including my former Principal at Jaffna College, Rajan Kadirgamar, who was Lakshman's first cousin.

During one of his Jaffna trips in the sixties Kadirgamar addressed the Jaffna YMCA on an interesting theme. His lecture was titled 'From Plato to Sirimavo'. When excerpts of that lecture were carried in newspapers Mrs. Bandaranaike was reportedly annoyed. Years later she herself telephoned Lakshman inviting him to join her daughter President Chandrika Kumaratunga's cabinet of which the grand old lady was Prime Minister. She added her voice then to numerous others urging Kadirgamar to enter active politics.

He was also a keen student of history and very much interested in that of the Jaffna kingdom. Though his pro-Tiger critics used to chide him as an ignoramus in the history and traditions of Jaffna people, those who have heard him speak on such subjects were amazed at his knowledge and insight.
Tamil representation in Colombo
What led Kadirgamar to give up ideas of entering politics in the '60s and then do so 30 years later in the nineties?

Sir Arunachalam Mahadeva, son of Sir Ponnambalam Arunachalam, once lamented that when universal franchise was introduced in 1931, he had to go "far" to Jaffna in search of a constituency though he had lived for the greater part of his life in Colombo. This was Lakshman Kadirgamar's dilemma too when he began toying with the idea of entering Parliament in the '60s of the previous century.

Though the multi-member constituencies of Colombo Central (3) and Colombo South (2) were carved out in that manner to provide for Tamil representation, things never turned out that way. The mainly upper and upper middle class voters of Colombo South preferred J.R. Jayewardene of the UNP and to a lesser extent Bernard Soysa of the LSSP over and above any Tamil candidate.

The pre-dominantly lower middle class and working class Tamils of Colombo Central cast their votes for Pieter Keuneman and later Ranasinghe Premadasa. Bala Tampoe in 1960 and M.S. Sellasamy in 1977 failed to win. Yet Sellasamy won later in 1989 under proportionate representation for the entire Colombo District. Subsequently P. Devarajan, R. Yogarajan, Mano Ganesan, T. Maheswaran and Praba Ganesan have also demonstrated that elected Tamil representation is possible in Colombo.

This was not the situation in the '60s. With G.G. Ponnambalam and S.J.V. Chelvanayagam evincing an interest in enticing the Oxonian prodigy to their ranks, young Lakshman, like A. Mahadeva before him, had to look northwards.

Lakshman had accompanied Justice E.F.N. Gratiaen as secretary on several trips to Jaffna in the '50s. Being secretary to the Judge was a reward for his academic brilliance in law. Apparently an arrangement had been worked out by Prof. T. Nadarajah in this respect with Gratiaen.
Political chances in the peninsula
These trips to Jaffna kindled Lakshman's enthusiasm for discovering his roots. He also read up vividly on Jaffna history and familiarised himself of the evolution and growth of Jaffna. This grasp of history may have played a part in Kadirgamar's attitude towards separatism. No true intellectual could accept the half-baked versions of history propagated by both the pro and anti-Eelam forces. Later in the '60s he began visiting Jaffna again prospecting for a constituency.

Lakshman's enthusiasm however was short-lived for two reasons. One was his discovery of the state of politics in the north. Tamil nationalism had risen to the fore and demanded pandering to that concept by prospective candidates. This narrow nationalism was not to his liking. Besides he was unable to even speak Tamil fluently and could not make a political speech in Tamil. Also, despite his ancestry, he had no base in Jaffna. It was doubtful whether Lakshman could face the hustle and bustle of Jaffna politics, let alone win a poll.

His Jaffna-based cousins gave him their candid views on his political prospects in Jaffna. Lakshman realised that his political chances in the peninsula were slimmer than the Isthmus of Aanai Iravu (Elephant Pass). He was further discouraged in his political ambition by his elder brothers in Colombo, Sam JC Kadirgamar, the lawyer, and Rajanathan (Rajan) Kadirgamar, the Naval Commander. Both advised him to drop his political ambition and concentrate on law.

Their father SJC (snr) had established a lucrative practice in Colombo and was also the Founder President of the Ceylon Legal Society. Lakshman heeded the advice of his brothers and cousins and began building up a legal practice. There are some of Lakshman's relatives who believe that he would have never entered politics had his two elder brothers been alive. Both Rajan and Sam had passed away before Lakshman entered active politics in 1994.

Lakshman Kadirgamar returned with his family to the UK in 1971 after the 1971 JVP insurgency. He lived abroad for 17 years and returned home to Sri Lanka again in 1988. Kadirgamar resided in Colombo and re-established his legal practice.
Entry into active politics
The politics of Chandrika Kumaratunga in the early '90s heralded a bright, new dawn for the country. There were high hopes that a negotiated settlement to the ethnic conflict was in sight. It was a period of idealistic fervour. It was in such a climate that Kadirgamar decided to enter politics in support of Kumaratunga.

Lakshman deciding to join the SLFP in 1994 was a significant development as his family, on account of its class character, had been staunch UNP loyalists. Elder brother Sam Kadirgamar was the chief counting agent of Dudley Senanayake in 1965. Sam was offered an ambassadorship to Moscow which he declined. It was said that had Dudley returned to power in 1970 Sam may have been Justice Minister. Retired Naval Chief Rajan Kadirgamar too was a corporation chairman under the JR regime.

Initially the person who persuaded Kadirgamar to enter politics by joining Kumaratunga was the late Dr. Neelan Tiruchelvam of the TULF. He was ably supported by the recently deceased lawyer Manouri Muttetuwegama – wife of Sarath Muttetuwegama (CP) and daughter of Dr. Colvin R. de Silva (LSSP) – in this mission. One of Lakshman's relatives, former Bank of Ceylon Chairman Rajan Asirwatham, also influenced him in this regard.

Lakshman was placed on the SLFP National List. The only Tamil candidate from the SLFP with a chance of winning at the 1994 hustings was lawyer Ketheeswaran in the Wanni. Kethees was the former TULF Urban Council Chairman in Vavuniya. But he did not win. So Kumaratunga had to appoint one Tamil as National List MP. This naturally was Lakshman.

The new Government had a majority of one through Up Country People's Front Tamil MP Chandrasekharan. He and Kadirgamar were the two Tamil representatives in the new Government initially. Kumaratunga offered them both deputy minister posts as she wanted to restrict her cabinet to 20. Chandrasekharan accepted but not Kadir.

Lakshman, who rarely projected himself as a Tamil, did so then. He pointed out that his community would consider it an insult if he was only to be given a deputy ministership. Chandrika agreed. It was a choice of Justice or Foreign Affairs. Lakshman wanted the latter. He was immensely equipped for it.

Thus a member of the Kadirgamar family became a Member of Parliament and Cabinet Minister. The dominant professional strands in the family were law, Christian clergy-hood, teaching and service in the armed forces. Now for the first time an active full-time politician emerged.

On the day that Lakshman was sworn in as minister in 1994, in the early hours of the morning, a man was seen praying alone in the Buller's Road Anglican Cathedral. The then Bishop Kenneth Fernando was walking in when he noticed this. That man was Lakshman Kadirgamar.
The best man for the job
Kadirgamar proved subsequently that he was the best man for the job of Foreign Minister. In the post-independence years, Defence and External Affairs portfolios were the preserve of the Prime Minister. It was under JRJ in 1977 that a departure was made and A.C.S. Hameed became Foreign Minister.

It is broadly acknowledged that Kadirgamar was the best Foreign Minister the country ever had. To many people Kadirgamar was the best Foreign Minister because he spearheaded an anti-Tiger drive. But the man's greatness was in clearing up the Augean stables prevailing in the Ministry due mainly to the cronyism of previous ministers.

It was another Tamil, Sir Kandiah Vaithiyanathan, as Permanent Secretary who set up a modern foreign service after independence. It was Lakshman Kadirgamar who restructured and professionalised the service. Those who worked with him from permanent secretary to peon would vouch for this. This then was how Lakshman Kadirgamar entered active politics and became Foreign Minister.
Personal interaction
I shall now write about my personal interaction with Lakshman Kadirgamar. My late father was older than Lakshman Kadirgamar but they were contemporaries at Law College in 1954. I was born in 1954 and apparently Lakshman Kadirgamar was at the hospital to see the new babe. He also came for my baptism.

My father lost touch with him in the '60s but always spoke highly of his brilliance. He also said that Lakshman, though inarticulate in Tamil, was deeply concerned about issues like Sinhala being made the sole Official Language, the 1956 and '58 violence and the suppression of the Satyagraha campaign in 1961.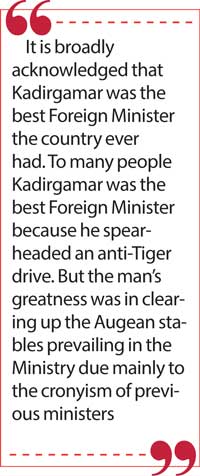 LK and the Tamil plight
My father never accepted the Tiger accusation that Kadirgamar was oblivious to the Tamil plight. This was my experience too in later years.

I made contact with him in 1994 due to the efforts of Dr. Neelan Tiruchelvam. I was then editing my own Tamil weekly in Toronto. Kadirgamar had become a Cabinet Minister and was taking a keen interest in helping resolve the national problem. Neelan asked me to speak to Kadirgamar as the new Minister was very keen on gaining an insight into the issue and wanted to talk to me. I think we spoke for about four or five times on the telephone. One call in particular was extremely long, extending for about 90 minutes.

I found him very much interested and concerned about the Tamil issue. He was a keen listener and extremely polite even when disagreeing with something. I was then an ardent Tamil nationalist, believing fervently in the bona fides of the LTTE. I was one of those Tamils who thought naively then that the LTTE was fighting for the welfare of the Tamil people and not in the interests of its leadership. Like many Tamils of a similar mindset, I thought that the LTTE was prepared for a just, equitable and honourable settlement in a united but not necessarily unitary Sri Lanka.

Kadirgamar was extremely receptive and agreed that federalism would be the ideal solution. But he had reservations on two counts. One was that he felt any realistic solution had to be acceptable to the majority of the Sinhala people as otherwise it would not be implementable. Therefore he opined that the concept federalism should be avoided and maximum devolution substituted instead. Secondly he said that any settlement had to be on lines acceptable to India. Therefore powers to be devolved to the periphery should not go too much beyond the Centre-State relationship parameters of India, he felt.
Political reconciliation
Apart from this he too subscribed initially to the school of thought that a settlement was necessary with only the LTTE from the Tamil side. The Kadirgamar of 1994 firmly believed in political reconciliation with the LTTE.

Kadirgamar spoke with a lot of Tamils to assess the situation. One person with whom he discussed the issue frankly and deeply was the late CSI bishop of Jaffna Rt. Rev. D.J. Ambalavanar. I suppose that most Tamils like myself would have told him that the LTTE was keen on a settlement but had to tread the path of transition warily and slowly. He accepted that and within the folds of Government firmly pushed that line in 1994 and early 1995.

He was thoroughly shattered in 1995 when the LTTE broke faith and resumed hostilities on 18 April. My last conversation with him was a few days after this. Kadirgamar was agitated despite his customary aplomb. He was critical of me and all those who spoke positively of the LTTE. I remonstrated and when there were signs of a prolonged argument he wound up the conversation abruptly yet politely. I never spoke to him afterwards.
Intimidation campaign and LK's support
Meanwhile the war went on. The LTTE suffered reversals during Operation Riviresa. The local Tigers in Toronto for reasons of their own launched a campaign against my newspaper 'Muncharie' because it was reporting battlefield news accurately and impartially. They wanted me to publish glowing accounts of imaginary LTTE successes.

When they found violence, threats and intimidation against me were not working, they began targeting my predominantly Tamil advertisers and the Tamil shops retailing the paper. I opted to 'die on my feet' by shutting the paper down rather than 'live on my knees' toeing the LTTE line.

I began writing for 'The Island' In Sri Lanka where I had cut my journalistic teeth in English. When some of those articles criticised the LTTE, their minions in Toronto again began a campaign of intimidation. Death threats were issued systematically over the phone and in some Tiger media. I mentioned this to some friends in Colombo who were upset by this. They wrote an appeal on my behalf. One friend holding a high position in an international organisation added the weight of that person's position to that appeal.

When some journalists informed Kadirgamar about my plight he responded promptly. The Sri Lankan Foreign Minister immediately wrote to his Canadian counterpart Lloyd Axworthy and asked him to ensure my protection. This was acceded to and there was a crackdown on those behind the campaign by Canadian law enforcement agencies. The intimidation campaign ceased. I shall remember Kadirgamar's role in this with gratitude though I had to be critical of him as a journalist in spite of this.
An anecdote
Some time ago I had an exchange of e-mails with former Foreign Ministry Secretary H.M.G.S. Palihakkara regarding an article. During the course of that exchange Palihakkara mentioned an anecdote relating to myself that concerned Foreign Minister Kadirgamar and himself. I shall conclude this article by publishing an extract from that e-mail with Palihakkara's permission. This is the excerpt:

"I recall when someone suggested to the late Lakshman Kadirgamar that the Government must get journalists like DBS to write 'balanced pieces' to counter the Tiger propaganda, the late Minister said, 'Implicit in your suggestion is the proposition that what Jeyaraj writes now is not balanced' and that he is the kind of professional who will not accept that! We were at a meeting. He looked at me (I was the Foreign Secretary then) and I said that I fully agree – the best we can do is to let DBS do what he does best – write freely! This was about six months before he was brutally gunned down. I did not know you personally then but I knew and appreciated what you wrote including in 'The Island'."
---
(This article is a modified version of two articles written earlier)

(D.B.S. Jeyaraj can be reached at dbsjeyaraj@yahoo.com)
---