Bilateral trade in 2016 was Euro 900 b and Euro 1.2 b in 2017
Investors look for political and economic stability in Sri Lanka
Govt. needs to ensure security to stop politicians and extreme religious voices play political games
German Chamber of Commerce office opens in Colombo on 27 March
Sri Lanka has potential in maritime business like in Singapore
Commenting on the recent clashes in Digana, Kandy, German Ambassador in Sri Lanka Jorn Rohde said it was very important that the Government acted decisively to stop racial hatred sustainably to guarantee that these unfortunate incidents would not happen again next year.

"It is very important that the Government practices a zero tolerance policy against the perpetrators who spread racial hatred and instigate violence," he said.

In an interview with the Daily FT he discussed Germany's support to the Government in its reforms agenda, the strengthening of trade relations between the two countries by opening the German Chamber of Commerce in Colombo next week, the importance of bringing new laws against hate speech and what Sri Lanka needs to become the maritime hub of the South Asia.

"Sri Lanka's Ease of Doing Business ranking is at 111, the rankings on the Corruption Index and Competitive Index show a lot of room for improvement. Sri Lanka can become a hub if you have high rankings in these indicators," he explained.

Rohde noted that the ambition and the vision of the Government were right but it needed to walk the talk.

Following are the excerpts:
Text and Pic

by Shanika Sriyananda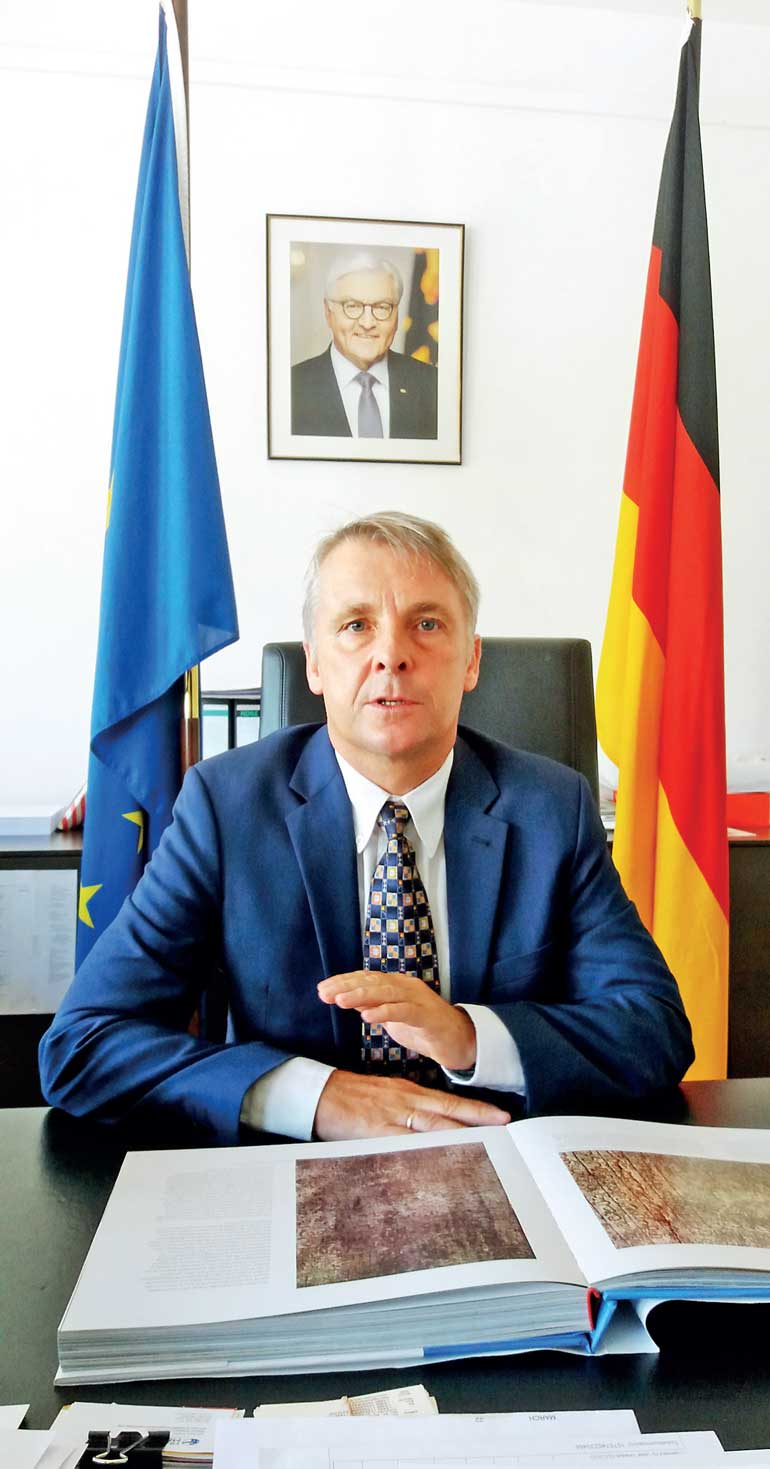 German Ambassador Jorn Rohde


Q: For over six-and-a-half decades, Germany has been a reliable partner for Sri Lanka. What are your reflections on the German-Sri Lanka historical relationship?


A: Yes, we have had excellent relations. At the moment we are very happy that we are about to open a German trade office in Sri Lanka. Germany supports the new Government in its reform agenda in reconciliation, unity, economic and democratic reforms and human rights and also economic modernisation. It is the right thing to do but the Government needs to walk the talk.


Q: Germany is Sri Lanka's fourth largest trading partner; do you think there is much more potential to develop trade relations between two nations?


A: Our trade relations are dynamic in 2014, where we had a bilateral trade of Euro 700 billion. In 2016, it went up to Euro 900 billion and in 2017 it reached Euro 1.2 billion. Therefore, within four years it has recorded over 50% growth. Germany, being the largest economy in the EU, is increasingly investing in Sri Lanka. The traditional Sri Lankan exports and re-granting of GSP Plus have also boosted Sri Lankan exports.

Last year we saw a growth about nearly 15% of Sri Lankan exports to Germany and 80% increase of German exports. It is very important for Sri Lanka to use that window opportunity to broaden its export portfolio beyond the traditional products like textiles and tea. The GSP Plus is the prime opportunity because Sri Lanka has a four- or five-year window where you can export over 6,000 products to the EU duty free and this will be further facilitated by the opening of the German trade office in Colombo.


Q: Sri Lanka plans to become a trading hub in the South Asian region. How important do you think it is for Sri Lanka to undergo economic modernisation?


A: It is very important for Sri Lanka to undergo economic modernisation, which means opening up the economy to become the hub of South Asia as the Government proclaims. At the same time the Government – I acknowledge – faces a difficult situation with the inherited debt burden caused by such vanity projects like Mattala Airport, which lies idle. All hubs which we know in Asia – Singapore, Hong Kong and Taiwan – have been successful because they are open economies and they have great infrastructure and an efficient legal and non-corrupt environment. The ambition and the vision of the Government are right but as I said in the beginning it needs to walk the talk.


Sri Lanka's Ease of Doing Business ranking is at 111, the rankings on the Corruption Index and Competitive Index show a lot of room for improvement. Therefore, Sri Lanka can become a hub if you have high rankings in these indicators. Another point is that if you are going to have a hub then it should be much better than that of your neighbours. The market size of Sri Lanka is small and when you are small you have to be better because you don't have a big market. Take Europe; Switzerland is a small nation but doing excellent. It is not rocket science but you just have to work hard towards achieving that. The Government has to broaden its tax revenue system.

Secondly, there should be more regional integration. South Asia is economically the world's least integrated region. Sri Lanka recently signed a Free Trade Agreement with Singapore and there is an issue in this region when you don't trade with the neighbours which are the biggest trading partners. Germany's biggest partners are its neighbours. In the US, its trading partners are Canada and Mexico and even Japan looks for China and Korea, but here Sri Lanka's biggest trading partner is the US or Europe. Therefore, there is a need to develope the Indian and Bangladesh markets. Germany and the EU will remain as your open and reliable partner but you have to look for your neighbours to increase integration and open up economies from both sides.


Q: You mentioned the opening of the German Chamber of Commerce in Colombo soon. Could you expand on this?


A: Germany is one of the most export-oriented economies in the world and lot of German companies are very active in the world market, not only in the traditional car industry but also in hospitality, machinery and tourism sectors. The German companies are increasingly set up representative companies here because our bilateral trade is growing.

We will open the trade office on 27 March and it is also Germany's recognition that Sri Lanka is moving ahead in its economic modernisation efforts. With bilateral trade showing a significant improvement, the opening of a trade office will help to bring more German companies to Sri Lanka. The trade office will be a bridge and a trade facilitator for German companies and also for Sri Lankan companies which want to enter the German and European markets.

The trade office will be tasked to provide trade fair services, organising business delegations, providing legal advice and also facilitate to market entry. Initially, the German Trade Ministry will support financially but later it will develop into a fully-fledged Chamber, in which German and Sri Lankan companies can become members. The opening of the trade office will coincide with visit of a high-ranking trade delegation to Sri Lanka led by Dr. Martin Wansleben, CEO of the Association of German Chambers of Industry and Commerce with more than three million members.


Q: Some analysts claim that the present political situation coupled with the unrest in the country will hinder investment opportunities for Sri Lanka. What are your views?


A: For every investor, political and economic stability are key factors as they want reliability and safety for their investment. The recent political unrest doesn't help for sure. It is very important that the Government practices a zero tolerance policy against the perpetrators who spread racial hatred and instigate violence. The perpetrators who have been caught, if there are evidence for their involvement, should be sentenced using the legal means available in the democracy giving a clear sign that there won't be any tolerance for such behaviour any more. In the past, there had been impunity too often.

I read an article by Ven. Galkande Dhammananda Thero who said that Sri Lanka has experienced violence since independence repeatedly. This has to be stopped because the country needs economic and political stability. I don't understand that some people say that outsiders are influencing in Sri Lanka's destiny; I say that its destiny is in its own hands and it is very important that the Government acts decisively to stop racial hatred sustainably to guarantee that these unfortunate incidents will not happen again next year.

The Government has taken some important decisions to set up the Office of Missing Persons, passing the Enforced Disappearances Act and revisions of counterterrorism acts. All these moves are not imposed by outsiders. It is a great thing for Sri Lanka to have an office for the families of missing persons to direct their grievances. I can remember my father's family which had 10 siblings who got spread all over the country during the Second World War. We had offices like this to look for missing persons and it is a great help for the society to heal wounds and to know what has happened to their loved ones. I don't see any political dispute out of that.

Another fact that Ven. Dhammananda Thero highlighted was Sri Lanka has a history of communal clashes, which do not only tarnish the image of the country but also held the country back. In 1948, after Sri Lanka's independence Japan's GDP was higher than only to Sri Lanka and you know where Sri Lanka stands today. As a Government minister once told me, too often Sri Lanka has 'missed the bus' because of these kind of events. In order to get out of that negative cycle it is paramount for the Government to act with zero tolerance in the margins of rule of law against the perpetrators.


Q: The Government's sudden move to block social media networks was highly criticised by different segments of society. What are your views?


A: Steps to block social media networks were taken temporarily to prevent unrest and spread of social hatred via social media. When peace and stability was restored then you can justify for a short while and I have no problem with it per se. The Government is planning to introduce legislation to prevent spreading of hatred and violence. Germany and other countries have recently enacted such legislature.

In Germany, we are still in the trial and error phase as it is a new media. According to what I read in the papers, at the beginning of the unrest the Police didn't react accordingly. Police needs more training because it is the first line of defence of these reactions.

I also read an interview by Minister Rauff Hakeem who said it was a mob violence and was instigated. The State has to ensure the security of its people, otherwise politicians and other extreme religious voices will use that to play a political game.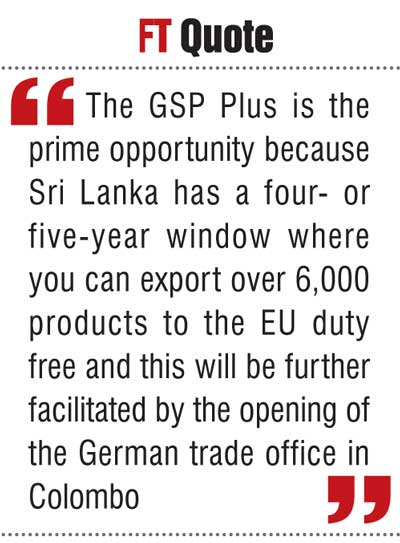 Q: Germany is an ardent supporter of Sri Lanka's reconciliation process. What is your view on the progress so far?


A: We support Sri Lanka's policy and the President Maithripala Sirisena's policy of national unity and reconciliation. It is a pre-condition for sustainable prosperity. How can you build up a successful country when its people are always engaged in conflicts? We support Sri Lanka similar to how we support other countries through launching different projects. Two years ago, Germany built a vocational training centre in Kilinochchi where apprentices belonging to all communities work and study together in a state-of-the-art education centre. We are planning to support another vocational training centre soon in Matara, in the south. This is to contribute practically to the nation's reconciliation process.


Q: How important is Sri Lanka's geographical location for German investors and entrepreneurs to get access to key markets in Asia?


A: Sri Lanka has a prime location as it is giographically located on the important shipping lines in the Indian Ocean. The Government is promoting the hub concept by advocating the freedom of navigation in the Indian Ocean. Sri Lanka has the potential in other areas of maritime business like Singapore. But the other parameters, which I mentioned earlier, need to improve.


Q: Germany is also one of the main development partners to Sri Lanka. What are the new projects implemented to support the country's development process?


A: Germany and Sri Lanka have some common features; we both have natural resources and we rely on them. Our main natural resource is our own people and their skills. Germany invests a lot in not only enhancing skills among academics and professionals but also in vocational training.

In Germany youth unemployment rates are one of the lowest in the developed countries. This is why Germany supports Sri Lanka to enhance skills among Sri Lankans by setting up vocational training centres. Germany is also supporting to build up health infrastructure in Sri Lanka. We gave loans to build a maternity hospital in the south.

Sri Lankan products also need to fulfil necessary standards to enter developed markets like the EU. A small example is organic agricultural products like tea, coffee and spices. You can only successfully export them if these products are certified by recognised agencies. Especially when it comes to organic tea, spices and coffee, they look for higher quality. If you achieve that as a business the benefit is generally good margins. Sri Lanka needs to invest in quality.

In the textile industry Sri Lanka has successfully proven that it can compete on the global stage: Companies like MAS and Brandix export their products to the US and Europe. Sri Lanka is no longer a low wage country like Bangladesh. If you don't allow competition, then you will not be able to modernise the economy.


Q: How would you predict the progress of bilateral relations between the two nations in 10 years?


A: We always have excellent relations and there is also a sizeable Sri Lankan community who migrated during the war time who are in Germany and they are very well integrated into society. I see a bright future especially in expanding our trade volume if Sri Lanka further modernises its economy as announced by the Government.