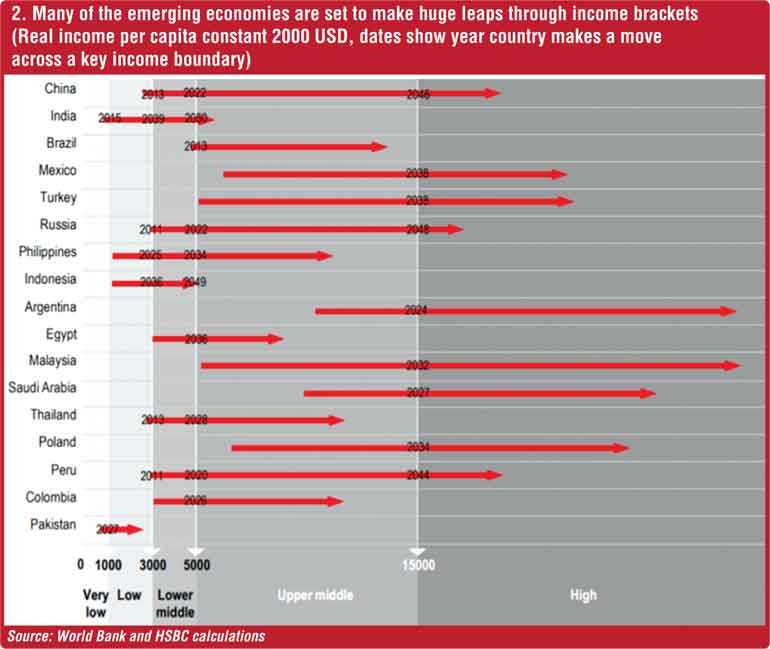 This article is based on a paper presented by Shippers' Academy Colombo CEO Rohan Masakorala at the Asian Security Conference in New Delhi last week
What is global scale commerce? A student form University of Kerala on the internet described it simply as "commerce on a global scale. You do have stores nearby your home, and they supply to the needs of customers who are local or within the vicinity of the store. In global commerce, you cater to the needs of the world, where your products or services are required".

Global commerce (trade in between nations) will be a key pillar in the growth of all economies. Just as at today, seaborne transportation which accounts for nearly 90% of global trade will be one of the most important elements of the future which will connect markets and products to sustain international GDP growth.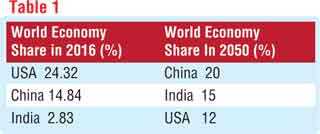 Sea lines of communication (SLOC) is a term describing the primary maritime routes between ports, used for trade, logistics and naval forces. The growth of global commerce depend on how best international trade connects to such sea lines of communications.

It is a vital strategic interest for all nations to secure efficient and uninterrupted sea lanes to expand trade and global commerce as in this century more and more people are getting connected to the international supply chains via technology.
This paper highlights and gives a snapshot of global commerce and how it would impact the global shipping industry and sea lanes of transportation, forecasts up to 2050 are taken into consideration which is based on studies done by international agencies.

The paper considers macro-level growth forecasts based on population growth, economic growth, consumption forecast, and energy demands rise of the world. These are fundamental areas of growth that will impact on all areas of global commerce and impact the transportation industry.

The sea borne transportation will be a crucial link between trade, markets and commerce as of today, but by 2050 the geographical regions that expand trade faster is along the Indian Ocean countries and its sea lanes will be crucial for supply chains to many countries of the Indian Ocean.

Derived demand for energy, food, raw materials, semi-finished and finished merchandise along with coastal passenger shipping is bound to increase many folds over the next three decades in line with economic and population growth of the world.

As such seaborne transportation and sea lines of communication are vital and strategic interest to sustain supply chains. Effective supply chains provide competitive logistics for countries to be party to international trade. Securing such sea-lanes and strategic distribution nodes are important to all countries to ensure domestic and international economic growth without hindrance. In this scenario, the Indian Ocean is identified as a key player on maritime activities and transportation.
The world population growth

The population on planet earth has crossed 7.6 billion and is on the move towards 9.2-9.9 billion within the next three decades. Simply this means governments and nations across the planet will have to continue to find mechanisms to grow and sustain economies to manage the demand growth for consumption and to maintain or improve sustainable life styles whilst at the same time responsibly managing the limited recourses of the planet.

Whilst the population growth percentage will decline, the real number of population will increase up to 2050 before it starts stabilising. The important factor to note is that due to increased technology and information with greater education, the poverty levels across the world will keep on decreasing and a massive increase of middle class consumption is going to create demand for resources which will drive upward pressure on energy and food production, whilst the world will have to manage the very serious climate changes which will have new challenges for sources such as drinking water and water for agriculture.

The coastal population in the Indian subcontinent is forecasted to be increased rapidly along with rest of Asia and the infrastructure for ports and logistics will be a key requirement for all coastal states to sustain the commerce growth and support economic expansion. It is vital that governments continuously study and plan for the demographic shifts that are happening due to urbanisation of the coasts which connects to international and national maritime routes and gateways.
The world GDP growth and economic expansion

The global economy is estimated to be $ 80 trillion worth as at 2017 and the US is leading with China at the second place, but by 2050 it is projected that this order is going to change, and the world economy will be nearly $ 200 trillion with an estimated 130% growth in a period of three decades. The consequences and opportunities of this phenomenal growth is huge for ocean transportation, certainly sea lanes are going to be more important and vital to sustain such demand and growth.

The PWC global growth projections for 2050 for 32 of the largest economies in the world, accounting for around 85% of world GDP point out the following.

It predicts that China will account for 20% of the world economy, with India at 15% and the US at 12%. That's a big change from 2016, when the US was beating both China and India by a big margin – see table 1.

Accordingly,


The world economy could more than double in size by 2050, far outstripping population growth, due to continued technology-driven productivity improvements
Emerging markets (E7) could grow around twice as fast as advanced economies (G7) on average
As a result, six of the seven largest economies in the world are projected to be emerging economies in 2050 led by China (1st), India (2nd) and Indonesia (4th)
The US could be down to third place in the global GDP rankings while the EU27's share of world GDP could fall below 10% by 2050
UK could be down to 10th place by 2050, France out of the top 10 and Italy out of the top 20 as they are overtaken by faster growing emerging economies like Mexico, Turkey and Vietnam respectively
But emerging economies need to enhance their institutions and their infrastructure significantly if they are to realise their long-term growth potential


(https://www.pwc.com/gx/en/issues/economy/the-world-in-2050.html)
Growth of energy

It is estimated that the current consumption of primary energy from 13.5 million tons today will increase to 20 million tons by 2050. According to BP's Statistical Review of World Energy, world primary energy consumption reached 13,511 million tons of oil equivalent in 2017 (BP 2018). Between 2007 and 2017, world primary energy consumption grew at an average annual rate of 1.5%. The report further identifies the following as of 2017.


World oil consumption (including biofuels) was 4,622 million tons of oil equivalent in 2017, accounting for 34% of the world primary energy consumption (BP revised the measurement of oil consumption in 2018)
World natural gas consumption was 3,156 million tons of oil equivalent in 2017, accounting for 23% of the world primary energy consumption (BP revised the measurement of natural gas consumption in 2018)
World coal consumption was 3,731 million tons of oil equivalent in 2017, accounting for 28% of the world primary energy consumption
World consumption of nuclear electricity was 596 million tons of oil equivalent in 2017, accounting for 4.4%
World consumption of hydroelectricity was 919 million tons of oil equivalent in 2017, accounting for 6.8%
World consumption of wind and solar electricity was 354 million tons of oil equivalent in 2017, accounting for 2.6%
World consumption of geothermal, biomass and other renewable electricity was 133 million tons of oil equivalent in 2017, accounting for 1.0%
(http://peakoilbarrel.com/world-energy-2018-2050-world-energy-annual-report-part-1/)
Growth for consumption

Consumption is a key pillar of global commerce and transportation growth, Global food consumption alone is projected to grow at an average rate of 1.72% per year between 2009 and 2050, more than doubling food demand (up 102%) by 2050.

According to an HSBC report published in 2012, a global consumer revolution is in the offing – and it will be driven by an unprecedented expansion of the world's middle class. Almost three billion people – more than 40% of today's population – will join the middle classes by 2050 and these entrants are to be found almost exclusively in today's emerging markets. Hence, project that emerging market consumption could make up almost two-thirds of global consumption in2050, compared to around one-third today.

In many parts of the emerging world, workers are becoming increasingly well-equipped with new technology, machinery and skills. As a result, productivity and real incomes are rising, and will continue to do so. As income grows, food and other basics stop consuming most of the monthly salary and there is more money for the 'fun' things in life or more disposable power to consume products and services.
(www.hsbc.com.vn/1/PA_ES_Content_Mgmt/content/vietnam/abouthsbc/newsroom/attached_files/HSBC_report_Consumer_in_2050_EN.pdf)
Importance of sea routes

Maritime routes are points of passage, which connects strategic locations that act as corridors for global trade. Indian Ocean Trade has been a key factor in East–West exchanges throughout history. The sea lanes in the Indian Ocean are considered among the most strategically important in the world – according to the Journal of the Indian Ocean Region, more than 80% of the world's seaborne trade in oil, transits through Indian Ocean choke points, with 40% passing through the Strait of Hormuz, 35% through the Strait of Malacca and 8% through the Bab el-Mandab Strait.

According to UNCTAD, global seaborne trade is doing well, supported by the 2017 upswing in the world economy. Expanding at 4%, the fastest growth in five years, global maritime trade gathered momentum and raised sentiment in the shipping industry. Total volumes reached 10.7 billion tons, reflecting an additional 411 million tons, nearly half of which were made of dry bulk commodities.

Some of the key findings of the International Transport Forum (ITF) Transport Outlook 2015, presented the following at OECD headquarters in Paris, France.
The North Pacific route will surpass the North Atlantic as the world's most busy trading corridor in terms of freight volume (in tone-km), growing 100% points faster than the North Atlantic. The Indian Ocean corridor will see large growth, with freight volume quadrupling
Intra-African (+715%) and intra-Asian (+403%) freight volumes will see particularly strong growth to 2050. Road transport will dominate here due to lack of other modes
The share of domestic transport of international freight flows, identified here for the first time, accounts for 10% of trade-related international freight
Role of Sri Lankan ports in the Indian Ocean

The Indian Ocean is spreading out from Jordan in the west and extending to the east connecting the island continent of Australia. Among other continents that the Indian Ocean connects are Asia, Africa and the middle-east through major ocean corridors. The importance of the Indian Ocean has been written by many scholars as it has historically been one major ocean highway that connected trade to the rest of the world with far-east and beyond.

Geographically if one studies the global map, it is not a surprise why Sri Lanka is identified as a very strategic location. Indeed, its unique selling proposition is its positioning as the centre of the Indian Ocean and at the southern tip of the island is the mega east-west ocean highway for global maritime traffic.

Given this nature's gift, the island has the potential of being the next big global destination to emerge as a major logistics and a distribution hub in 21st century global economic map. In this context the ports that are in the north, south, east and west of the country can serve a variety of maritime traffic requirements whilst connecting continents and other major regional hubs for efficient movement of commerce.
The global shipping industry as it evolves will look for efficient connectivity options to reach cargo and have better and faster distribution options to cater to the demands of the new markets. Among them China's BRI project has an ambitious ports connectivity linking the sea routes, and Sri Lanka has been identified as a key node for development of facilities and ports to service the shipping links which will support energy and bulk cargo movements in the Indian ocean.

Similarly, the Bay of Bengal region of the Indian Ocean has new opportunities emerging and the port of Trincomalee has been identified to be a connecting node for the sea lanes of the bay. Port of Colombo will expand its transshipment activities giving access to more and increasing feeder and main line demands for containerised cargo and passenger and cruise vessels.
Conclusion

The sea lanes of communication in the Indian Ocean will become busier and the volumes of cargo carried is expected to quadruple by 2050. Sir Walter Raleigh, a pioneer shipping magnate, once said that "whoever commands the sea commands the trade", and Malaysia Prime Minister Dr. Mahathir said: "No matter how information technology advances, the world trade cannot be materialised without ports. This is exactly why every country needs to develop much more advanced and efficient ports for its prosperity." SLOC hence play an important role and maritime security is as important as trade to sustain growth across the world.

Better trade, better corporation and better security will be the dialogue as we sail through the second decade of the 21st century along the Indian Ocean which is a servicing trade as it is said it is 'Asia's century' for prosperity.