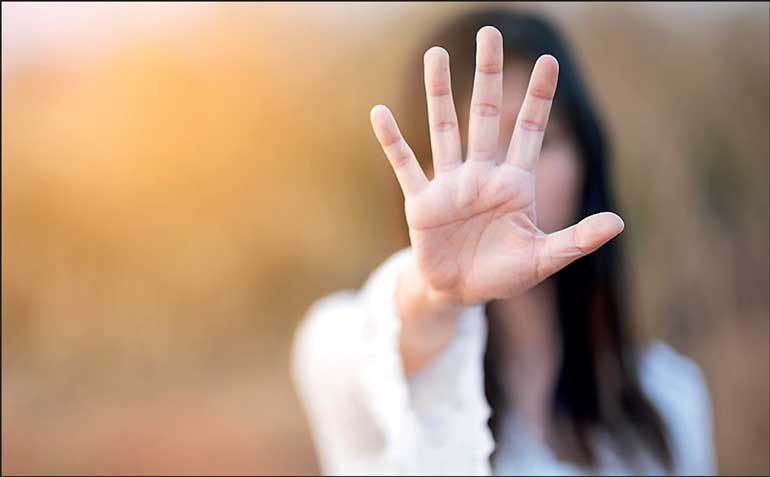 Support and prevention are pivotal to eliminating violence against women and girls, and it is the only way to stop violence before it even occurs
---
This joint Op-Ed is co-authored by Ambassador of the Kingdom of the Netherlands to Sri Lanka and the Maldives Bonnie Horbach, EU Ambassador to Sri Lanka and the Maldives Denis Chaibi, Ambassador of Germany to Sri Lanka and the Maldives Holger Seubert, Ambassador of Italy to Sri Lanka and the Maldives Rita Giuliana Mannella, Ambassador of France to Sri Lanka Jean-François Pactet, Ambassador/Chargé d'Affaires of Romania to Sri Lanka and the Maldives Victor Chiujdea, and UNFPA Sri Lanka Representative Kunle Adeniyi.
Currently, we see a significant backlash on gender equality and women's rights in various parts of the world. The world is grappling with multiple crises and we are seeing a reversal of generational gains on women's rights. This includes an increase in gender-based violence particularly violence against women and girls. It is thus both timely and fitting, that the global theme for this year's 16 days of activism against gender-based violence is "UNITE! Activism to end violence against women and girls".

The campaign runs between 25 November, International Day for the Elimination of Violence Against Women, and 10 December, International Human Rights Day. As such, it seeks to highlight that gender-based violence is a universal phenomenon and a violation of human rights.

It is a time to renew our commitment to end gender-based violence, the world's most prevalent human rights violation once and for all. For unlike other social issues, violence against women and girls transcends all boundaries, be it race, class, religion or nationality. There is no difference between the global north or south; gender-based violence affects every country worldwide, and escalates in time of crisis. Globally 1 in 3 women have experienced physical or sexual violence in their lifetime.

Hence, addressing gender-based violence is firmly at the top of the European Union's political agenda, both at home and in external relations. In March this year, the European Union proposed a Directive to combat violence against women including domestic violence. This proposal will, for the first time, set out binding rules in the European Union to tackle this kind of violence in a comprehensive way, including online violence.

Internationally, the Action Plan on Gender Equality and Women's Empowerment in External Relations 2020 – 2025 (GAP III) confirms that Team Europe is committed to prevent and combat gender-based violence, support and protect victims and survivors, and work towards holding perpetrators accountable.

Across the world, the European Union and the United Nations are joining forces to curb sexual and gender-based violence, including in fragile, conflict and emergency situations. For example, the EU-UN Spotlight Initiative is an ambitious global program investing in prevention and support to eliminate all sorts of violence against women and girls. Standing in solidarity with victims and survivors, Team Europe together with partner UN agencies such as UNFPA and UN Women work to strengthen existing mechanisms to foster a survivor centred approach to addressing gender-based violence.

Women and girls – in all their diversity – have a right to a life free from violence and abuse. In a landmark survey conducted by UNFPA in 2019 in Sri Lanka, it was found that 1 in 5 ever-partnered women have experienced physical and sexual violence by an intimate partner. A further study on unnatural deaths of women and girls in five provinces found that one-third of female homicides were due to intimate partner violence.

These statistics are not just numbers and ongoing crisis exacerbate existing inequalities leaving many women without access to shelters and other forms of support. The impacts of the socio-economic crisis are far reaching, and these impacts are likely to be felt far into the future. Support and prevention are pivotal to eliminating violence against women and girls, and it is the only way to stop violence before it even occurs.

UNFPA works at both policy, and grass-root level with a myriad of stakeholders to end all forms of gender-based violence by adopting comprehensive and inclusive approaches that tackle its root causes, addressing structural causes and risk and protective factors associated with violence, advocating for political commitment to implement laws that promote gender equality, investing in women's organisations, addressing the multiple forms of discrimination women face and advocating for early education to challenge harmful social norms that perpetuate violence.

Our common effort to achieving the interconnected Sustainable Development Goals calls for equality and empowerment of women across the world. Without the safety of women, sustainable development will only remain a dream in any nation and indeed the entire world.

Change is possible, but it requires action, commitment and determination. The European Union and UNFPA are committed to continue to work tirelessly with its partners to prevent acts of violence, ensure support for victims, and at the same time to address the root causes and reinforce the legal framework. Our goal is very clear: to end all forms of violence against women and girls. We owe it to all the victims and survivors. It requires that we all understand the problem and unite to address it every single day.